Every Single 2014 TV Pilot, Ranked From Worst To Best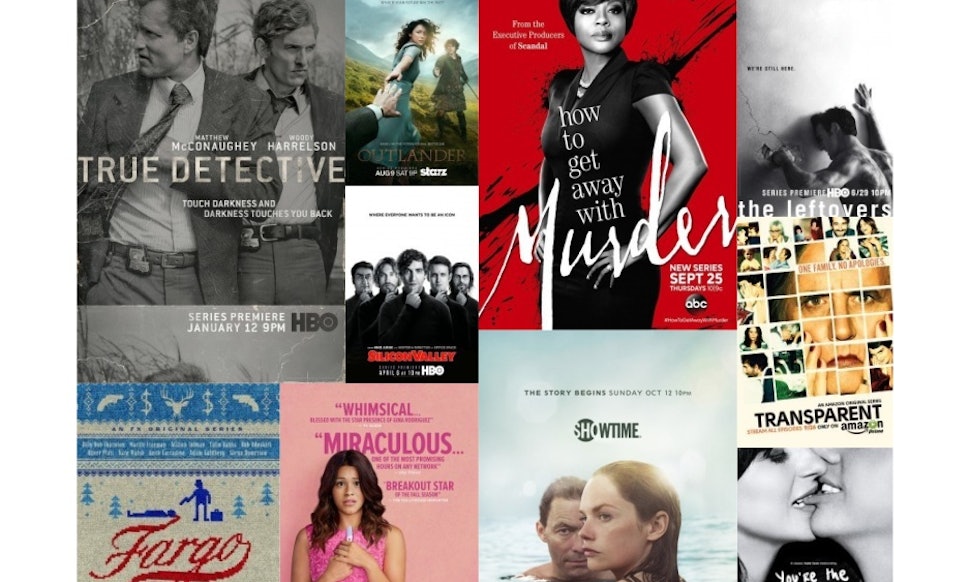 Pirates, professors, aliens, astronauts, witches, vampires, superheroes, spies, surgeons, boxers, dictators, detectives, computer programmers, insurance salesman, CIA analysts, time traveling British nurses — television played host to all of these in 2014. It was an exciting year: more actors (like Matthew McConaughey and Woody Harrelson), more directors (like Alfonso Cuarón and Steven Soderbergh), and more outlets (like Amazon and WGN America) got into the television business than ever before. Who came out on top? Who fell short of the mark? Find out with my ranking of all 85 TV pilots that aired from January through December of 2014, from worst to best.
85

'Mulaney' (FOX)
Premiered: Oct. 5
If you made it through the entire 23 minutes of this unmitigated disaster, you are a stronger person than I. I switched it off after the prostate exam gag. (Riveting stuff.) At least FOX knows a bomb when they see one, shutting down production after only 13 of the 16 ordered episodes, making Mulaney the first de facto cancellation of the season.
Image: FOX
84

'Marco Polo' (Netflix)
Premiered: Dec. 12
A bland lead actor, two-dimensional characters, a by-the-numbers plot, offensive Chinese stereotypes, and more unnecessary boobs than an entire season of Game Of Thrones — the only thing that keeps Marco Polo from being the worst pilot of the year is its undeniably cinematic production values. A staggering misfire made all the more disappointing by its potential; we know from House Of Cards and Orange Is The New Black that Netflix can do so much better.
Image: Phil Bray/Netflix
83

'The Night Shift' (NBC)

Premiered: May 27

This ER-wannabe medical drama was D.O.A. But because it aired during the summer when competition was decidedly less fierce, it somehow did well enough to earn a second season. Mystifying.

Image: Lewis Jacobs/NBC
82

'Stalker' (CBS)
Premiered: Oct. 1
When a pilot opens with an attractive young woman being burned alive inside her car, you know the show is going to have woman problems. Stalker derives its "scares" from the endangerment of women at the hands of psychotic men, rather than any genuine suspense.
Image: Richard Cartwright/CBS
81

'The Mysteries Of Laura' (NBC)

Premiered: Sept. 17

The biggest mystery surrounding this pilot is just what kind of show Mysteries wants to be, exactly. A workplace comedy? A procedural whodunnit? A single mom dramedy? The schizophrenic tone of the pilot made the Debra Messing vehicle one of the Mess-iest new shows of the year.

Image: Jessica Burstein/NBC
80

'Manhattan Love Story' (ABC)
Premiered: Sept. 30
Absolutely no one fell in love with this misogynistic Love Story. ABC yanked it after four episodes, making it the first official casualty of Fall 2014.
Image: ABC
79

'Partners (FX)
Premiered: Aug. 4
Didn't we do this one already? You might be thinking of CBS's 2012 one-season flop with the same name. To be fair, FX's new "comedy" — although starring such big names as Kelsey Grammer and Martin Lawrence — didn't fare any better.
Image: FX
78

'Killer Women' (ABC)
Premiered: Jan. 7
Ostensibly a "feminist" show with a "strong female lead" in Battlestar Galactica's Tricia Helfer, the pilot was really only interested in showing viewers a parade of models doing bad things.
Image: ABC
77

'Mixology' (ABC)
Premiered: Feb. 26
Check, please!
Image: ABC
76

'Undateable' (NBC)

Premiered: May 29

Don't bother setting up a second date with this tired men-will-be-boys sitcom. Sorry, Undateable — it's not me, it's you.

Image: Justin Lubin/NBC
75

'Growing Up Fisher' (NBC)
Premiered: Feb. 23
J.K. Simmons should thank his lucky stars that this snoozer, in which he played a blind patriarch, came out early enough in the year that it was largely forgotten by the time awards buzz surrounding his kinetic performance in Whiplash started picking up steam.
Image: NBC
74

'Taxi Brooklyn' (NBC)

Premiered: April 14

A joint French/American production loosely based on Luc Besson's 1998 action-comedy Taxi and starring Grey's Anatomy's Chyler Leigh, it's abundantly clear that something got lost in translation.

Image: Linda Kallerus/NBC
73

'Dominion' (Syfy)
Premiered: June 19
I'm not quite sure why anyone thought a TV show based on 2010's Legion would be any good, considering what an unabashed disaster that movie was. Sure enough, the result is far from heavenly. (Bonus points for that badass poster, however.)
Image: Syfy
72

'Young & Hungry' (ABC Family)
Premiered: June 25
The Pittsburgh Post-Gazette's TV reviewer perhaps put it best when he summed up this show about a food blogger as follows: "More like Young & Dumb ."
Image: ABC Family
71

'Gang Related' (FOX)
Premiered: May 22
Not even the fantastic Terry O'Quinn (Lost) could save this clunker about a criminal who goes undercover as a cop. From Rob Morgan, screenwriter for the Fast & Furious franchise, Related aims for the heights of The Departed but lands somewhere among the mediocre sputtering of Tokyo Drift.
Image: FOX
70

'Power' (Starz)
Premiered: June 7
Produced by 50 Cent, this wannabe epic drama about a nightclub owner trying to extricate himself from the drug business just doesn't have anything unique enough to set it apart from the pack.
Image: Starz
69

'Those Who Kill' (A&E)
Premiered: March 3
I would almost have sat through more of this show's gratuitous violence just for Chloë Sevigny's compelling performance. Almost. Thank goodness A&E made up my mind for me by unceremoniously yanking it off the air after only two episodes, shuffling it over to its sister network LMN to burn off the rest of the season, and then quietly canceling it while no one was looking.
Image: A&E
68

'Reckless' (CBS)
Premiered: June 29
Well-cut suits (and well-cut abs) made this Southern legal drama starring Twilight's Cam Gigandet an appropriately steamy diversion for the summer months, but little else.
Image: CBS
67

'The McCarthys' (CBS)
Premiered: Oct. 30
Leave it to Laurie Metcalf (Roseanne, Getting On) to elevate any material put into her more-than-capable hands, but even she couldn't save this groan-worthy Bahston family sitcom from itself.
Image: Robert Voets/CBS
66

'Salem' (WGN America)
Premiered: April 20
WGN America joined the scripted drama game this year with two shows, of which Salem was decidedly the lesser. It could probably make for a good screensaver for your Halloween party if you mute your television, but that's about it.
Image: Courtesy WGN America
65

'Chicago P.D.' (NBC)

Premiered: Jan. 8

"Oh, great! Another police procedural spinoff from yet another police procedural that was itself a carbon copy of pretty much every police procedural on television!" said nobody ever.

Image: Matt Dinerstein/NBC
64

'Black Sails' (Starz)
Premiered: Jan. 25
Television tried to sail the high seas this year with not one, but two pirate series. Starz's effort, although boasting higher production values, was decidedly the lesser. You know you're in trouble when your opening title sequence is the most memorable part of your show.
Image: Starz
63

'Star-Crossed' (The CW)
Premiered: Feb. 17
The only thing this silly extraterrestrial riff on Romeo & Juliet bears in common with its Shakespearian progenitor is a tragic fate: the freshman series was cancelled after dipping to a very low 0.76 million viewers.
Image: The CW
62

'Crisis' (NBC)
Premiered: March 16
Virtually indistinguishable from CBS's Hostages (which premiered earlier in Fall 2013) — both had plots surrounding kidnappings and both featured either Dylan McDermott or Dermot Mulroney (still not sure which one's which) — but Crisis's biggest crime was stealing Gillian Anderson from the network's own far superior show, Hannibal. Don't worry, there's a happy ending: Crisis was cancelled and Anderson is a full-fledged series regular for Hannibal's Season 3.
Image: NBC
61

'Crossbones' (NBC)
Premiered: May 30
The second of 2014's pirate-themed shows. Even though its broadcast budget couldn't measure up to the plunder Starz poured into their series, resulting in most of Crossbones's action being sadly land-locked, the Peacock's show had one thing Black Sails didn't: John Malkovich's deliciously deranged performance as Blackbeard.
Image: NBC
60

'Z Nation' (Syfy)
Premiered: Sept. 12
With the zombies-on-TV niche already firmly occupied by The Walking Dead, it's unclear who exactly Syfy made this for. Although occasionally fun in a B-movie way, Z Nation simply can't compete with AMC's far superior show.
Image: Syfy
59

'Rake' (FOX)
Premiered: Jan. 23
At the exponential rate movie stars have been leaping from the big to the small screen over the past couple years, it was only a matter of time until one of them landed with a resounding thud. Such was Greg Kinnear's fate with this weak "What if House was about a lawyer?" comedy.
Image: FOX
58

'NCIS: New Orleans' (CBS)
Premiered: Sept. 23
Another off-shoot of the most-watched series on television was a brainer. Add in Scott Bakula and a dash of the Big Easy, and you've got an insta-hit, with little to no effort involved. So you can't really blame CBS for not expending any more effort on the third NCIS entry than was strictly necessary to get it on the air.
Image: Skip Bolen/CBS
57

'Mystery Girls' (ABC Family)
Premiered: June 25
Created by and starring Tori Spelling, these Girls may not have had much substance, but the show — about two former stars of a detective series who team up to solve real mysteries — sometimes succeeded as a fun, frothy throwback.
Image: ABC Family
56

'Faking It' (MTV)

Premiered: April 22

The political correctness of a show about two high school girls pretend to be a lesbian couple in order to gain popularity is dubious at best. But the show has heart and is sure to appeal to anyone already on board with MTV's other high school dramedy, Awkward.

Image: MTV
55

'Sirens' (USA)
Premiered: March 6
In this show produced by Denis Leary, the former star of Rescue Me decides to change things up and take a more humorous look at people who save other people's lives. The result is surprisingly watchable, thanks mostly to the quick repartee between its three likable leads.
Image: USA
54

'The 100' (The CW)
Premiered: March 19
Stop me if you've heard this one before: In a dystopian future, fresh-faced youngsters face mortal danger from a corrupt government. Thankfully, a fast pace and lush visuals make The 100 watchable, if not anything approaching original.
Image: Cate Cameron/The CW
53

'Chasing Life' (ABC Family)
Premiered: June 10
Obviously hoping to cash in on the popularity of The Fault In Our Stars, this show about a young woman diagnosed with cancer manages to avoid total redundancy thanks to a capable performance from its leading lady, Italia Ricci.
Image: ABC Family
52

'Kingdom' (DirecTV)
Premiered: Oct. 8
Otherwise known as "That Boxing Drama Starring Shirtless Nick Jonas." Kingdom is obviously aiming for the niche recently vacated by Sons Of Anarchy, but it lacks the Shakespearean gravitas of that superior show. You have to admire Jonas' and Matt Lauria's (Friday Night Lights) total physical commitment, though.
Image: DirecTV
51

'Benched' (USA)
Premiered: Oct. 28
Eliza Coupe was one of the highlights of ABC's gone-too-soon Happy Endings (she played one half of power-couple Brad & Jane), and while this show doesn't serve her prodigious talents as fully, it's still a delight to watch the actress work her comedic magic.
Image: USA
50

'Gracepoint' (FOX)
Premiered: Oct. 2
Cons: A miscast Anna Gunn in a misguided remake of a terrific British series. Seriously, what's the point of crafting a show around a mystery everyone already knows the solution to? (Despite FOX's claims to the contrary, the endings of both versions turned out to be 99.9 percent identical.)
Pros: David Tennant; an ending that still packs an emotional wallop even when you know it's coming.
Image: FOX
49

'Girlfriends' Guide To Divorce' (Bravo)
Premiered: Dec. 2
Basically a scripted version of the network's Real Housewives franchise, the material is done far more justice than it deserves by star Lisa Edelstein (House) and a terrific supporting cast including Janeane Garofalo and Paul Adelstein (Private Practice).
Image: Bravo
48

'Girl Meets World' (Disney Channel)
Premiered: June 27
They say that man cannot live by bread alone, and the same goes for nostalgia. Fortunate, then, that this Boy Meets World sequel has heart and humor in spades to go with its heaping spoonfuls of schmaltz.
Image: Disney Channel
47

'Satisfaction' (USA)
Premiered: July 17
Some people may view this surprisingly edgy USA drama as a milder version of HBO's Hung, but there's still something titillating about this marital drama where the husband decides to become a male escort after he finds his wife cheating with one.
Image: USA
46

'Finding Carter' (MTV)
Premiered: July 8
This darker-than-usual MTV series has a hell of a hook: a teenage girl finds out the woman she thought was her mother is actually her abductor, and is reunited with her real parents after more than ten years. What follows is family drama at its most deliciously soapy. So what if Carter borrows more than a little from The Face On The Milk Carton?
Image: MTV
45

'Extant' (CBS)
Premiered: July 9
Halle Berry. Steven Spielberg. Androids. Aliens. If it never quite lived up to its potential, Extant was at the very least a diverting guilty pleasure to pass the summer with. And it look so pretty, too.
Image: Dale Robinette/CBS
44

'Manhattan' (WGN America)
Premiered: July 27
By far the better of the network's two scripted shows this year. With its stellar cast, period setting, and intriguing hook (it takes place in Los Alamos, NM during the creation of the atomic bomb), the scientists of Manhattan handily beat the witches of Salem
Image: Courtesy WGN America
43

'Survivor's Remorse' (Starz)
Premiered: Oct. 4
A surprisingly sharp satire for anyone who thinks that making it big means taking it easy. Remorse is ostensibly about basketball, although the sport really serves as a backdrop for intelligent conversations about race and class.
Image: Starz
42

'Resurrection' (ABC)
Premiered: March 9
Unfairly lambasted for being a remake of the terrific French series Les revenants (which it's not, it's based on the unrelated American novel by Jason Mott), ABC's supernatural drama is less of a slowly unnerving horror show and more of a quiet meditation on grief. (It's still not as good as Les revenants, though — just to be clear.)
Image: ABC
41

'Forever' (ABC)
Premiered: Sept. 22
Ioan Gruffud makes for an innocently charming leading man, and the premise of an immortal man using his gift to solve crimes is juuust interesting enough to elevate the show above the procedural pack. But just barely.
Image: ABC
40

'Madam Secretary' (CBS)
Premiered: Sept. 21
It may not revolutionize the television landscape, but Secretary is a perfect companion piece for The Good Wife on the network's Sunday lineup and watching Téa Leoni do her best Hilary Clinton is always a delight.
Image: Craig Blankenhorn/CBS
39

'Halt And Catch Fire' (AMC)
Premiered: June 1
"Oh yeahhh," you're probably thinking right about now. "That show." AMC has struggled to fill Breaking Bad's critically acclaimed shoes. First Low Winter Sun came and went to little fanfare, and then this forgettable little show about computer programmers-cum-rebels that was really just about… computer programmers. And not the funny kind. Magnetic star Lee Pace (Pushing Daisies) deserves so much better.
Image: Tina Rowden/AMC
38

'Intruders' (BBC America)
Premiered: Aug. 23
The network that brings you Orphan Black brings you… this inscrutable mystery about a secret society of people who cheat death by hiding in the bodies of other people and also assassins and creepy children and numbers and Mira Sorvino oh yeah remember her whatever happened to her? The writers throw everything but the kitchen sink at the wall to see what sticks (and yes, I realize I'm mixing my metaphors). It doesn't all work, but it's certainly fun to see what does.
Image: BBC America
37

'Constantine' (NBC)

Premiered: Oct. 24

This show knew exactly what it wanted to be: a light-hearted supernatural romp to follow Grimm about a gruff-but-lovable demon hunter. Too bad that description bears little resemblance to the show's source material. NBC would've been better off calling this something else entirely. Heaven (and hell) knows comic book fans would've reacted less vehemently.

Image: Quantrell Colbert/NBC
36

'Happyland' (MTV)
Premiered: Sept. 30
Happyland is exactly what you'd expect from MTV: a show about good-looking twentysomethings with flat stomachs pretending to be teenagers while grappling with life, love, and… incest?? Yep, the twist of the pilot is that (*spoiler alert!*) the lead's literal Prince Charming, whose abs she lusts after and whose lips she kisses, is actually her secret half-brother. Is Happyland going all Westeros on us? Suddenly I'm much more interested…
Image: MTV
35

'Turn' (AMC)
Premiered: April 6
AMC's other potential Breaking Bad replacement fared a bit better than HACF… but not by much. While Turn likely intrigued history buffs, there just wasn't much for the layman to latch onto here, other than Jamie Bell's quietly simmering performance as a reluctant spy.
Image: Antony Platt/AMC
34

'State Of Affairs' (NBC)

Premiered: Nov. 17

I know everyone expected this to be fall's worst pilot because it stars Katherine Heigl, one of America's most-loathed actresses, as CIA analyst with the laughable name of Charleston Tucker. But while it's far from the best, State Of Affairs surprised by being, at the very least, capable at crafting a cohesive hour of television. In fact, it opens with one of the most viscerally affecting scenes of the fall, as we witness a frenetically-edited ambush from the first-person perspective.

Image: Michael Parmelee/NBC
33

'Bad Judge' (NBC)

Premiered: Oct. 2

Bad Judge may have been laughed out of court (and off the airwaves), but I will freely admit that I guffawed a few times throughout the first episode, which is much more than I can say for most of 2014's sitcom duds. Chalk it up to how much fun star Kate Walsh is obviously having.

Image: John Fleenor/NBC
32

'Believe' (NBC)
Premiered: March 10
Remember when everyone was excited because Alfonso Cuarón, the Oscar-winning director of Gravity, was bringing a series to television? Remember what happened next? Me neither. But major points to the first episode for containing one of Cuarón's trademark unbroken tracking shots, as a family in a minivan is run off the road by sinister pursuers.
Image: NBC
31

'Cristela' (ABC)
Premiered: Oct. 10
Cristela Alonzo ranks as one of the year's most energetic, appealing leading ladies. Too bad her show doesn't quite measure up to her oodles of charm and warmth.
Image: ABC
30

'The Strain' (FX)
Premiered: July 13
Eight years ago, Guillermo Del Toro pitched his idea for a scary vampire series to everyone in town, but nobody bit (pun intended), so he made it a book trilogy instead. Now that trilogy has been adapted into a television show and it's just as gory and anti-Twilight as promised, if a bit too thick with the B-movie camp aesthetic.
Image: FX
29

'Selfie' (ABC)
Premiered: Sept. 30
Selfie suffered the bad luck of having a ready-to-ridicule title that turned the masses against it months before its pilot even aired. Otherwise, viewers might actually have had the patience to see the heart at the core of the acerbic series, not to mention the abundant talents of Karen Gillan (Guardians Of The Galaxy, Doctor Who) as a modern-day Eliza Doolittle.
Image: ABC
28

'Scorpion' (CBS)
Premiered: Sept. 22
CBS can churn out NCIS spinoffs in its sleep. The crafting of Scorpion took a bit more thought, and it shows. The show's core group of misfits play well off each other, and the climactic convertible vs. jet race down a runway is pulse-pounding television at its finest.
Image: Monty Brinton/CBS
27

'A to Z' (NBC)

Premiered: Oct. 2

Cristin Milioti (How I Met Your Mother) and Ben Feldman (Mad Men) have chemistry to spare in this too-clever-for-its-own-good sitcom documenting a relationship in its entirety, from inception to… breakup? Marriage? We'll never know. And listening to Katey Sagal's voiceover totally gave me Smart House nostalgia. (Remember that totally rad 1999 Disney Channel Original Movie??)

Image: Trae Patton/NBC
26

'black-ish' (ABC)
Premiered: Sept. 24
Subsequent episodes may not have lived up to its promise, but the pilot of this show produced by and starring Anthony Anderson and Laurence Fishburne was a riotous look at cultural identity. And Tracee Ellis Ross' Bow instantly joined the Clair(e)s (Dunphy and Huxtable, that is) in the pantheon of great TV moms.
Image: ABC
25

'Playing House' (USA)
Premiered: Apr. 29
Fans who bemoaned the cancellation of NBC's Best Friends Forever got the best news ever when USA picked up Playing House… which was essentially the same show. Also written by and starring real-life besties Lennon Parham and Jessica St. Clair and featuring the hilarious resurrection of Jane Kaczmarek's sitcom career, moving into this House was a no-brainer.
Image: USA
24

'Helix' (Syfy)
Premiered: Jan. 10
With its arctic setting, gooey special effects, and paranoid contagion plot, Syfy's best new show in ages felt like a refreshing combination of The Thing and The Andromeda Strain. The claustrophobic hallways of the show's virus-ridden science outpost are the stuff of nightmares — and I mean that as a compliment. Can Helix be absurd? Of course. But can it be terrifying? Heck yes.
Image: Syfy
23

'Marry Me' (NBC)

Premiered: Oct. 14

Happy Endings it ain't, sadly. But Marry Me, starring that show's biggest personality, Casey Wilson, is the closest to a revival of that dearly departed sitcom we're ever likely to get. The supporting cast may not be as richly drawn as or its dialogue as lightning paced, but Wilson and co-star Ken Marino make for an easily lovable couple that you can't help but root for in the face of self-imposed adversity.

Image: Colleen Hayes/NBC
22

'Red Band Society' (FOX)
Premiered: Sept. 17
Another show clearly hoping to cash in on the success of The Fault In Our Stars — good thing it does so with an optimism that's contagious, otherwise a show where literally every lead character is a sick child would be deadly depressing. Society's wildly fanciful hospital and distracting detours into limbo may not have captured viewers in the way that FOX hoped, but it's hard to begrudge a show about death that managed to be so full of life.
Image: FOX
21

'Married' (FX)
Premiered: July 17
This summer, FX premiered a pair of comedies that were absolutely breathtaking in their cynicism. Although Married definitely succeeds at painting a unique portrait of modern matrimony, it would rank even higher if it did two things: made better use of its stellar leading lady, Judy Greer; and treated its lead characters with less casual disdain.
Image: FX
20

'Gotham' (FOX)
Premiered: Sept. 22
Being undeniably the most-hyped new broadcast show of 2014, it was perhaps inevitable that the pilot would disappoint. But it was shocking to see how its cartoonish villains and groan-worthy fan service held less in common with Nolan's Batverse than with Schumacher's. Thankfully, a terrific sense of atmosphere and a captivating performance by Robin Lord Taylor as Oswald Cobblepot held plenty of promise — a promise that the show has thankfully since delivered on.
Image: FOX
19

'Welcome To Sweden' (NBC)

Premiered: July 10

Did you know Amy Poehler had a younger brother? Did you know he had his own NBC sitcom that premiered this summer? Based on his own life experience, Greg Poehler stars as Bruce, a man who uproots his entire life to move to Sweden with his girlfriend. The result is both touching hilarious. Plus, the pilot contains Amy Poehler as a rude version of herself and Lena Olin as a too-forthright mother hen. What's not to love?

Image: Benjamin Thuresson/NBC
18

'The Flash' (The CW)
Premiered: Oct. 7
This show zoomed faster than a speeding bullet into viewers hearts, logging The CW's highest-rated premiere ever. And it's not hard to see why. Bright-eyed and bushy-tailed Grant Gustin is easy to love as the titular speedster and — unlike Gotham's grit, Agents Of S.H.I.E.L.D.'s darker Season 2, and pretty much every superhero movie these days — the show is unabashed fun.
Image: Jack Rowand/The CW
17

'Enlisted' (FOX)
Premiered: Jan. 10
I was ready to sign up for a long tour of duty with the madcap Hill brothers and their ragtag band of outcasts, but alas — FOX cancelled this promising freshman show to soon in order to make room for… Mulaney? Bad call, dudes. Drop and give me 50!
Image: FOX
16

'Doll & Em' (HBO)
Premiered: March 19
On its surface, Doll & Em is a meta-dramedy about Hollywood in the vein its HBO sibling The Comeback. Underneath, its a fascinating look at a complex female relationship as portrayed by real-life friends Emily Mortimer and Dolly Wells. Their characters are not always likable, but they are always honest.
Image: Mischa Richter/HBO
15

'The Knick' (Cinemax)
Premiered: Aug. 8
Of all the Hollywood auteurs making the transition to television (Cuarón, Del Toro, David Fincher with House Of Cards, Darren Aronofsky with MaddAddam), Steven Soderbergh and his hyper-kinetic, sharply realistic style is perhaps the most counterintuitive — which is exactly what makes his small screen debut so exciting. Watching The Knick, which stars Clive Owen, is like injecting yourself with the cocaine that's constantly coursing through Dr. Thackery's veins.
Image: Cinemax
14

'Penny Dreadful' (Showtime)
Premiered: May 11
Like the cheap, sensationalist publications from which it gets its name, Penny Dreadful is gothic horror in all its extremes. This League Of Extraordinary Gentleman-esque thriller weaves the tales of Frankenstein, Dracula, the Wolfman, and more into a veritable Grand Guignol of dreadful ecstasy. And it's all anchored by a truly terrifying performance from Eva Green as Vanessa Ives, a medium who finds herself the target of supernatural forces.
Image: Jonathan Hession/Showtime
13

'About A Boy' (NBC)

Premiered: Feb. 22

After starring in a few non-starters like Perfect Couples and Bent, the charming David Walton finally found a perfect match in this show adapted from Nick Hornby's novel by Jason Katims (Friday Night Lights, Parenthood). Benjamin Stockham as the titular boy is a rare non-grating child actor, and the fantastic Minnie Driver anchors the show as the boy's eccentric mother, Fiona.

Image: Jordin Althaus/NBC
12

'Tyrant' (FX)
Premiered: June 24
Come for the exotic setting and lush cinematography, stay for the hyper-dysfunctional familial relationships. Tyrant's Al-Fayeeds give the Lannisters a run for their gold dragons when it comes to backstabbing. And the lead character's slow moral collapse is like Breaking Bad on a grander scale — you just know Barry himself will be the titular tyrant before this story is done.
Image: FX
11

'Looking' (HBO)
Premiered: Jan. 19
Remarkable for being so unremarkable, Looking succeeded by defying expectations of what a "gay show" would look like. Queer As Folk this is not; HBO has crafted a quietly incisive look at three messed up millennials… who also happen to be gay.
Image: John P. Johnson/HBO
10

'Outlander' (Starz)
Premiered: Aug. 9
HBO no longer has the market cornered when it comes to television adaptations of beloved, long-running fantasy epics. Outlander is not just a capable translation of Diana Gabaldon's novels, it's a compulsively watchable (not to mention gorgeous) series with a compelling female lead played to perfection by Caitriona Balfe. And the sex scenes are filmed from the female perspective! I might almost be sad about how revolutionary that feels in 2014 if I wasn't so darn excited.
Image: Starz
9

'You're The Worst' (FX)
Premiered: July 17
The second in FX's pair of misanthropic comedies is perhaps the best portrayal of how twentysomethings interact in this day and age that's ever been put to screen, small or large. Calling the leads, Aya Cash and Chris Geere, "likable" would be a misnomer — but they are certainly fun to watch as they spar and banter. It's like When Harry Met Sally reimagined by Harmony Korine.
Image: FX
8

'The Leftovers' (HBO)
Premiered: June 29
If The Leftovers is too bleak, then bleakness is underrated. Yes, it can be hard to sit through an hour of Damon Lindelof's vision of a post-Rapture America. But the cast is an embarrassment of riches (including Carrie Coon, who would go on to attract notice as Ben Affleck's sister in Gone Girl) and the slow-burn plotting builds towards a devastating conclusion. Yes, everyone's sad all the time — but there's something beautiful about watching these characters fight their way back to a sense of normalcy, however fragile it may turn out to be.
Image: Paul Schiraldi/HBO
7

'Jane The Virgin' (The CW)
Premiered: Oct. 13
I'm not afraid to admit when I was wrong, and boy was I wrong about Jane. Initially dismissive of The CW's adaptation of a popular Venezuelan telenovela until the Golden Globes declared it one of the five Best Comedies of the year, I finally checked it out… and was immediately enraptured by the show's infectious spirit. It's impossible not to fall in love with Gina Rodriguez as the titular good girl, and the writers achieve the perfect balance between sudsy fun and emotional honesty. The CW definitely scored with this one… even if Jane still hasn't.
Image: Tyler Golden/The CW
6

'How To Get Away With Murder' (ABC)
Premiered: Sept. 25
Shonda Rhimes should teach a course titled "How To Write A Guaranteed Hit." Murder is the latest must-watch-and-live-tweet smash to emerge from Shondaland, completing ABC's T.G.I.T. trifecta (following Grey's Anatomy and Scandal, natch). Viola Davis is fierce, the mystery is convoluted, and the sex is both hot and progressive. I'll remain an apt pupil as long as this class is in session.
Image: ABC
5

'Silicon Valley' (HBO)
Premiered: April 6
Silicon Valley succeeds where Halt And Catch Fire failed miserably: in making computer programming interesting. Not to mention pants-wettingly hilarious. Created by Mike Judge (Office Space), this is the rare HBO comedy that actually makes you laugh out loud, by lampooning everything from Google to Burger King, from billionaires to wannabe-billionaires. Don't know what "Optimal Tip-To-Tip Efficiency Means"? Don't worry, you will soon — in more ways than one.
Image: Jaimie Trueblood/HBO
4

'The Affair' (Showtime)
Premiered: Oct. 12
If you're wondering what's so special about this show revolving around the fraught love lives of beautiful people in the Hamptons, just wait until the pilot's halfway mark: the show will turn itself on its head, everything you thought you knew will change, and you'll be hooked for good. Capitalizing on Gone Girl's themes of marriage turned sour and unreliable narrators, The Affair is a fascinating discourse not just on relationships, but on the nature of reality and the dangers of storytelling.
Image: Craig Blankenhorn/Showtime
3

'True Detective' (HBO)
Premiered: Jan. 12
Director Cary Joji Fukunaga blew viewers' minds halfway through the season with the six-minute-long tracking shot through a shootout in a housing project, but it all started with the pilot. Two bonafide movie stars coming to HBO; the audacity of one writer and one director helming an entire season of television; the dual timelines unraveling a dark mystery; the "time is a flat circle" philosophizing. No single show in 2014 galvanized viewers as much as this heady/pulpy dive into America's underbelly.
Image: James Bridges/HBO
2

'Fargo' (FX)
Premiered: April 15
Who in their right mind would even try to remake the Coen Brothers' most beloved film into a TV show? Noah Hawley, apparently — and thank god for him, because Fargo turned out to be a triumph in almost every conceivable way. Hawley managed to capture the tone of the Coens to a tee and pay homage to their 1996 film without copying it wholesale. Slapstick physical humor juxtaposed with shockingly bloody violence kept viewers on their toes, and the eclectic cast of characters — including Billy Bob Thornton's frighteningly amoral Lorne Malvo, Martin Freeman's bumbling Lester Nygaard, and Allison Tolman's plucky Molly Solverson — is the most memorable of the year.
Image: FX
1

'Transparent' (Amazon)
Premiered: Sept. 26
The title may be a pun on Jeffrey Tambor's transgender patriarch, but don't assume that means the show makes light of its delicate subject. Rarely has a series exhibited such empathy as Jill Soloway's Transparent. Tackling everything from transitioning to threesomes, from abortion to adultery, Soloway leaves no stone unturned in her attempt to understand human nature. Tambor delivers the performance of the year as Mort/Moira, but he's not the only reason to tune in. Gaby Hoffmann, Jay Duplass, and Amy Landecker are all superb as his spoiled children, and Transparent proves to be as much about a parent's relationship with their children as it is about a transgender woman coming to terms with her true self for the first time. They said Netflix was the new HBO. Now Amazon wants to be the new Netflix, and it's thrilling to watch the parameters of what constitutes "television" continue to evolve.
Image: Amazon