The 15 Best TV Sex Scenes in 2014 (aka Everything You've Ever Wanted)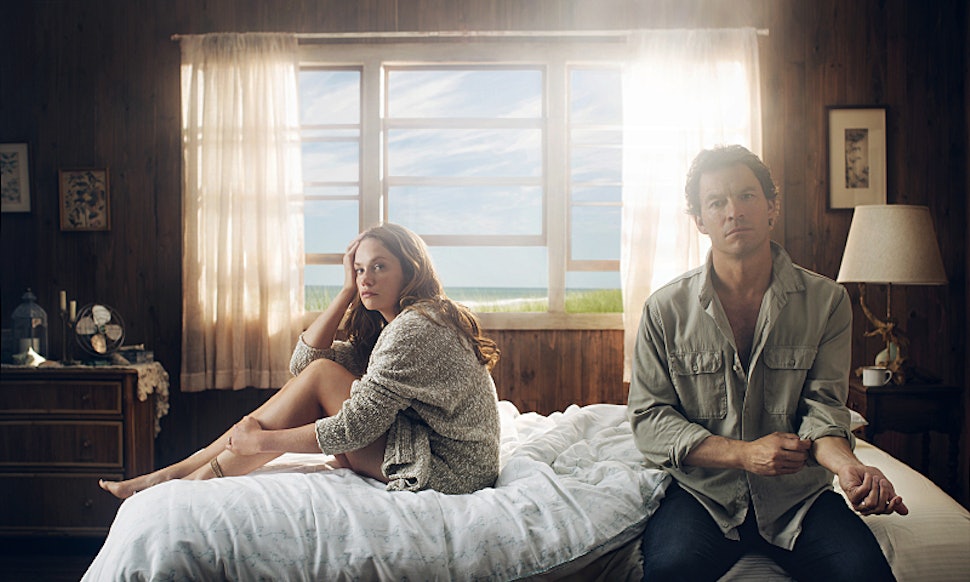 With new shows like Looking and Transparent premiering in 2014, the TV world is expanding beyond just showing heterosexual sex — and that is something to celebrate. So what were the best sex scenes on TV in 2014? The sex scene may have been declared dead by Esquire this year, but they were talking in movies. And thanks to premium channels like HBO and Showtime, TV-ish sources like Amazon and Netflix, and new shows centering around affairs (ahem, The Affair), TV viewers can see some of the most smoldering sex around.
But just because premium channels can show nudity doesn't mean they are the only ones showing what goes down in the bedroom (or office, or bar, or hotel room... you get my drift). CW censored two of its sex scenes in Reign , but there are still plenty of opportunities to see people doing the deed on TV. Yet, while varying sexual orientations are being highlighted, most sex on TV is still predominately had by white people (something that desperately needs to change — it's freakin' 2014, people).
So as our culture slowly, but steadily, starts to embrace diversity, let's hope there is more of it in 2015. In the meantime, let's check out the people who embraced in the best TV sex scenes in 2014.
Image: Steven Lippman/Showtime
Alison & Noah on 'The Affair'
Showtime's new series The Affair has been nominated for the Golden Globe for Best TV Series, Drama and not surprisingly, there is a good amount of sex in the show. Noah (Dominic West) and Alison (Ruth Wilson) are having the titular affair and although their first sexual encounter was a bit lackluster after all the anticipation, the sex picked up, particularly in Episode 6 with some sexy dancing and making out (in public! get your shit together!) leading to a hotel room. Of course, it's important to note that the episodes are half Noah's perspective and half Alison's, so Noah's take on their sex is usually hotter. But, for our purposes, we'll take Noah's version. (Oh, you dirty dog, Jimmy McNulty!)
Image: Courtesy of Showtime
Connor & Pax on 'How To Get Away With Murder'
ABC's Shonda Rhimes-produced How To Get Away With Murder is groundbreaking in how gay sex is being portrayed on prime-time cable television with the character Connor (who is causing controversy on both sides of the spectrum). Although Connor has feelings for Oliver, he had sex with Pax to get intel on a case in Season 1's fourth episode. And the Connor-Pax scene upped the ante with Pax's quote at the end of it, "He did this thing to my ass that made my eyes water."
Why does TV keep having the most immoral sex being the sexiest? C'mon! People — I promise, monogamous sex with your partner is hot.
Image: Mitch Hasseth/ABC
Mindy & Danny on 'The Mindy Project'
Speaking of monogamous sex, in the Season 3 premiere of The Mindy Project, Mindy discovered a pink thong in her boyfriend Danny Castellano's drawer. Resident grumpy old man/sexy middle-aged man Danny then revealed his past life as a stripper to earn money during med school. And Mindy's snooping was rewarded when he gave her an intimate performance of his Diamond Dan moves. Of course, it's Fox, so things didn't get too, too steamy, but who knew Chris Messina could get down like that? (Well, actually, we Mindy fans have known it since Season 1.) We love you, Diamond Dan!
Image: Isabella Vosmikova/FOX
Libby & Robert on 'Masters of Sex'
Yeah, Virginia and Bill may be the ones getting it on (or not getting it on due to his impotence) the most often on Showtime's Masters of Sex, but when Bill's wife Libby did the deed with Robert, it felt more earned. Bill has been mistreating and cheating on his devoted wife and Libby deserved a good old fashioned orgasm. And there's the added controversy of Libby and Robert's pairing off since they represent a biracial coupling in the 1960s — which is even further compounded by Libby's occasional racism.
Image: Michael Desmond/Showtime
Patrick & Kevin on 'Looking'
In the Season 1 finale of HBO's Looking, Patrick (Jonathan Groff) had sex with his boss Kevin (Russell Tovey). Kevin has a boyfriend and Patrick is in a complicated relationship, so their steamy sex scene is sure to be a plot point in Season 2. And as Groff told TVLine, the scene may have even (unintentionally) educated some heterosexuals:
"I feel like I've had a lot of people — a lot of straight friends of mine that live in L.A. or New York who are liberal-minded and open and accepting — say that they did not know that gay men could have sex face-to-face until they saw the show."
Image: John P. Johnson/HBO
Hannah & Adam on 'Girls'
Girls did the unthinkable over its first three seasons by turning Adam into one of the most-hated characters to one of the most endearing. As Hannah and Adam's relationship became more strained due to Adam needing space to prepare for his upcoming Broadway debut, Hannah decided to take it up a notch in the bedroom with role playing. In typical Hannah fashion, it was a bit self-serving and too elaborate, but Lena Dunham was spectacular being outrageous, sort-of sexy, vulnerable, and funny all at the same time.
Image: Craig Blankenhorn/HBO
Oberyn & Ellaria (and Sex Workers) on 'Game of Thrones'
No Best TV Sex Scenes list is complete without a Game of Thrones entry. Although I get quite enraged at the unequal portrayal of naked women over naked men (Margaery Tyrell herself, Natalie Dormer, agrees GoT could "ramp up" the amount of penis shown), Dornish Prince Oberyn Martell and his paramour Ellaria Sand showed that they are equal-opportunity lovers.
In the brothel formally-run-by-Little-Finger, Oberyn and Ellaria engaged in sex with two female sex workers and Olyver (who has taken to running the brothel in Little Finger's absence). Oberyn explained his bisexuality (when Olyver said most people prefer one gender over another) by saying, "Then everybody's missing half the world's pleasure."
The other sexy MVP of GoT this season was Michiel Huisman (who stepped into the Daario Naharis role for Season 4) for baring his butt while Daenerys approves of his body pre-sex … and for peeing onscreen.
Image: Helen Sloan/HBO
Jackie & Remy on 'House of Cards'
Congresswoman Jackie Sharp and lobbyist Remy Danton may be opponents in the political world, but they showed none of that matters once you get in bed. But what made their sex scene on House of Cards so noteworthy was the fact that the camera was focused on Jackie's face (and subsequent orgasm) while Remy was pleasuring her. Good on you, House of Cards.
Image: Netflix
Quinn & his Landlady on 'Homeland'
Homeland has had a lot of controversial storylines over its four seasons, but perhaps the most unthinkable was when CIA operative Quinn had sex with a woman who was larger than him (gasp!). Although I wish they could have given Emily Walker's bit character a name other than "Landlady," it was refreshing to see two people — one who happened to be plus-size — enjoying sex on television. It's ridiculous that this even has to be a thing, but until the entertainment industry starts embracing more diverse (and more normal) body types, it's a sex scene worth noting.
Image: Courtesy of Showtime
Ali, Derek, & Mike on 'Transparent'
Gaby Hoffmann has proven she's not shy when it comes to displaying her body on Girls and in Amazon's new show Transparent. In the episode, "Rollin," Hoffmann's character Ali orchestrates a threesome with the man she has been sleeping with (Derek) and his roommate (Mike) after getting high on moon rocks. Unfortunately for her, she presses her luck and Derek kicks her out, leading to some hilarity.
Image: Amazon
Rachel & Paul on 'Orphan Black'
We had seen Paul having sex before — but with clone Sarah… under the guise of being clone Beth (things are complicated when you're sleeping with clones). In Season 2, we see him being coerced into getting it on with evil clone Rachel (and it's important to mention that Helena and Sarah saw the encounter since they were spying on Rachel). The scene was pretty controversial considering Paul did not have much choice in the matter. And it showed that Rachel's domineering personality does not stop at the bedroom as there were some serious S&M moments in the scene.
Image: BBC America
Piper & Alex on 'Orange Is the New Black'
Even though Nichols is the one having the most outrageous sex on Orange Is the New Black, Piper and Alex's flashback scene in Season 2 showed the couple in an intimate moment pre-prison. Alex went down on Piper, and Piper was going to reciprocate for the first time… until, Alex's girlfriend came into the room and punched Piper in the face. Nobody said sex was easy.
Image: Jessica Miglio/Netflix
Arlene & Keith on 'True Blood'
A surprising choice considering how much we didn't see Arlene get down and dirty in True Blood's seven-season run, but the show gave her a truly delicious final-season sex scene. The sex wasn't actually real (it was Arlene's dream since Keith had saved her with his vampire blood), but the pool table at Bellefleur's Bar and Grill/Merlotte's never looked so good.
Image: John P. Johnson/HBO
Eric & Ginger on 'True Blood'
As for not-vampire-blood-induced dream sex in True Blood, Eric finally gave his groupie Ginger her wish and had sex with her. And in true Eric Northman style, he sexily snarled, "Did you not hear me, Ginger? You and I are finally gonna f**k." Only Eric has the ability to be both formal and dirty in so few words. But if only he had known that his 30-year foreplay with Ginger would lead to her orgasming almost instantly, which made for one of the funnier Eric Northman sex scenes. Oh, poor Ginger.
Image: John P. Johnson/HBO
Eric & Jason on 'True Blood'
I know I'm favoring HBO's True Blood here, but when one of the sexiest shows (if not the sexiest show) goes off the air, you have to send it off in style. And the best sex scene of 2014 on TV has to go to Eric and Jason on True Blood. Unfortunately, this is another dream (dammit, True Blood!), but when the two men who had the hottest sex in the entire series combine forces, it's epic no matter if it's a dream or reality. Oh, how I'll miss these two and their sexy-sex antics.
Image: John P. Johnson/HBO