Sienna Spoofs Post-Baby Life in 'Vogue' Video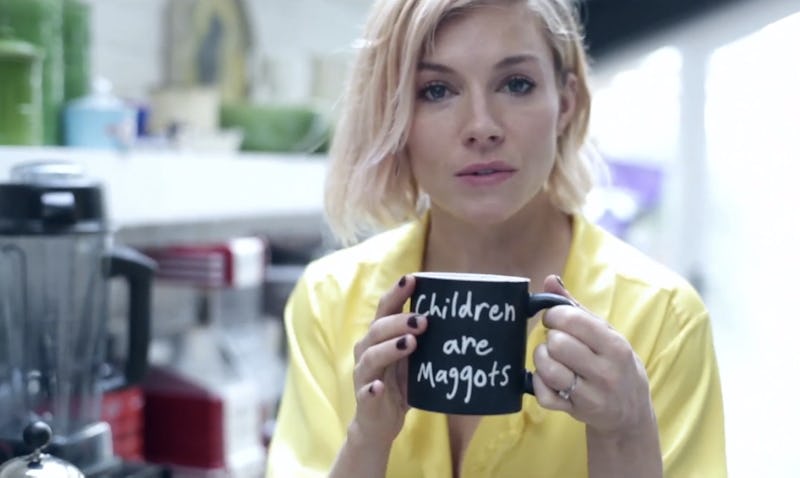 While actress Sienna Miller has been somewhat less visible since giving birth to daughter Marlowe, her boho chic style game hasn't suffered. Sienna Miller stars in a fake Vogue documentary, which takes a long, hard, and fashionable look at her, uh, life after giving birth. The mockumentary clip comes in conjunction with her January 2015 Vogue cover.
The clip opens with the actress, who welcomed her little girl in 2012 with her boyfriend, Tom Sturridge, getting her "Namaste" on in a lemon yellow robe. She lets the cameras follow her as she houses some chocolate and sips from a coffee mug thats screams "Children are maggots." She also snuggles on the floor with her black dog, whom she claims is her "spirit animal."
Miller can be credited with popularizing the boho chic look along with Nicole Richie. Her overall style has been a bit edited to reflect her new mom role, as she rocks a black leather jacket with her name emblazoned on the back, and her top handle "It" bag also tells you just who she is.
Miller has not lost her sense of humor since trading in late night celeb exploits and former fiance Jude Law for diaper duty. She hasn't lost her signature sense of style, since she still totally stands out with her fashion choices, including her dog walking heels and hat.
Watch it below and have a chuckle.