7 New Series to Catch Up On This Thanksgiving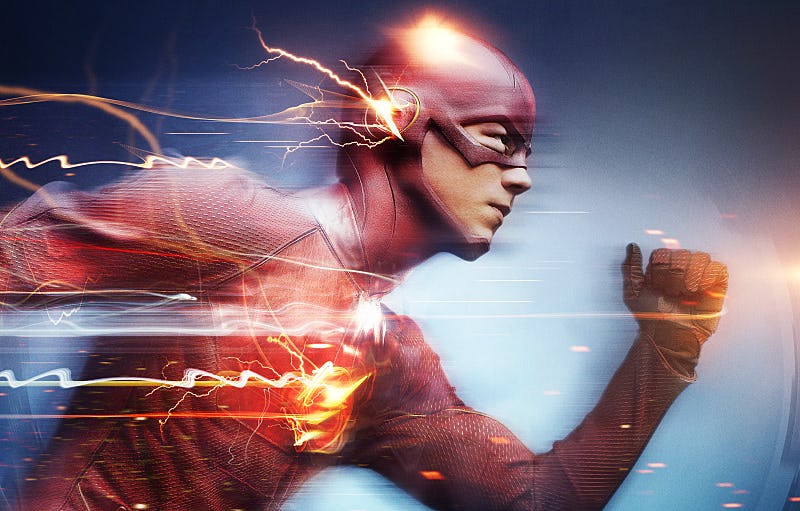 So, you've finished your third helping of Thanksgiving dinner and you "literally can't even" think of anything that would get you up off of this couch for the next 48 hours (except for maybe dessert). What do you do now? You could take a nap, but when there's so much great TV to watch it almost seems criminal to do so. And, you know what they say — the best way to digest your Thanksgiving dinner is by catching up on some fall TV shows you've been meaning to start. OK, fine, they don't really say that, but with The CW's breakout hit Jane the Virgin or the Ben McKenzie-starring Gotham on FOX OR Shona Rimes' latest act of brilliance, How to Get Away With Murder on ABC calling, you should answer.
The Fall 2014 TV season has brought some seriously great new series — not to mention Nick Jonas' return to TV, aka "The Jonaissance" — and if you're like me, you've probably been way too busy or have an already-full schedule of series to keep up with. So, again, there will be no better way to digest the extreme volume of turkey and stuffing you consume on Nov. 27 than by posting up on your couch or in bed for a solid eight hours and catching up. And, luckily for you, the majority of the these new series are available On Demand or Online for your food-induced coma viewing pleasure.
So, which new series should you catch up on this holiday weekend? Here are 7 suggestions so you can come back to work ready to chat about why telenovelas should inspire all of our TV primetime dramedy series from here on out.
The Flash
The CW
The Arrow spin-off series is just one of the breakout new shows on The CW's fall line-up. Glee veteran Grant Gustin plays The Flash in superhero series that recently received a full-season order from the network. If you love Arrow or if you're looking for a new series to fill an empty space in your TV-loving heart, The Flash is it.
Gotham
FOX
Young Bruce Wayne? Young Commissioner Gordon? A slightly older, but better with age, Ben McKenzie costarring alongside Jada Pinkett-Smith? Everything about FOX's Batman origins series, Gotham, makes it a must-watch. And I can guarantee you'll spend the whole weekend trying to figure out which characters will become some of Batman's most famous villains. I can't think of a better way to spend a long weekend.
Jane the Virgin
The CW
I actually can't say enough about how great of a series Jane the Virgin is. It's funny, it's got heart, and you're going to fall absolutely in love with it in the first few moments of the first episode, "Chapter 1." Jane was a brilliant choice on The CW's part and the perfect addition to you drama and supernatural-heavy TV schedule. AND it recently got a full-season order, so you know it's good. Also, it's telenovela-inspired. Do I even need to say more?
How to Get Away With Murder
ABC
First of all, if you're a Harry Potter fan, how have you not started watching this series? I mean, Dean Thomas aka Alfred Enoch is one of HTGAWM 's stars along with Gilmore Girls' Liza Weil and the inimitable Viola Davis, for crying out loud. The latest creation from Shondaland is a hit and a half and, if you have the time, you should probably climb out from under that rock you're living under and catch up so you can discuss your theory about who killed Sam Keating.
Black-ish
ABC
Initially, I was concerned about black-ish really missing the mark. But, alas, the series has actually become a Fall 2014 favorite because it hasn't rested on its title to make it successful. The series explores, perfectly, its familial relationships and, well, it's actually a really funny series. Put the Modern Family reruns aside and catch up with the Dre Johnson and his family with the series that airs after the Emmy-winning comedy.
The Affair
Showtime
The Affair will confuse the hell out of you in the pilot, I'll be honest. But you're going to want to stick with the Dominic West-starring series with a dual-narrative about a middle-aged infidelity in the Hamptons. If the mystery behind the series — which starts out after something goes horribly wrong, with West and Ruth Wilson's Alison giving statements to the cops — isn't enough to hook you, former Bunheads actress Julia Goldani Telles, who plays West's rebellious teenage daughter, will.
Kingdom
DirecTV Audience Network
Look, if you're still trying to pretend like you're not all about the return of Nick Jonas, I know you're lying. AND even if you really aren't about Nick Jonas right now (still don't believe you), let me appeal to the Friday Night Lights fans. Kingdom, which focuses on a family-run Mixed Martial Arts fighting gym in Venice, Calif., also stars Matt Lauria. Yep, good, old Luke Cafferty. Aside from starring criminally attractive men, however, Kingdom has gotten good reviews with some calling it, essentially, FNL: MMA Edition. I know you're intrigued now. And also, NICK JONAS.
Images: Nino Muñoz, Diyah Pera, Greg Gayne/The CW; Jessica Miglio/FOX; Nicole Rivelli, Adam Taylor/ABC; Steven Lippman/Showtime; DirecTV (screengrab)