7 Badass Female Politicians To Watch Next Year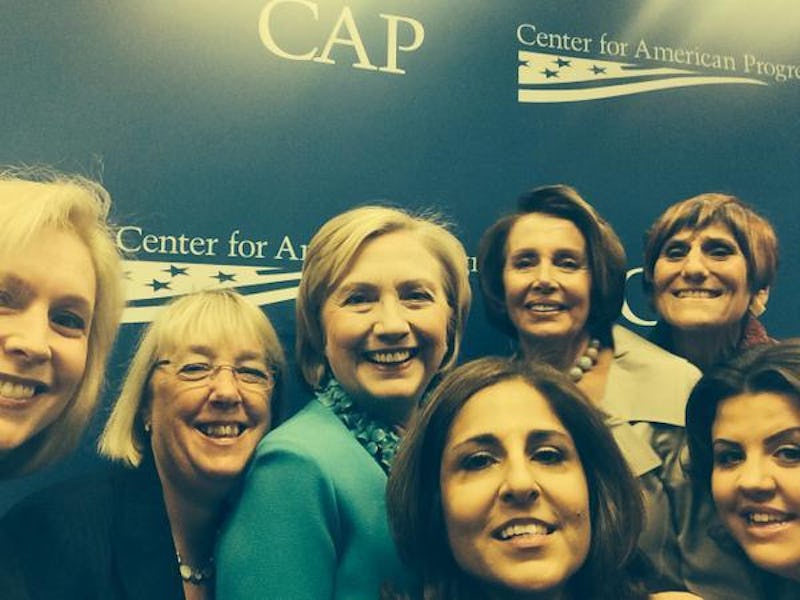 This year was lauded as a breakout year for women in politics. Both state and national races and White House-backed legislation shows a positive turn toward more involvement and the public's acknowledgment of women's political prowess. As we change our calendars and anxiously await Hillary Clinton's presidential announcement, a growing number of eyes are on women candidates. In honor of the lady spike, I've compiled a list of 2015's women to watch in politics.
If the 2014 midterm elections are any indication, women are set to have a banner year on Capitol Hill. They set records. They upset the Senate. They are frontrunners for the Democratic party. Women, it seems, are slowly inching their way toward equal representation in politics (though let's not get too excited just yet). Certainly there is a long road ahead for women battling a political climate that has been dominated by men for years. It is a quiet uphill battle that has waged on for years.
But, increasingly, there is hope that gender won't be a roadblock to a political career. These women are the figures in 2015 that will help us get there. These are the brief glimpses at the light at the end of the tunnel.
Hillary Clinton
Clinton is, perhaps, the most viable presidential candidate for 2016. The RealClearPolitics spread for the Democratic nomination has Clinton way out front with an average of 62.7 percent of the party vote. Meanwhile, Republicans are struggling to rally around one candidate, with Jeb Bush in the lead at 14.3 percent. This bodes well for Clinton's anticipated campaign, with a breezy primary and a party ready to throw full support behind her. Even with a 2016 vote seeming distant, Clinton could very well be our first female president.
Janet Yellen
As the Chair of the Federal Reserve, Yellen wields immense power. And no, her job isn't a political role in the sense that she was elected to the office, but the first female chair, who was sworn in February 2014, has a couple of big time decisions that could make or break her legacy. Her decisions, even just one, could have major economic ripples over the next year.
Kirsten Gillibrand and Claire McCaskill
There was a little beef between New York Sen. Kirsten Gillibrand and Missouri Sen. Claire McCaskill when the Senate opted for McCaskill's bill to reform military sexual assault policies over Gillibrand's version this March. But now the two are teaming up to push a Senate bill aimed at changing campus sexual assault policies. Recently, they have been speaking out against the public fallout after the Rolling Stone campus rape story.
Nancy Pelosi
She may have lost the top spot, but House Minority Leader Nancy Pelosi will command the key votes when Republican bills would otherwise be left in the balances. That should make Pelosi Republicans' go-to gal. They will need to make nice with Pelosi if they want to have a productive command of the House, though Pelosi says that Democratic deciding votes aren't the goal. "I would rather they did the responsible thing so we wouldn't have to bail them out every time," she told Roll Call this month.
Elizabeth Warren
If the rumblings of a 2016 presidential come to fruition, Warren and her loyal followers could needlessly split votes for Clinton. But, as she told NPR, that isn't her MO. The Massachusetts senator is certainly making a name for herself with outspoken challenges to the $1.1 trillion spending bill supported by her own party and the president. And from the looks at it, she gives approximately zero shits about stepping on toes.
Saira Blair
The newly elected member of the West Virginia House of Delegates is fiscally conservative, pro-gun, and 18-years-old. This November the Republican became the nation's youngest state lawmaker when she beat out her Democratic opponent 63 to 30 percent. Blair will represent a small district in the state's eastern panhandle during the state's 60-day session. She will resume her freshman year at the University of West Virginia in the summer.
Women in the House
The 114th Congress will have a record-breaking number of women in the House of Representatives. That may sound great on paper, but that still puts them just a hair under 20 percent of the chamber. But with a landmark election, you can bet that women will be ready to fight and keep those seats the next time around. Oh yeah, and maybe (finally) get something done in between campaigning.
Images: Getty Images (6), SairaBlair.com (1)