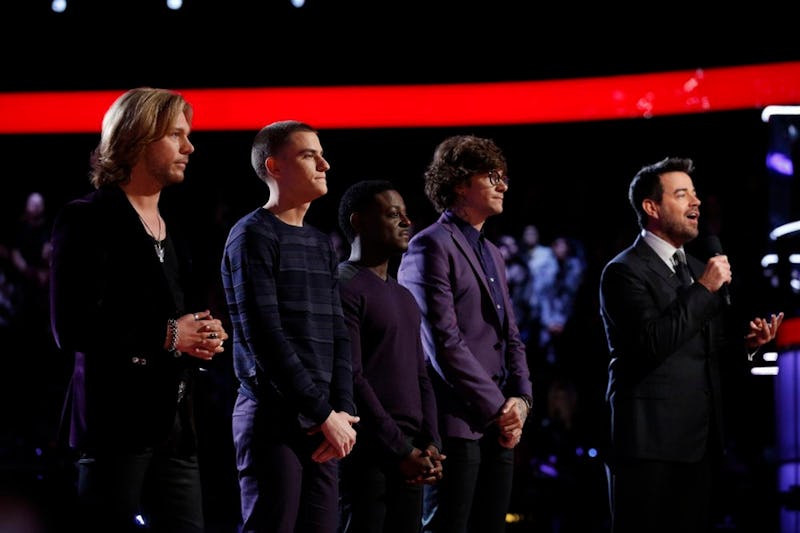 After a few seasons of low ratings and disappointing winner debut album releases, season 7 of The Voice is exactly what the singing competition needed to gain some momentum. This season debuted some new features — like the Wildcard vote and original singles for the final four — and had the most talent any one season has ever seen. The finale came down to four contestants — all male, all worthy of the title, and most on Team Adam. In most shows of this nature there is a clear favorite, but this season proved difficult to choose just one. When trying to determine a favorite between Craig Wayne Boyd, Matt McAndrew, Damien, and Chris Jamison, I often have a hard time choosing between the first three. But, there can only be one winner, and thankfully that's not up to me. After a season that seemed to last forever — 26 episodes, really?! — and a finale that seemed even longer, America's favorite has finally been revealed. Ladies and gentleman, may I present to you your season 7 The Voice winner..... Craig Wayne Boyd!
Boyd was the underdog of this season, and it's great to see him take home the title. Out of the four finalists Boyd is the most experienced, the most fun to watch, and definitely is most deserving of the title. After making three albums and then losing his contract early in his career, this is just what Boyd needed to get back on his feet and take his career to the next level. He had some tough competition in runner-up Matt McAndrew, but being the only country singer left in the competition definitely helped him out since he got the vote of most of the country fan-base.
This is also a major win for Coach Blake Shelton. Other than winning major bragging rights over coach Adam Levine — who had three contestants in the finale and STILL lost — this marks Shelton's fourth win in the competition.
Craig Wayne Boyd has performed flawlessly this entire season and we can't wait to hear his debut album. Until then, check out his new single below. Congrats on a well-deserved win!
Image: Trae Patton/NBC