Kim Kardashian's Hair Stylist Has a #Hairspo Site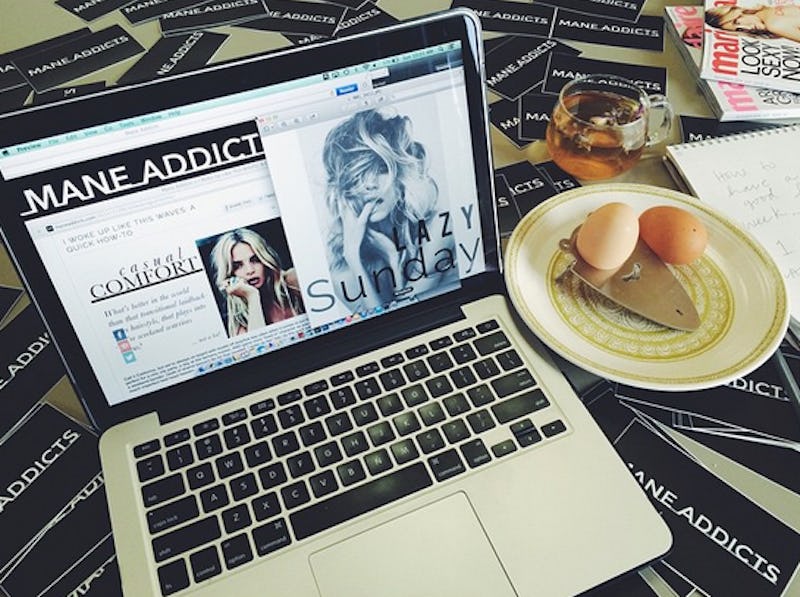 If you are as Kardashian obsessed as I am, you no doubt know of the famous stylist Jen Atkin. The master celebrity hair guru, Atkin is responsible for the luscious locks of Hollywood's elite including Chrissy Teigen, Jessica Alba, and of course the entire Kardashian klan. In attempts to share the wealth of expertise knowledge, Jen Atkin has launched Mane Addicts, an all-things-hair digital destination for her fans and followers to indulge in. Anyone who's still lusting over those big, shiny waves that Kim K is famous for? All of your hair-related prayers have finally been answered.
Mane Addicts provides celebrity-style obsessed fans with starlet how-to's, stunning visuals via an inspiration board, and shoppable content so followers can snag all the best tools to create gorgeous hair of their own. My personal favorite part are all the behind the scenes photos Atkin posts of celebrities getting their hair all done up, both on and off photo shoots. After carefully scouring every inch of "Mane Addicts" (I may have spent an hour or two too long), here are 5 helpful tips I learned that are completely share-worthy.
1. Mousse Is The One And Only Styling Product You Didn't Know You Needed
Apparently, mousse is the best friend we didn't know we had. It not only instantly thickens hair during blow-drying, it also serves as a great protectant against heat styling (who knew?!). And, of course, it holds any type of hair style in place, like those curls you spend so much time on.
2. When In Doubt, Baby Powder It Out
Yes, baby powder. You know, the kind you buy at the drug store. According to "Mane Addicts", this is one of the oldest tricks in the book. They suggest dabbing some right onto your roots when your hair is flat, greasy, and lifeless. The magic powder will add instant volume and make you look pulled together.
3. Toothbrushes Aren't Just For Your Teeth
Jen Atkin and her team reveal their ultimate #BTS styling tip for taming those annoying baby hairs and fly aways, including Just add some hair spray and use the bristles to brush away those pesky hairs.
4. Thinking Of Getting A Lob? Make Sure It's Collarbone Length
The Lob has won the award for the hairstyle of the year, but many of us are a bit apprehensive to try it. It's quite the bold cut, after all. However, according to the experts at "Mane Addicts" a collarbone-grazing lob is universally flattering. They also add that rounder face shapes can use an extra inch or two of length, and narrower faces benefit from more layers. Last tip? All lobs could use a whole lot of texture.
5. A Sea Salt Spray Is The Key To A Textured Pony
In this Chrissy Tiegen hair how-to, the stylist dictates how important texture building is to creating the perfect pony. To achieve Tiegen's look, he used Sachajuan Ocean Mist first and foremost to get that beachy look, otherwise, the hair will just fall flat. Point taken.
Images: maneaddicts/Instagram; vladimirfloyd, GVictoria, Svetamart/Fotolia