13 Fantastic Feminist Moments From 2014 Entertainment, Because Hollywood Finally Realized Equal Rights Are a Beautiful Thing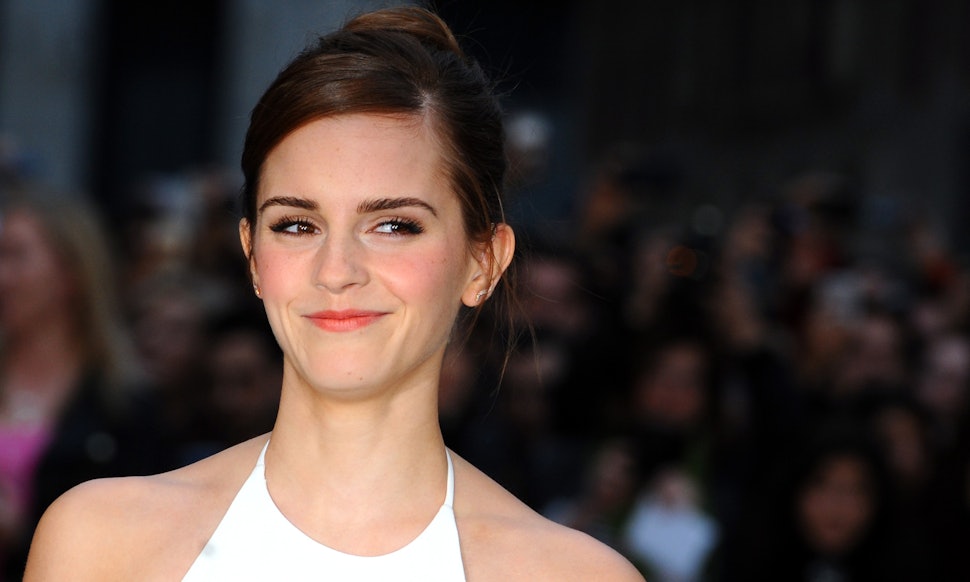 Anthony Harvey/Getty Images Entertainment/Getty Images
The word "feminism" was a definite buzzword of 2014. When celebrities weren't busy announcing to various magazines and news outlets that they aren't feminists, clearly because they didn't quite understand the definition, the rest were coming out of the girl power closet to announce they are feminist. In fact, the very concept was such a hot button topic that Time even made the absurd suggestion of removing it from the lexicon. However, enough of Hollywood is on board with the crazy idea that men and women should have equal rights, and feminism is here to stay. By the way, that's what feminism means, y'all. Equal rights for men and women. For the record. Just in case you're still confused.
And if this kind of behavior can continue on into 2015, I wouldn't be mad about it. Consider this slideshow a helpful guidebook for celebrities using their star power for good, because standing up for what you believe in really does change people's minds and their lives.
Emma Watson's UN Speech
For as long as I've loved Emma Watson, I've never wanted to hug her quite like the day she got up in front of the UN and professed her eternal devotion to feminism while also encouraging her movement, #HeForShe, which aims to get men on board for women's rights. The only way her speech could've possibly been better is if she dramatically dropped the mic before heading off stage.
Beyonce's Feminist Essay
"Gender equality is a myth," Queen Beyonce said in her addition to the Shriver Report in January, and then proceeded to bluntly make so many good points about women not receiving the opportunities they should. As if I needed another reason to be completely obsessed with Beyonce, right?
'Mockingjay: Part 1' Breaks All Kinds of Records.
Guys, one of the most popular action heroes of our time is a teenage girl. How cool is that!? And this year, the second to last installment of Katniss' adventures in The Hunger Games series was released, and proceeded to make $123 million in its opening weekend alone.
Zoe Saldana's Comment on Women's Roles in Hollywood
Women aren't offered roles with the kind of depth men are — it's just the way it is. And Zoe Saldana didn't hold back when she highlighted the issue this year.
"To me, a woman is not an incompetent, impotent, inept creature," Saldana said. "I've never met a woman like that. Yet half of the scripts you read in Hollywood have [subservient] characters. I'm not a maid to anybody."
Taylor Swift Comes Out as Feminist
And just about every single interview she did while promoting her latest album, 1989, involved feminism in some way or another, and it was a beautiful thing. With the serious role model power Swift has, she's become an incredible influence on her youngest fans who will undoubtedly grow up to be kick ass feminists, too.
'Free The Nipple'
Damn, it has a good point: The freest your nipples feel shouldn't just be when you get home from work and finally get to take your bra off. Why are women's nipples "indecent exposure" but men aren't discouraged from walking around shirtless? It's unfair, and I'm so glad that it's a conversation that's been opened up this year.
Image: IFC Films
#TGIT
Thursday nights on ABC — akak one of the most competitive time slots in television — are owned by Shonda Rhimes, the female executive/powerhouse/my personal savior who's behind Scandal, Grey's Anatomy, and How to Get Away With Murder… better known as three of the most popular shows on tv. Oh, yeah, and all three shows have female protagonists. And since Rhimes took over Thursday nights, she's totally owned it.
Beyonce's VMA Performance
Beyonce's 15 minute performance at the VMAs wasn't epic only because it's Beyonce and everything she does is epic. She took the opportunity to remind us of the importance of feminism, and now we should all take the opportunity to relive those beautiful 15 minutes all over again in celebration.
Lena Dunham
Lena Dunham simply existing is a step forward for feminism, but releasing her book, Not That Kind of Girl, this year was an even bigger step forward because of how unflinchingly honest she was. I love that we live in a world where there is a Lena Dunham.
Jennifer Lawrence Speaks Out on Leaked Photos
In the mass leak of celebrity nude photos, pictures of Jennifer Lawrence were one of the most high profile leaks — but she refused to apologize. Like all victims of nude leaks and computer hacks should, she recognized that there is nothing to apologize for.
"It is not a scandal. It is a sex crime," she told Vanity Fair. "It is a sexual violation. It's disgusting. The law needs to be changed, and we need to change."
Joseph-Gordon Levitt Raises Feminism Awareness
If you haven't seen Levitt's video on feminism, prepare to fall in love with him even more than you already are (because let's face it, who isn't in love with JGL?). Not only did he talk about his journey with feminism, but also encouraged his fans to join the conversation. How awesome is this guy?!
Everything 'Frozen.'
Frozen may have come out in 2013, but it was HUGE in 2014, and the best part? It wasn't a love story, and it passed the Bechdel test with flying colors. Anna may have ended up with Kristoff, but Elsa is an independent woman, and for that reason, she's one of the best role models the Disney machine has ever cranked out. I'll gladly listen to "Let it Go" nonstop for another year if it means little girls are still being empowered by Elsa.
Image: Disney
Angelina Jolie and 'Unbroken'