15 Years After 'Malcolm,' It's Hal vs. Walter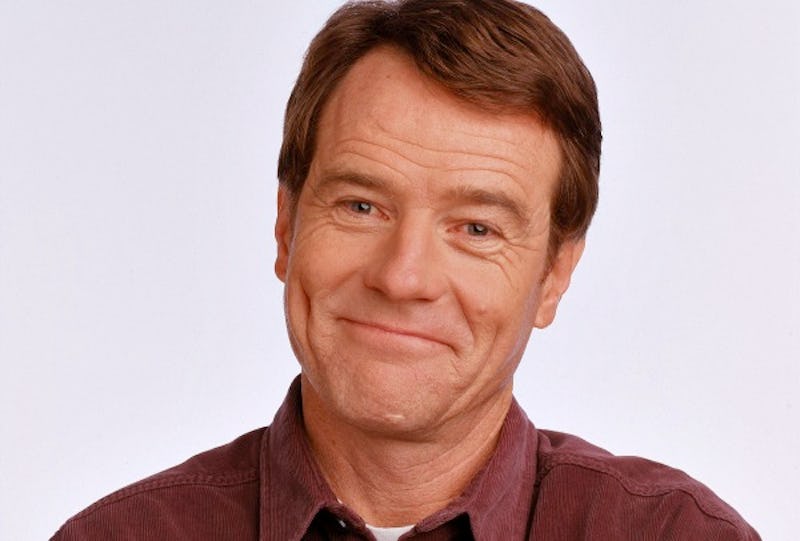 Exactly years ago this month — on January 9, 2000 — the hilarious, off-the-wall family sitcom Malcolm in the Middle premiered on Fox. The show, which would eventually go on to win seven Emmys during its seven seasons on the air, introduced the world to a young Frankie Muniz (as the titular Malcolm in the middle) and reminded us what a brilliant, versatile character actress Jane Kaczmarek is. But looking back at the comedy, it's impossible not to immediately have one name spring to mind: Bryan Cranston.
The actor, who was best known for his work as Dr. Tim Whatley on Seinfeld , broke out as a bona fide television star for his performance as the whacky, but lovable Hal on Malcolm in the Middle. Whether he was trying to parent his five oft-unruly children, or going off on his own bizarre ventures like speed walking or roller skating in sequins, Cranston's quirky brand of physical comedy captured the hearts of viewers.
Those were simpler times, really, before Cranston scared the ever living hell out of us as cancer-striken-teacher-turned-evil-meth-kingpin Walter White on Breaking Bad . Since then, fans on the Internet have matched up Cranston's two most famous, albeit starkly different characters. Heck, even Cranston himself got in on the fun, appearing in a Breaking Bad alternate ending, in which Malcolm in the Middle's Hal wakes up from a terrible dream.
In honor of the 15-year anniversary of the debut of Malcolm in the Middle, we wanted to do a whole new Hal vs. Walter showdown. Check out our comparison of who wore it best, and see if you agree.
Who Wore It Best: Tighty Whities Edition
Hal
Walter
While Hal sure knew how to rock out in those tighty whities (and, oh, he did it often), the unflattering undergarment is pretty much synonymous with Walter White. In fact they should rename them Walter Whities. Winner: Walter
Who Wore It Best: Dad Plaid Edition
Hal
Walter
Walter White may have still dressed like a chemistry teacher after he went to the dark side, but he was far too menacing to pull of the dad plaid look. Hal, on the other hand, had the look down pat. Winner: Hal
Who Wore It Best: Grooming Edition
Hal
Walter
Walter had to shave his hair, and when he did he all but transformed into Heisenberg. Hal technically had to shave, too, but did he really have to do it in the kitchen? Winner: Walter
Who Wore It Best: Sweater Edition
Hal
Walter
It doesn't matter how nice you look in a comfy sweater, if you're wearing it while looking up at a plane crash you indirectly helped cause, you no longer pull off that sweater. Besides, Hal clearly had a jump on the ugly Christmas sweater game before everybody else. Winner: Hal
Who Wore It Best: Glasses Edition
Hal
Walter
Hey, they both look pretty sharp, don't they? (Truth be told, we are still afraid of ticking off Walter White.) Winner: Tied
You're still one hell of a fashion icon in our book, Hal.
Images: Fox; Tumblr.com; Perezhilton.com; Digitalspy.com; Fashiontimes.com; Buzzfeed.com; Faroutpodcast.com; TVGuide.com; Gopix.com; Flickr.com; Pandawhale.com