The 7 Best Sex Tech Inventions of 2014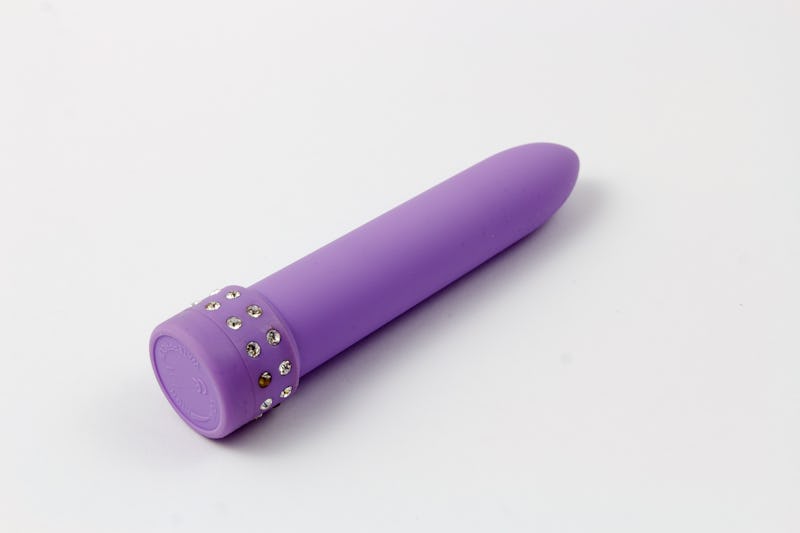 As someone who remembers when cybersex consisted of two people "typing" furiously in an AOL chatroom, I've been avidly following the intersections between sex and technology for half my life. According to The Daily Dot , sex tech in 2014 hit new heights, with a bevy of seductive (and silly) inventions that made headlines, inspiring safer, better (and in some cases weirder) sex. While you could argue that most of us are born with all the equipment we need to lead satisfying sex lives, I'd say that things like STIs, long-distance relationships, the limitations of the human body, and wanting superhuman orgasms are what make sex tech so invaluable.
Sure, some products may end up relegated to the gag gift realm, but others may actually change the face of human sexuality as we know it. Only time will tell, but I for one will do anything I can to make my sex life feel more like Blade Runner. If it's possible to have sex like a replicant (or with a replicant?) I will wholeheartedly embrace the technology that allows me to do so. Or maybe you prefer a Matrix reference? Who wouldn't want their vagina compared to The Matrix? Anyways, here are the reasons why we we all got one step closer to being sexual androids in 2014.
1. Fair trade, non-toxic, sustainable condoms
Sustain condoms, $20, Amazon
There's nothing particularly high-tech about condoms, but the father-daughter run company Sustain definitely brought rubbers into the 21st century this year. Their eco-friendly condoms are made of natural latex from sustainably grown rubber and are specifically designed for women. Sustain also donates 10 percent of their profits to organizations that support women's reproductive health, which makes this one of the most ethical condom companies around.
2. Vibrating panties with bluetooth controller
OhMiBod Club Vibe, $89, Amazon
OhMiBod makes it possible to get your lady off without even touching her. No, it's not through bending the space time continuum, but through a pair of vibrating panties controlled via smartphone. For now, the device has to be in close proximity to the wearer, but soon the company says they will allow you to really go the distance.
3. Vibrating cockring with bluetooth tracker
Ladies and gentleman, meet the cockring of the future. Described as a FitBit for your johnson, the SexFit fits around the base of the penis and will vibrate for extra stimulation while measuring your thrust-per-minute rate and the calories you've burned. All these stats can be tracked through a corresponding smartphone app and presumably compared with your friends for double the fun.
4. STI-preventing latex undies
Ah, the Scroguard: probably the funniest, most awkward invention of the yea — with a very admirable goal. As we know, STI's like herpes can be transmitted not just through penetrative contact, but through skin to skin contact. Since a condom isn't enough, the Scroguard is a latex mankini meant to protect your precious genital skin from touching your partner's. Combine with a condom for a creepy yet incredibly safe sex experience.
5. Vagina weights with bluetooth tracker
Elvie Kegel Exerciser, $199, Amazon
Lightyears ahead of old-fashioned analog vaginal weight lifting, the Elvie is basically a digital kegels tracker. You pop it in, and it takes you through five minute exercises where it measures how much you're clenching and releasing your pelvic floor muscles. You can even track your progress and compare with your male friends' SexFit results!
6. Automated blowjob machine
Autoblow 2, $160, Autoblow 2
Hey guys, now you can finally get that machine blowjob you've always dreamt of! If this isn't the future of masturbation, I don't know what is. The Autoblow 2 is designed for men of all sizes and even comes equipped with a semen catcher. The video just makes the whole invention: at least they have a sense of humor about it.
7. Artificially intelligent vibrator
Touted as the world's first robotic, artificially intelligent vibrator, Hum is one step closer to making robot sex a reality. The device is equipped with sensors that respond to the motion and pressure of your movements by increasing or decreasing vibrations to mimic the crescendos of a real life session. Hum is designed to be so in sync with your sexual needs that it will one day render the entire male species obsolete unless a sexual Terminator goes back in time to destroy the prototype.