Why Washing Your Face with Mud is All the Rage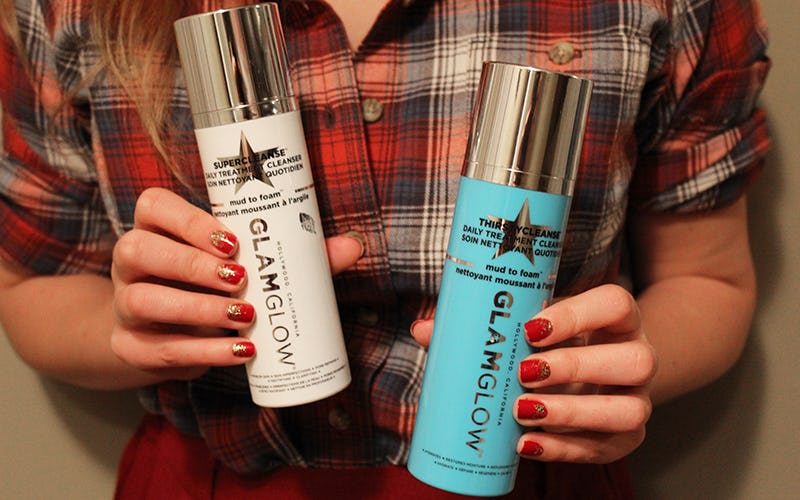 The world of cult and indie beauty products is a glorious place, albeit one without the new product frequency of mainstream makeup. When a smaller, beloved brand adds a new formula to their collection, everyone kinda flips, and GLAMGLOW's face washes are no exception. Officially launching in January 2015, the SUPERCLEANSE and THIRSTYCLEANSE expand two of the most popular ranges in the brand's collection, targeting normal-to-oily and dry skin, respectively.
SUPERCLEANSE Daily Cleanser, $29, Sephora; THIRSTYCLEANSE Daily Hydrating Cleanser, $29, Sephora
In case you're unfamiliar with the brand, GLAMGLOW was originally developed for use on film sets, but made its way to regular retail in 2011. All the products are "mud"-based, and use natural ingredients like French sea clay, peppermint, and ground olive that are known for having serious skin-soothing benefits. Personally, I've been obsessed with their THIRSTYMUD Hydrating Treatment since it launched, so I was particularly stoked to add a complimentary face wash to my routine — my skin shows no sign of getting any less dry and flaky now that the weather is horribly cold.
THIRSTYMUD Hydrating Treatment, $69, Sephora
Keeping in line with the brand's MO, these washes are also a creamy, "mud" formula, so they're slightly thicker than your usual drugstore cleanser. Plus, at $29 each, they're not exactly a beauty bargain — but are they worth that extra cash? I took to the bathroom sink to find out.
Best For: Normal to dry skin types
Key Ingredients: Brazilian yellow clay, pure green coconut water, olive milk, South Pacific plumeria flower blossom extract, and Indian gooseberry.
Despite having dry skin, I actually like to see some suds in my face wash. Foam gets a reputation for making your skin feel tight, but it really has to do with the ingredients in the cleanser. Since this one is packed with so many natural, moisturizing components, the mud-to-foam formula left my face feeling nice and soft. When paired with a night cream, I woke up without that icky, flaky feeling I'm so used to.
Best For: Normal to oily/acne-prone skin types
Key Ingredients: Mediterranean clay, bamboo charcoal, licorice root extract, black cumin seed extract, glycolic acid, and lactic acid.
I know it's better for oily skin, but I still have a tendency to get obsessed with anything that contains charcoal. While most of my face flakes off in large, dehydrated chunks, my forehead and T-zone have their greasy days — charcoal is a balancing ingredient that basically just normalizes your skin, rather than pulling it too far into moisturizing or drying territory. After pairing this wash with my trusty Clarisonic, my skin definitely had that perpetually sought-after glow, with only a little bit of tightness that was easily remedied with a light lotion.
If you're looking to take a step up from the drugstore brand face wash you've been using since middle school, I'd certainly recommend these GLAMGLOW cleansers. A tiny little dollop goes a long way, so the $29 bottle should last you a couple months. Plus, you can always alternate with a cheaper brand on days your skin is feeling particularly stressed.
Images: Megan McGrath