Who's Drunk On Kathy & Anderson's NYE Show?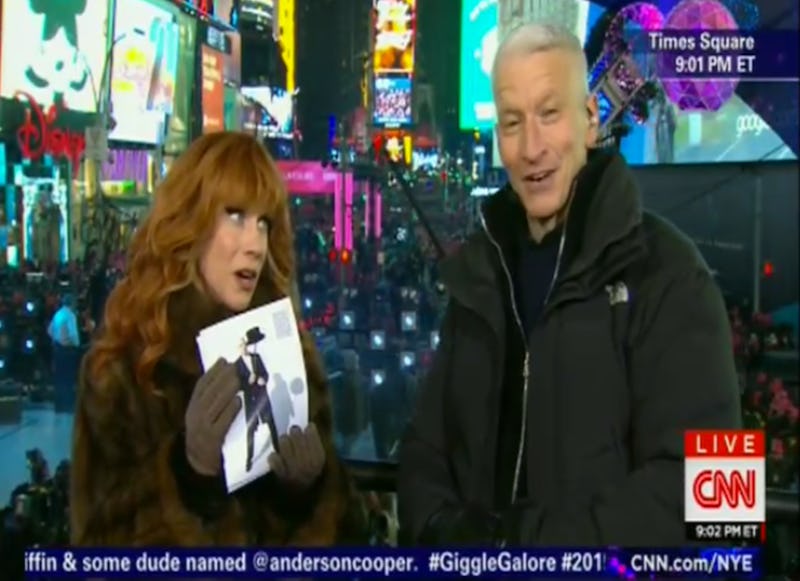 Just like they've done for the last seven New Year's Eves, the dahhhhrling duo of Anderson Cooper and Kathy Griffin rang in 2015 together. They were, but of course, hosting New Year's Eve Live on CNN. What sort of live TV debauchery will unfold this year? we wondered as we fetched another glass of that gnarly rum punch our friend's neighbor brought to the party. Will Kathy take off her top again? Will Kathy bring back the "smooch A-Coop's crotch" move? Will Kathy let out yet another F-bomb on the live broadcast?
What will crazy Kathy do this year??
Wednesday night, Griffin brought her A-game. And by "A-game," I mean "an exquisite fur coat that once belonged to the late Joan Rivers, a copy of Luomo magazine, and hair dye." And jokes. So many jokes at A-Coop's expense.
A handful of viewers speculated Ol' Loose Cannon Griffin's antics might've been the result of her imbibing a few glasses of boxed wine (shoutout to Maggie Griffin! TIP IT!) before and/or during the show.
Here's the thing: the Fashion Police officer totally didn't sip any NYE hooch Wednesday night. Or ever. Remember when she told her New Year's Eve Live cohost she's never consumed booze-a-hol? She wasn't being facetious: Griffin is a proud teetotaler. Lady does not drink. Her wild antics aren't alcohol-fueled. Her antics are comedy-fueled.
But hey, that didn't stop folks from specu-tweetin':
And yes, folks specul-tweeted about Andy Coop, too:
My conclusion: Anderson and Kathy are drunk... on fun! Those two!
Image: CNN