7 Times I Was Inspired to Flaunt My VBO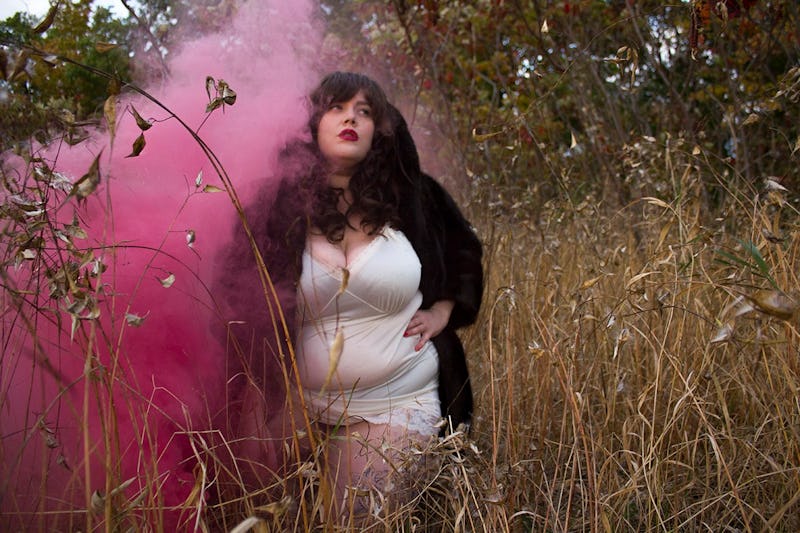 So 2014 felt like the year that plus-size babes showed off their midriffs. Crop tops were everywhere in curve fashion, and that sigh of relief you heard was definitely at the sliver of skin between my boobs and belly button finally getting a breath of fresh air. From what I've been seeing on social media and on plus-size fashion blogs, it looks like the VBO might be getting its moment now, too. What does VBO stand for, you ask? Visible Belly Outline — you know, the shape that a nice rounded belly makes in clothes.
We hear the plus-size euphemisms all the time, but the most common way of saying "plus-size" or "fat" without actually saying those words is super annoying to me: Curvy. If you've seen real, live human beings walking around lately, you've probably realized that bodies come in all different shapes — no matter their size. Just because someone wears clothes larger than a size 12, it doesn't mean they're curvaceous. And the opposite is also true! A woman with a very tiny frame can be totally voluptuous, busty, big-chested, hippy, hourglass-figured, thick or whatever other descriptors fit. So we need to try and figure out what we actually mean, and just say it: Take the negative power out of these words.If certain words are making us uncomfortable when we're using them to describe people's bodies, maybe we should pay attention to that discomfort, and simply not talk about those people's bodies! My challenge to society this year is to actively attempt to discuss the bodies of others less. I promise the world has never been a worse place just because someone didn't offer up their opinion of someone else's chunky or skinny bits.
I've called the VBO my "final frontier" in positive body acceptance: I'm pretty cool with rocking a bathing suit; crop tops are no big thing anymore; and the positive or neutral thoughts I have about my body outnumber the bad. It's a constant process each day, but I'm getting there. However, I still get hung up on flaunting that one curve that often gets left out of the equation: My cute, round tummy. It's cool to show off big boobs, round butts, and curvy hips — but mainstream media's reaction to anything less than a six-pack is enough to make me want to shroud my midsection in an invisibility cloak forever (I feel you, Harry). There are terrible names for the area below our ribs and above our thighs that are supposed to make people with a curvaceous tummy feel shameful. Seriously, "gunt" and "FUPA" are generally not said in a way that's supposed to make one proud of that area on their body.Plus-size women are inundated with rules about how to dress to "flatter" their frame: Rules that urge us to hide our "flaws." The supposed flaw that seems to be universally accepted as needing to be hidden is a tummy. Considering all of the shapewear designed to make our midsections as tiny as possible, "control top" pantyhose, and styles that flare below the ribs, marketed toward plus women, the message that round stomachs are not cute comes through loud and clear. This was something I had internalized well and believed. But then Virgie Tovar came into my life.
I interviewed Virgie about her book, Hot & Heavy: Fierce Fat Girls on Life, Love and Fashion, at a time when I was just starting to accept that maybe I needed to wear plus-size clothes and maybe I might even begin to identify as "fat." We became acquaintances on social media, and with each VBO-flaunting outfit selfie she posted, I felt my resistance to the idea melt away. When Virgie referred to herself as a "VBO VIP," I was sold. A few weeks ago I was encouraging a gorgeous woman to buy a top that was form-fitted, and she loved it. But didn't want to draw attention to her lower belly. She hung the shirt she liked so much back up and left without it. I decided I couldn't let myself miss out on any more opportunities to wear things that I loved. Because thinking you look hot and not caring about what others think of the way your stomach looks in clothes is the most flattering thing I can think of.
While I haven't quite worked up the courage/found the perfect outfit to wear for my VBO's debut yet, here are some looks and fashion moments that have been inspiring me:
1. WHEN GABI GREGG ROCKED HER HOT CO-ORDS
This sparkly pairing (and especially that cute crop top) are so hott that you couldn't stop me from putting them on my bod.
2. THIS MINIMAL DENIM LOOK
That stylish and simple ensemble proves that a casual-cool look is for everyone.
3. WHEN CHASTITY GARNER WAS GLAMOROUS AS HELL
The opposite of hiding the stomach, this blogger's elegant looks makes me want to dress my VBO up and take it out on the town.
4. WHEN VIRGIE TOVAR WORE A MAXI TO A VINEYARD
I'm not sure what's better: A sunny day drinking wine or how much of a babe Virgie is in this maxi.
5. WHEN FAYE DANIELS DID THIS GORGEOUS SHOOT
This photo by Katie West had me reaching for the nearest vintage slip and pink smoke bomb. Well, you know what I mean.
6. WHEN GAZEL MADE DRESSING FOR WORK LOOK GOOD
Seriously, how great does she look in those stripes?
7. WHEN MARIE LOOKED ALL FEMME FATALE
Seriously, that fur collar and sparkly lace are perfectly vintage babe style.
Images: Giphy; Virgie Tovar; Instagram; Donutguts; Tumblr/Fayedaniels; GarnerSyle