This Bride Was Floored by an Epic Wedding Surprise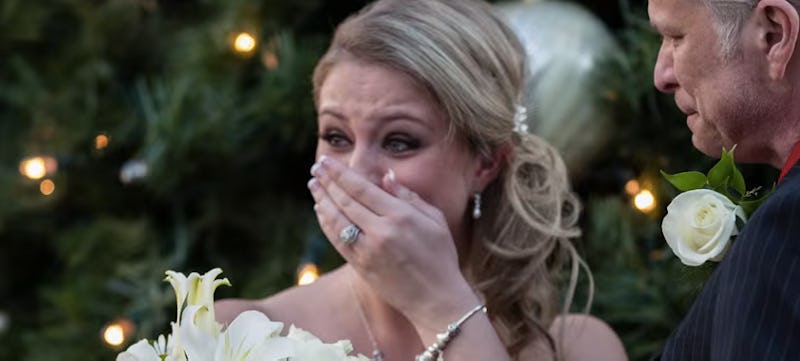 Most of us have had it up to here with the holiday engagements and weddings already, but this one is different, I promise! After they found themselves overwhelmed with wedding planning, this Georgia man surprised his fiancée with a flash mob wedding at a mall just before Christmas. A surprise wedding! Just let that sink in.
According to the Huffington Post, Brian Green asked his now-wife, Christina McGinnis, to show up at the Mall of Georgia on December 14th under the guise that she was going to be modeling for a "church photo shoot" of some kind. You can tell that the bride was very legitimately surprised when she turned a corner and unexpectedly saw her father all dressed up, who then informed her that she was going to be married that day.
Christina's surprise turned into utter astonishment when she turned the corner again to find other friends and family members gathering around to watch the ceremony (that probably isn't a "flash mob" strictly speaking, as they are typically comprised of strangers doing pointless stuff, but no matter). Watch a video produced by the groom's brother of the flash mob wedding here, and an interview with the couple here (via 11 Alive).
Having coincidentally also opted out of the hassles of wedding planning myself (I got married at City Hall earlier this month), I can certainly understand what motivated this groom. There is, however, predictably some naysaying in the YouTube comments:
I would have hated having absolutely no say in the date, venue, flowers dress & etc, and would have regretted overall never been given the chance to plan out my wedding together with my husband. For me that was a huge part of the experience, learning how to make decisions together with my fiance.
But I'm sure that this newly-minted married couple will learn to make decisions together just fine (if they haven't already — they have a two year old together and such), and anyways, you should never read the comments. Another commenter wonders how the couple took care of paperwork, because usually both spouses have to appear in person at a government office to get the marriage license at least a day in advance of the marriage ceremony. So perhaps the wedding was not official official, and they signed on another day, but that hardly matters in the scheme of things.
Mazel tov to the couple and nice work, Brian! But good luck topping that for your future anniversary surprises.
Images: Chris Green / YouTube