Would You Trade Your Louis Vuitton for an iPhone?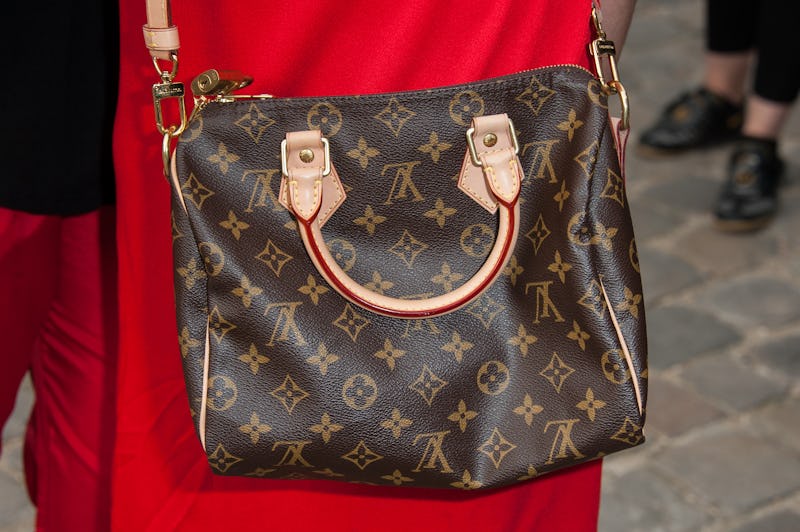 Francois Durand/Getty Images Entertainment/Getty Images
Last week, millions of people did away with sleep, food, and their basic human needs to get their hands on the coveted iPhone 5S and 5C, but Lisa Hoffman made a different sacrifice — her beloved $2,000 Louis Vuitton purse.
[Pause for audible gasps heard 'round the Internet from revolted fashionistas.]
We can all empathize with Hoffman's smartphone addiction. But… trading it… for a spot… in an iPhone line!? Before you (and I) go judging Lisa Hoffman, let's give her a moment to defend her case.
According to Live5News, the Myrtle Beach resident had made the 100 mile trek to the Apple Store on King Street in Charleston, S.C. to secure a spot in what would be an around-the-corner-and-back line for the iPhone 5S/C release.
Hoffman was fifth in line when she got some insider info from an Apple Store employee that inventory was limited.
In an act of desperation (read: delirium), Hoffman did the unthinkable — she made a deal with two girls in front of her.
"They decided they were going to do a swap with me. They liked my Louis Vuitton bag, so they would give me their spot so I was guaranteed, hopefully, one, in place of [my] Louis Vuitton bag. Hopefully everything goes accordingly," Hoffman told reporters.
It's important to note here that Hoffman wasn't guaranteed a shiny new champagne-colored, finger-print-reading iPhone after the bag swap, but to Hoffman, a fashion loss was worth a potential technology gain.
A happy ending here: She did score the next morning when the Apple Store doors swung open; Hoffman broke down in tears describing the moment as, "the best feeling ever!" (She also went on to say that Steve Jobs was looking down on her.)
Meanwhile, somewhere in France, Louis Vuitton is turning over in his grave.
Image: Francois Durand/Getty Images