Alexis Bledel Lovingly Remembers Her TV Grandpa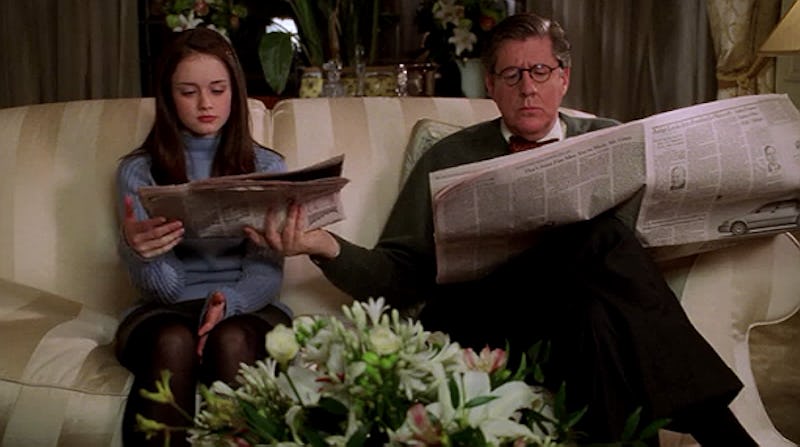 Another Gilmore Girls star has broken their silence about the death of her TV grandfather. Alexis Bledel gave a short but sweet tribute to Edward Herrmann on TVLine on Friday after the beloved actor passed away on December 31st from a long battle with brain cancer. Bledel and Herrmann worked together for years and became family on Gilmore Girls, and Bledel spoke about how her TV grandpa truly was the head of their makeshift family.
While Herrmann was a highly regarded, well established actor for decades, he will most likely always be remembered as one of the best grandfathers, fathers and husbands on television with his role as Richard Gilmore on Gilmore Girls. He brought to the show a level of truth, love and strength that the series definitely needed to become as beloved as it is today. The relationships he formed onscreen felt so real, and it's no wonder why Herrmann's onscreen wife Kelly Bishop was asked by his real-life wife to come say goodbye in Herrmann's last days on behalf of his Gilmore family. Bledel was quite young when the series began so it's obvious that what she would remember and love most about Herrmann would be his knowledge, strong presence and generosity. Read her statement below.
"Ed Herrmann was a wonderful actor and a kind man. He was endlessly knowledgeable about theater, TV and film, and would generously share his wisdom or tell stories from a long and rewarding career. I am grateful to him for that, and will miss him tremendously. He loved acting and was the head of our Gilmore family with his strong presence and great sense of humor. May he rest in peace."
The remembrance was short but impactful and reminds me of the onscreen relationship Bledel shared with Herrmann on Gilmore Girls. Rory and her grandfather Richard never needed to use a lot of words to understand and appreciate each other and this tribute made me miss their beautiful relationship on the show. Here are some of Richard's with Rory best moments in tribute to Herrmann's amazing work.
Rory & Richard Bond While Golfing At The Club
The granddaughter and grandfather don't have to say much about their feelings, all they need to do is talk about books, future plans and life goals to understand that they're more similar than they could have ever originally believed. This is the start of a great friendship and familial bond.
Richard's Excitement Over Rory's Yale Announcement
Why wouldn't he be excited? The best part of this moment is not only Richard's happiness but the fact that he waits for Lorelai's approval as well.
Rory's Graduation Speech Gets Richard All Teary
Rory and Richard don't really reveal their love and respect for each other that often, complicated relationships tend to be that way. But when Rory graduates from Chilton and mentions Emily and Richard as two impactful people in her life, Richard tears up. Because despite the tension among their family, the Gilmore's will always prove at the right moments that they care for one another.
Richard Reveals His Many, Many Yale Memories
From his tailgating traditions at Yale to revealing this little tidbit above after meeting Marty the naked guy, and even when showing Rory around the Yale campus before she graduated high school, Richard love for Yale and his desire to see his granddaughter go to his alma mater was clearly never about status or anything similar to that. It was all about wanting to share his legacy with someone he truly loved. Rory was always the perfect choice.
Rory & Richard Prank Logan
Rory and Richard's lighthearted moments are pretty much some of the best moments of the whole series. The aftermath of Logan's prank takes the cake. Watch the whole situation from start to finish.
Just This
RIP Edward Herrmann.
Images: Warner Bros.; fan1bsb97/Tumblr; richardgilmoreisms/Tumblr