How to Pick the Winner of 'The Bachelor'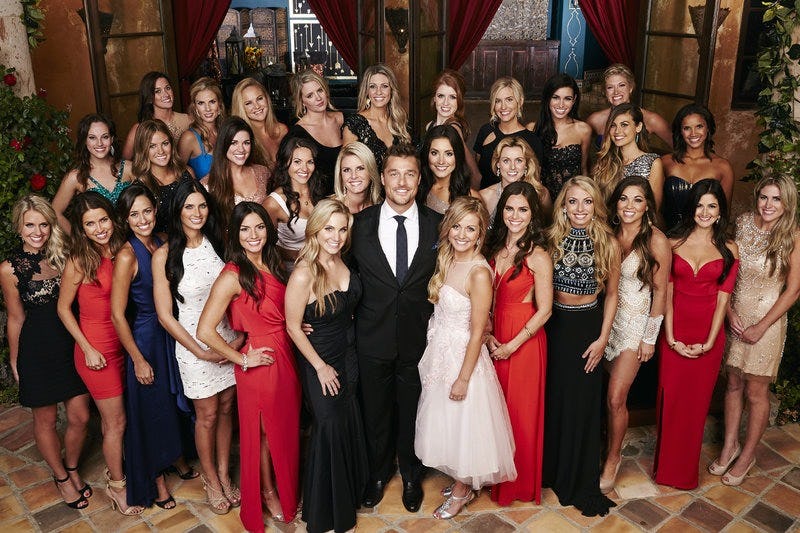 Possibly even more important than Chris Soules finding love is winning your Bachelor bracket, and I'm about to make that a whole lot easier for you. I have a few random skills that include impersonating Sarah Palin, killing it at rock-paper-scissors, and knowing how to pick the winner on the Bachelor almost every single season. I do it the old fashioned way by watching the premiere very carefully and steering clear of spoilers on the Internet—and now you can too.
There's not an exact science to betting on reality TV love, but there are a few formulas that make it easier to see who will make it to the final two and ultimately be chosen as the Bachelor/Bachelorette's partner. Since I began watching the show during Ashley Hebert's season I have successfully picked the winner four of the last seven times, and I've predicted the two finalists six out of the last seven times. But what I think is most impressive about my psychic abilities is that I always make my decision on night one and usually my prediction comes true.
Now I've narrowed down my expertise to these eight tips, so after Monday night you, too, can have a winning Bachelor bracket.
The Camera Shows Her in a Positive Light
Don't forget that the film editors already know how things work out. Therefore they make very deliberate decisions with what to show during the season. If on night one you notice a contestant who gets shown in a positive light, pay attention because she could be the winner. Oftentimes the editors want the audience to subconsciously also fall in love with the winner so they'll display them at their best in the premiere. If a woman gets a lot of negative attention and is shown being whiny or catty or hated by the house, she's most likely not the winner.
But She Also Floats Under the Radar
At the same time, the winner isn't usually someone who gets a lot of airtime in the first episode. The premiere is reserved for drama and as a result most of the crazy ones get the focus. The winner will usually get a quick, flattering intro and a nice conversation with the Bachelor, and then will disappear for the remainder of the evening as the drama ramps up.
She Doesn't Pull a Crazy Stunt
Sure, drunk-wedding-dress-girl (Lindsay Yenter) made it to the final two on Sean Lowe's season—but she didn't win, did she? As much fun as it is to see the ladies pull wacky limo exits, those tend to be more entertaining to the audience than the Bachelor. After all, he wants someone who takes this process seriously so if a girl shows up with a stolen lamp (like Brett did from last season), Chris Soules might think she's not that interested in sticking around.
She Can Actually Hold a Conversation
During Ben Flajnik's season, one woman walked right by him without even saying hello. You can bet she was sent packing that night. The first impression does count and if someone is too creepy/quiet/awkward during that first conversation, she's probably not going to be there for long.
She Doesn't Get Wasted Or Cry
There will be time for tears later in the season when feelings get stronger, but if you're bawling on night one you just look a little insane. Same goes for overindulging in the cocktails. Chris can't make a lasting impression with someone who can't keep her eyes open long enough to connect with him.
The Likability Factor
Generally the Bachelor/Bachelorette tends to pick a pretty nice girl or guy. The exception would perhaps be Courtney Robertson who was her season's villain. (Although I picked her from day one and still love her.) But usually if you see someone who is sensitive, nice, and liked by the rest of the house during the first episode, she'll have staying power. No one wants to end up with a jerk, so keep those catty girls off your bracket.
She's in the Promo for the Full Season
At the end of the episode, ABC usually plays a trailer for the rest of the season so pay attention to who you see sticking it out. The teaser is usually split in half with the first chunk dedicated to all the drama the series will bring and the second half showing all the wonderful romance to come. Try to see who is highlighted in the romance section: that means they'll have made it far—and more importantly, made an impression on Chris.
Go With Your Gut
Do you just find yourself really liking a contestant for reasons you can't explain? Perhaps you're picking up on the editing team's subconscious efforts to get you to like the winner. Or maybe you're just phychic. But more often than not, when I find myself inexplicably liking a contestant they turn out to be the winner so listen to your gut.
Tune in Monday to see all Chris' ladies, and use this guide to try to pick the winner on night one. Good luck!
Images: ABC (3); bachelorabc, sugarfixdirtytricks/Tumblr; giphy; Martha Sorren (2); bachandbachettefans