Kalinda Proved Her Feelings for Cary on 'TGW'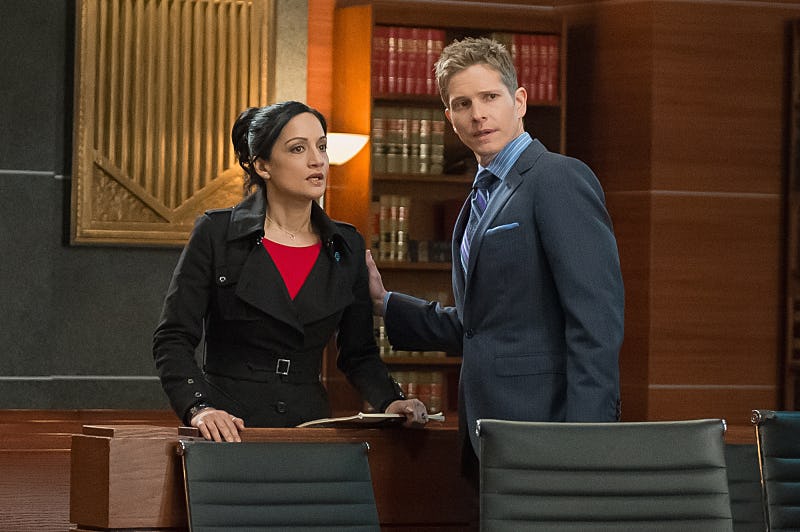 On Sunday night, The Good Wife returned from its winter break with "Hail Mary," an action-packed episode that found Diane Lockhart and Kalinda Sharma scrambling to prove Cary Agos' innocence before he was sent to prison. But wait, didn't Cary plead guilty to drug charges during November's mid-season finale, "The Trial"? He did! However, Kalinda stumbled upon some new evidence in the case — she just needed to show the judge that the prosecution knew about it AND tried to bury it in order to have Cary's guilty plea rescinded. When she couldn't make it work, Kalinda proved her love for Cary by breaking the law in a major way. Yup, Kalinda was willing to falsify evidence (and put her own freedom on the line) in order to keep Cary out of jail. That speaks volumes about her true feelings for him. So, why won't she commit? It's a good question, but as Kalinda's time on the show is running out, I'm starting to wonder if we'll ever find out the answer. At the end of the episode, the judge dismissed Cary's case. Wow. He's a free man.
So, is Kalinda going to go jail for the little stunt she pulled? Ever since it was revealed that actress Archie Panjabi is leaving the show at the end of Season 6, viewers have wondered how the writers are going to handle Kalinda's exit.
Maybe someone will find out about the changes Kalinda made to Detective Prima's email metadata and she'll be locked up? Admittedly, it wouldn't exactly be the most exciting way for Kalinda to depart the show, but it's definitely a possibility.
Anyway, back to Cary: Now that he won't be spending the next four years of his life behind bars, he has plenty of time to try to figure out things with Kalinda. Though Kalinda seemingly made it clear earlier in the season that she wants to continue seeing other people (namely, FBI agent Lana Delaney), I suppose it's possible that there's still hope for Cary. I mean, Kalinda committed a serious crime in order to save him — you don't do that sort of thing for just anybody! Granted, once one of the firm's partners discovered a new lead, she didn't intend for her falsified evidence to ever be seen in court (oops!), but the fact that she was willing to do it in the first place says a lot.
If you ask me, there's definitely love there.
What a great episode! The Good Wife is back, and it feels good.
Images: Jeff Neumann/CBS; Giphy; ale-la-pazza1/Tumblr