Who Are Chris' 'Bachelorette' Besties?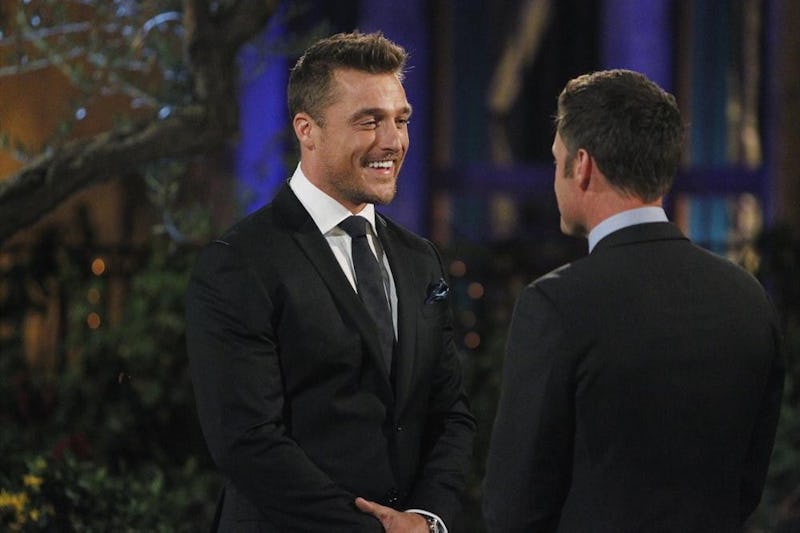 There are rumors flying about Chris Soules pulling some dramatic moves at the end of his time as the Bachelor — sex in the Fantasy Suite! How on earth could that have happened? — but I'm just not buying it. That guy is nice. Like, Midwest nice, the nicest kind of nice. And nowhere was that more obvious than when the other men befriended Chris on Andi's season of The Bachelorette . Everybody loved Chris, including Andi. Even though she never really seemed as though she actually wanted to marry him, she kept him around until the top three because that guy is the sweetest.
The only person Chris ever had any beef with was Nick Viall, but still, Chris is so nice that he took some time on a Grantland podcast I listened to recently to say that even though he was not OK with Nick on the show, some people just don't handle that kind of situation well, and now that Chris has gotten to know Nick outside of The Bachelorette, he knows Nick's a nice guy. He also said that he got really close with Brian and Dylan while on the show. So, with Chris being the most likable Bachelor we've seen in quite some time, what other bros from his season of The Bachelorette is he still keeping up with?
Biffle Status: Cody
Real friends hashtag each other's names. Real friends also hang out together, and it seems like Chris and Cody have actually logged a lot of bro time since their season of the Bachelorette wrapped. Cody may not be the sharpest, and he may be a little over the top in the love confessions department, but he might be the only other Bachelorette alum out there who could give Chris a run for his nice guy money. Those two deserve one another and the friendship bracelets that I'm positive they've made for each other.
"Those Guys"
At a certain point in Andi's season, the two frontrunners became incredibly obvious, and it was kind of just a slow ride with "those other guys" until the Josh vs. Nick finale. That point was about two episodes in, so there aren't a whole lot of memorable characters from last season. Chris managed to make a name for himself when he brought Andi home and revealed himself to be a super hot farmer with a super charming family, but his pals Brian and Dylan never really made much of an impact. They were there in the end though, and that's where friendships form (while trying to date the same woman).
Chris Still Supports Marquel as the Next Bachelor
That statement stands on no factual round, but look how cute this picture is...
Chris Squared 4eva
In that same Grantland podcast, Chris Soules said the Chris Harrison has become like a brother to him over the course of filming The Bachelor, which is good news after Harrison's bumpy ride with Juan Pablo.
But I also just enjoy knowing that those two love each other:
Image: Rick Rowell/ABC