Votes Are in, and the Film Critic Award Goes To...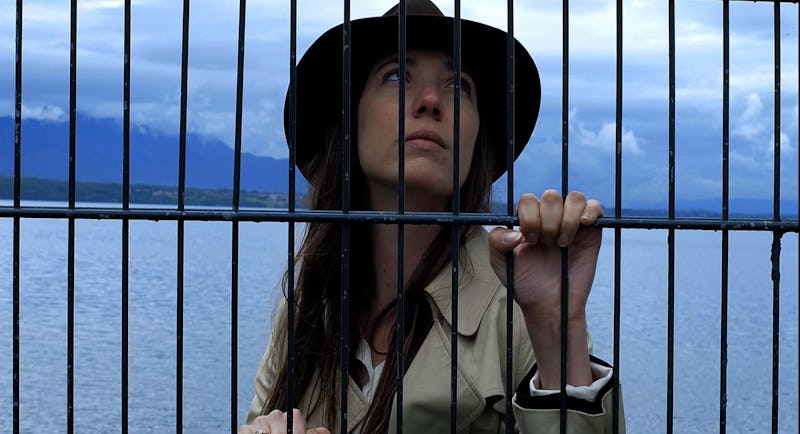 Finally, the awards seasons has kicked off with "Goodbye to Language" winning best picture for the National Society of Film Critics. And I think I speak for everyone when I say, "Huh" followed by a definite "What, seriously?" Is this unheard of film really going to set the course for the awards season?
If you haven't heard of Goodbye to Language, don't worry, you're not alone. Written and directed by revered Jean-Luc Godard, it's an experimental French drama about a dog who connects a married woman and the man who she's having an affair with, and it's shot entirely in 3D. I know, my eyebrow is perpetually raised.
It's not that strange films can't seep into Awards season. Lest we forget, contender Birdman has Michael Keaton running around in his underwear through Time Square. But Birdman, also has, well, Michael Keaton. And Emma Stone. You know, familiar names to the American public. Being strange doesn't get you a veto, but being unknown typically doesn't help with winning mainstream awards in the Hollywood popularity contest. But could this dark horse pick from the critics sway the Academy in any way?
Let's take a look back to the past few awards seasons best picture winners (or "best ensemble cast" for the SAGs) and see if the National Society of Film Critics holds any influence on other movie organizations.
2010
National Society of Film Critics Awards: The Social Network
Screen Actors Guild Awards: The King's Speech
Golden Globes: The Social Network
The Academy Awards: The King's Speech
So far the Film Critics awards stuck with a mainstream pick on The Social Network, which snagged a Golden Globe (and my boy Trent Reznor an Oscar for the score, what up), but there's zero Academy connection.
2011
National Society of Film Critics Awards: Melancholia
Screen Actors Guild Awards: The Help
Golden Globes: The Descendants
The Academy Awards: The Artist
The awards were all over the place this season, maybe for lack of a particularly strong contender. It's notable that the Film Critics gave highest praise to the cerebral Lars Von Trier film about depression and the apocalypse. The Academy, however, gave the Oscar to the quirky throwback film The Artist, which supplemented it's lack of film and color with '20s nostalgia, and a cute dog. Cute dogs win out every time.
2012
National Society of Film Critics Awards: Amour
Screen Actors Guild Awards: Argo
Golden Globes: Argo
The Academy Awards: Argo
Argo reigned supreme during this award season, knocking down nearly every organization except the Film Critics. The Film Critics instead went with Amour, a heart wrenching French film about an elderly couples' stressed relationship after a botched surgery leaves one incapacitated. While Amour was nominated for the Best Picture Academy Award (among other accolades), the only category it snatched was Best Foreign Film. Hmm.
2013
National Society of Film Critics Awards: Inside Llewyn Davis
Screen Actors Guild Awards: American Hustle
Golden Globes: 12 Years a Slave
The Academy Awards: 12 Years a Slave
Inside Llewyn Davis is another strange indie pick, one that was oft-nominated but rarely won. In fact for the Academy Awards it was only nominated for bullshit categories like Best Sound Mixing. To be fair, Inside Llewyn Davis was merely a speck on the radar during a fanciful awards season with Big Ticket movies like American Hustle and The Wolf of Wall Street. Ultimately it was 12 Years a Slave that was the victor of 2013.
So the bottom line? The National Society of Film Critics seems to favor (or at least doesn't shy from) indie films, or things that are complicated, or things that (God forbid) require subtitles. And that makes sense, it's made up of 59 film critics from top publications. They're writers, intellectuals, those who dissect the very art of filmmaking.
But the more mainstream awards show is a whole different ballpark. The Golden Globes has the Hollywood Foreign Press (entertainment journalists and photographers), the Screen Actors Guild Awards has, well, the Screen Actors Guild (performers in the heart of the industry), and the Academy is compromised of, again, people within the industry, varying by category. Essentially there's a whole lot of high-fiving each other when it comes to mainstream awards. And more to the point, there's less of that critical eye.
The weirdest thing? What the past few years have told us is that there's a weird, strong sense of patriotism attached to awards season (The Kings Speech aside), and we love films that bolster our Americanism. Yes, even the horrific aspects of our country, like slavery. Films from other, non-English-speaking countries are a categorical "other," and are valued as only that. And, as I mentioned earlier, while strange films are a risk of falling through the cracks, they can persevere when put in the right light. Yes, The Artist makes you read, silent film style, but it doesn't drag you into musty depression like Melancholia, nor make you deal with other languages. Plus, it's a film about the American film industry! YAY, 'MURICA! YAY, HOLLYWOOD!
Short answer: I'm going to say no for Goodbye to Language winning the Oscar for Best Picture, but a definite maybe for Best Foreign Film. Stay tuned, and I'll see you at the movies.
Images: Canal, Giphy (4)