'Empire' Isn't Terrence Howard's First Time On TV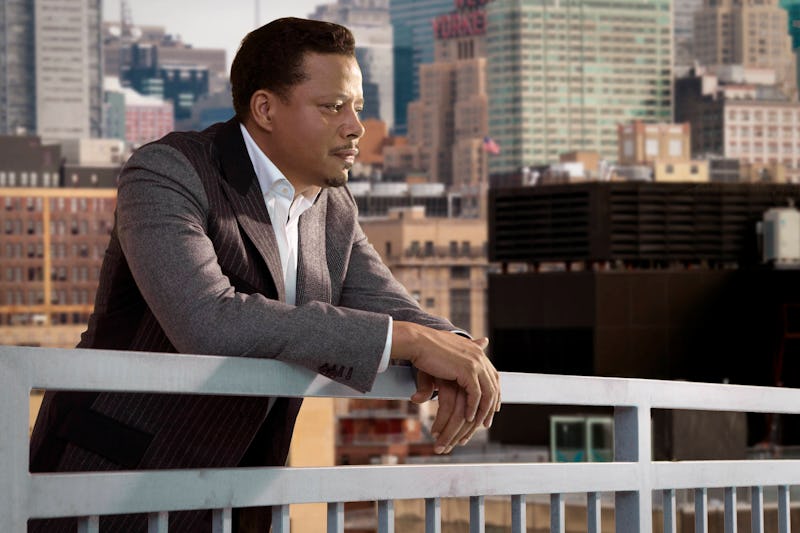 Despite Gotham's popular (if not critical) success, FOX is not exactly coming off of a great season. Other than that Batman-prequel series, none of the network's fall 2014 new shows have found any kind of success. Mulaney was one of TV's biggest disasters last year, Red Band Society failed to reach the Fault In Our Stars-sized audience it so desperately craved, and Gracepoint has gone to a watery grave. So FOX is banking on some big names to bail the network out of its hole in 2015 — and chief among those names is Academy Award nominee Terrence Howard, who will star in Empire .
The 45-year-old Chicago-born actor, who was nominated for Best Actor for 2005's Hustle & Flow headlines the series, which was created by Lee Daniels (The Butler, Precious) and written by Danny Strong (The Butler, Mockingjay Parts 1 & 2). Clearly the network is following in the footsteps of HBO and FX, whose wooing of such top-tier film stars as Matthew McConaughey and Billy Bob Thornton has reaped acclaim, awards, and huge audiences. And though Howard may not be quite as big a name as the True Detective or Fargo stars, his casting is without a doubt a major coup for the struggling network.
While Howard's Academy pedigree comes from the film that won Three 6 Mafia an Oscar for their song "It's Hard Out Here For A Pimp," the actor is perhaps even more well known for his roles in films like Crash, Ray, and Iron Man. He even voiced Tiana's father James in Disney's The Princess And The Frog. But has he ever been on TV before?
In fact, he has! Howard landed his first series regular role when he was only 24 on CBS's 1993 comedy Tall Hopes, where he played a 16-year-old basketball prodigy. Sadly for Howard, the show only lasted for six episodes. After that show's cancellation, he spent much of the '90s putting in one-episode guest appearances on shows like ABC's Family Matters and Coach, and FOX's Living Single and New York Undercover. His next series regular role came in 1996 on UPN's family law comedy Sparks, where he played young Greg Sparks. Fortunately, that show managed to last for two seasons, and Howard appeared in all 40 episodes.
In 2003, he joined the cast of Showtime's Street Time, a drama about parole officers, in its second season. Sadly, the show was cancelled after that season. More recently, Howard was a series regular alongside Alfred Molina and Corey Stoll on the 2010 spinoff series Law & Order: LA... which only lasted for one season.
So in fact, Empire will be Howard's fifth series regular television role — and it's not even his last! The actor will star later this season on Wayward Pines , a mystery/thriller show executive produced by M. Night Shyamalan. That series is set to debut on May 14 and also features Howard's Crash co-star Matt Dillon, as well as Carla Gugino, Melissa Leo, and Toby Jones. Interestingly enough, Pines will also be airing on FOX; the network has landed Howard not just once, but twice in the same season!
Will either of these shows be the one that finally sticks for Howard? For FOX's sake, I certainly hope so.
Images: Chuck Hodes (2); Ed Araquel/FOX; 20th Century Fox Television