'Empire's Taraji Henson Is a 'Person Of Interest'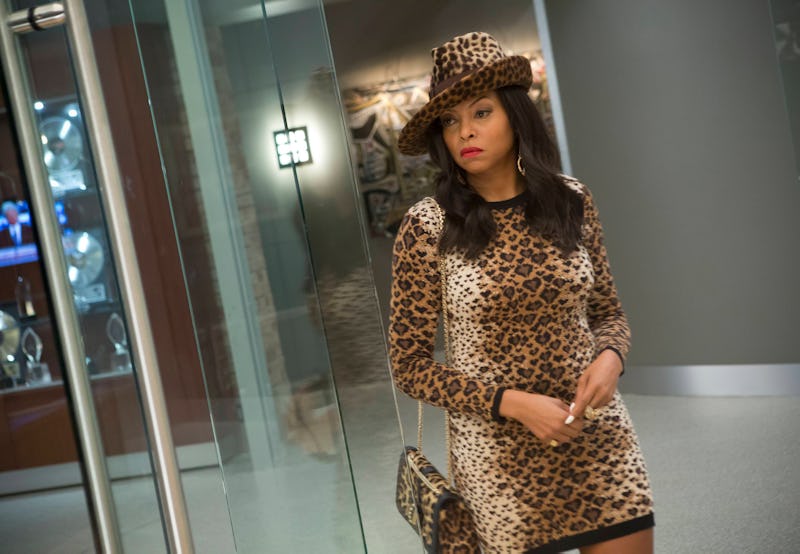 After a lackluster fall, FOX will kick off its 2015 Winter Season with the premiere of the hotly anticipated hip hop drama Empire this Wednesday, Jan. 7. Created by Lee Daniels, the director/producer of such acclaimed films as Precious and The Butler, the series centers on Academy Award nominee Terrence Howard as Lucious Lyon, a drug dealer-turned R&B artist-turned record exec, who must decide which of his three sons will take over his Empire Entertainment dynasty. Oh, and then there's his ex-wife and the mother of his children, Cookie Lyon, played by Taraji P. Henson, who gets out of prison and demands her own share of the company.
You'd be forgiven if Henson's is not a name you know, although it belongs to an actress you'll definitely recognize if you happen to be a fan of a certain CBS crime-fighting series. Not only has she portrayed a fan-favorite and dearly departed character on the most-watched network on television, but this is the second time Henson will have appeared in a project alongside Howard — and she shares one other thing in common with her co-star, too: an Academy Award nomination.
So where might you have come across Henson before?
She Had a Baby Boy
The actress' first major screen role came in this 2001 film by writer/director John Singleton (Boyz N The Hood), which also marked the screen debut of her co-star, Tyrese Gibson (The Fast And The Furious) as Jody. Henson played Yvette, Jody's 19-year-old girlfriend and mother of his child, who had to struggle with both Jody's ambivalence and the unwanted advances of her ex-con ex-boyfriend (played by Snoop Dogg).
When in Rome...
Henson followed up her acclaimed turn in Singleton's film with a spate of television credits. In addition to guest appearances on the likes of House, CSI, and Eli Stone, she had regular roles on two shows during this time period: one on Lifetime's The Division, a show about female police officers, on which Henson played Inspector Raina Washington; and on ABC's Boston Legal, where she joined the show's fourth season as associate attorney Whitney Rome.
She Hustled with Terrence Howard Back in 2005
In 2005, Henson got her biggest role yet in Hustle & Flow as Shug, a pregnant sex worker who's enlisted by her pimp, DJay (Terrence Howard), to sing hooks on his rap tracks, including the song that would go on to win an Oscar for Three 6 Mafia, "It's Hard Out Here For A Pimp." The film also landed her co-star Howard a nomination for Best Actor, and while Henson didn't earn a nod herself, she wouldn't have to wait very long for the Academy's recognition to swing her way.
The Curious Case of Taraji P. Henson
After Hustle & Flow, Henson re-teamed with John Singleton, Tyrese Gibson, and Terrence Howard for the Mark Wahlberg action film Four Brothers. She also appeared in supporting roles in the crime flick Smokin' Aces and the Tyler Perry movie The Family That Preys. Then in 2008, she appeared as Queenie, the kindly adoptive mother to Brad Pitt's reverse-aging oddity in David Fincher's The Curious Case Of Benjamin Button. That was the role that finally landed Henson an Oscar nom, recognized in the Supporting Actress category alongside Amy Adams and Viola Davis for Doubt, Marisa Tomei for The Wrestler, and winner Penélope Cruz for Vicky Cristina Barcelona.
She Can Do Bad All By Herself
The Familiy That Preys may have been Henson's first role in a Tyler Perry movie, but it wasn't her last. In 2009, she headlined the actor/director's I Can Do Bad All By Myself, in which she played an alcoholic nightclub singer roped into caring for her niece and two nephews after they try to break into Madea's house.
She Was Mother To a Karate Kid
Henson went from playing Brad Pitt's mom in Benjamin Button to playing Jaden Smith's mom in the 2010 reboot of the classic 1984 film The Karate Kid. (Does that make Brad Pitt and Jaden Smith brothers in a parallel universe?)
She Was a Person Of Interest for Three Years
In 2011, CBS premiered its new sci-fi action series Person Of Interest, starring Jim Caviezel and Michael Emerson as a crime-fighting duo who prevent crimes using an omniscient computer... and Taraji P. Henson as the dogged cop who pursues them. As Detective Joss Carter, Henson quickly became a fan-favorite, and her character quickly went from antagonist to ally, as she joined Reese and Finch in their crime-fighting adventures. Viewers around the country were shocked and infuriated when Carter was abruptly killed off not even halfway through the show's third season, as she jumped in front of a bullet to save Reese.
She Was Terrorized by Idris Elba
Henson has continued to appear in feature films over the past few years, including a supporting role in the Tom Hanks/Julia Roberts film Larry Crowne and a part in the ensemble comedies Think Like A Man and Think Like A Man Too. Most recently she starred in the thriller No Good Deed, where was she was terrorized by Idris Elba as a charming but psychopathic muderer/home invader. Next up, she'll appear alongside Terrence Howard (yes, again) in the crime flick Term Life, also starring Bill Paxton, Vince Vaughn, Jon Favreau, and Hailee Steinfeld. Then she'll star in the holiday romantic drama Seasons Of Love.
Images: Chuck Hodes/FOX; Columbia Pictures (2); 20th Century Fox Television; have-some-balls, jocelyncarters, nogooddeedmovie/Tumblr; Warner Bros. Pictures; Lionsgate