We Have a Return Date for 'Silicon Valley' Finally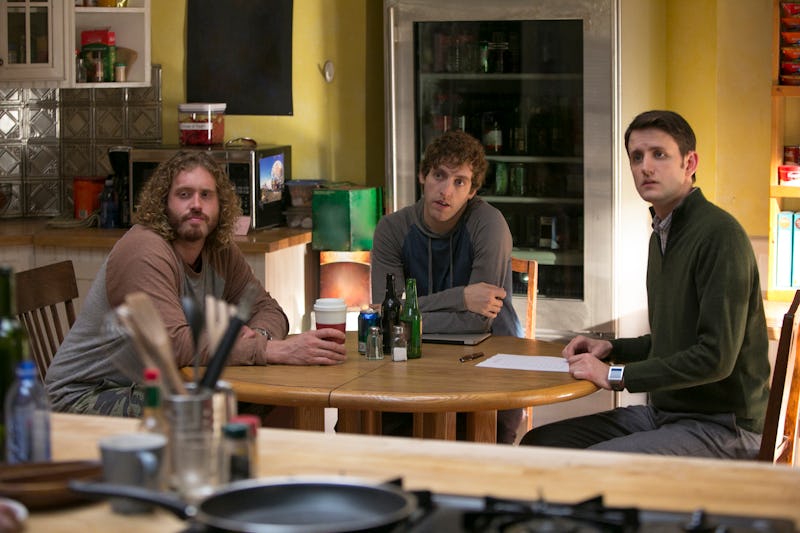 Last year, I found a new Boys Club that I desperately wanted to be a part of, even if it meant having to put up with their strange lingo and elaborate algorithms — Silicon Valley took us all by storm. Mike Judge's brutally honest look into what it's like to work at a startup that might become a struggling startup was ruthlessly hilarious and made us all (it's not just me, right?) a little bit uncomfortable. But I loved it to pieces regardless, and now it's up for a Golden Globe in the Best Television Series, Musical or Comedy. So just when can we expect Silicon Valley to premiere Season 2? Update: The Silicon Valley Season 2 trailer is finally here.
Thankfully, the HBO gods have blessed us with wonderful news from down on high: Silicon Valley will return for its second season on Sunday, April 12, 2015. And, it's coming back strong with its two friends, Game of Thrones and Veep, both premiering the same night.
Silicon Valley got its second season order after only three episodes of the freshman show had aired, which is a pretty impressive feat for a new comedy just starting out. Clearly, HBO's bet paid off, and it quickly became one of the breakout comedies of the summer, scoring huge praise and ratings across the board. And, did I develop a strange crush on Erlich? Yeah, so what? Basically, these new episodes can't come soon enough.
Mike Judd has been tweeting news from the set, and the show went into production for Season 2 back in October. They even had a cake to celebrate:
If the frosting's hard to make out, it's says, "here's to 2.0 and beyond!" Oh, techies.
And thankfully, the whole gang is back together, and Richard is still wearing zipper sweatshirt hoodies. Never change, Richard.
The only complain from its perfect first season came with the criticism that there weren't enough female characters hanging out in this Boys Club. Thankfully, this season there will "actually be some female characters." But even the lack of women on the show is staying — sadly — true to what it's really like in the actual Silicon Valley.
"Early on, when we were doing the pilot, we toured Google and went into the room where the engineers were working, and counted 60 people, and there were maybe 2 women," Judd explained to Vanity Fair. At least he's working on changing it. Monica could use a friend that isn't dealing with crippling paranoia (that's you, Richard).
Image: Jaimie Trueblood/HBO