Jamal Will Win 'Empire's Sibling Rivalry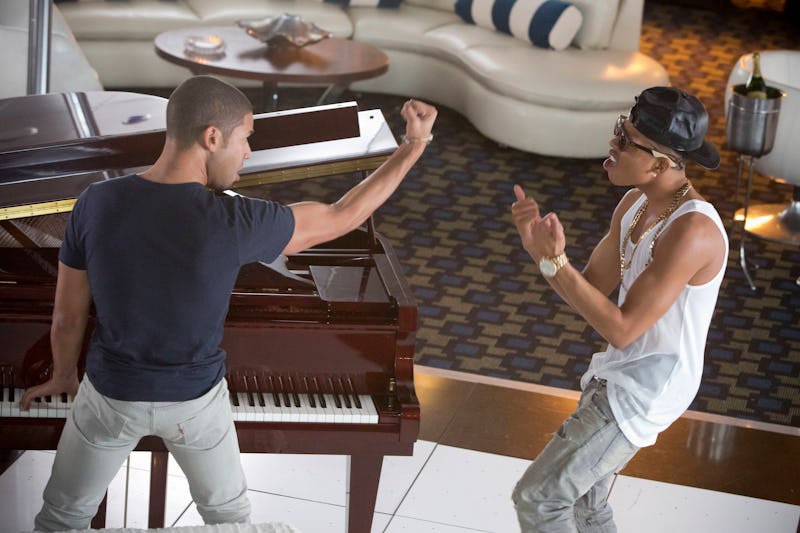 If there's anything we learned about the Lyon family in Empire 's Wednesday night premiere on Fox, it's that they've got a lot going on — checkered pasts, behind-the-scenes secrets, sibling and parental rivalries, and clandestine diagnosis. The pilot ends with Empire Entertainment moguls, and exes, Lucious (Terrence Howard) and Cookie Lyon (Taraji P. Henson) each putting their faith in the future of the company in different sons, pitting Hakeem and Jamal against each other. Lucious chooses to back the album of youngest son and party boy Hakeem (Bryshere Y. Gray), while Cookie champions the album of soulful songwriter Jamal (Jussie Smollett), their middle son who also happens to be gay — which Lucious refuses to accept. After that intense premiere, whose album is primed for success? I'm putting my money on Jamal.
From what we see in the pilot, Hakeem is definitely Lucious' favorite son, despite his propensity for partying and showing up to recording sessions totally hungover. Gray, who actually has more rapping experience than acting, definitely brings tons of talent to Hakeem's character and his on-screen songs. He and Smollett also sound amazing together. But there's a moment in the pilot where Jamal sings "Good Enough" — and Smollett just owns it. Listen to the track below.
Sure, his character also had those predictable little-boy-in-heels flashbacks to the moment Lucious knew Jamal was gay (and Lucious proceeded to literally throw him in the trash — ouch), and as much as I wish it didn't matter in any world, it definitely does in the world of Empire. But Lucious truly believes his son's sexuality is a choice.
One one label, two parents are betting on two different sons — and I think Jamal will come out on top. But with Timbaland behind Empire 's awesome soundtrack, we're bound to be treated to a lot of great music along the way.
Image: Chuck Hodes/FOX