Why Women Are Starting to Shave Their Faces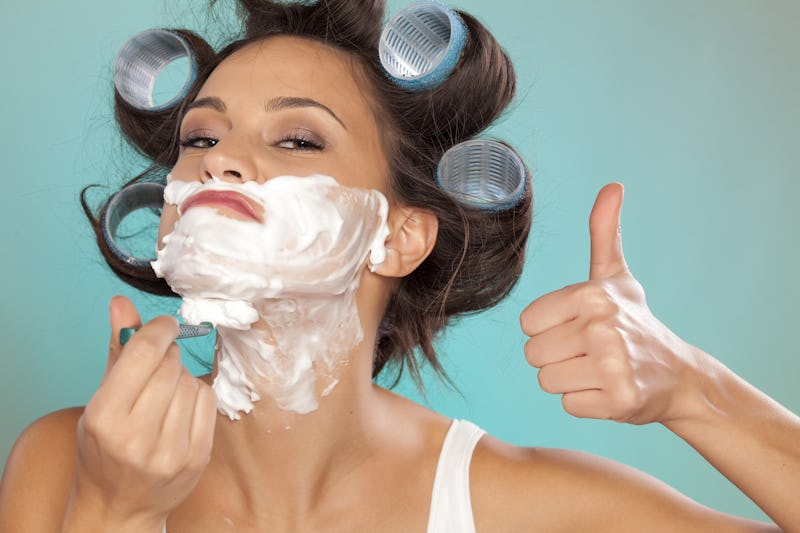 As if women don't have enough to worry about, Good Morning America reported yesterday that women are shaving their faces to prevent wrinkles. Because legs, armpits, the occasional mustaches, and arms (if you're into that) aren't enough to worry about. If you're desperate enough to ward off wrinkles, start asking your S.O. to share his cream.
Alexis Wolfer, editor at The Beauty Bean, told GMA that shaving your face could help skin stay youthful. The process of shaving a woman's face, called dermaplaning, is happening at dermatologists offices or at home (because with all of the practice women have, why would we need someone else to shave our faces?)
It turns out, the secret is in the cream. Wolfer stated that the reason men often get less wrinkles as they get older is because they're constantly exfoliating their face by shaving off that stubble. That razor sloughs off dead skin incredibly effectively, which helps keep things smooth.
There is one problem: If you are a woman who has with facial hair (no shame), this treatment is not recommended for you. Like shaving any other part of your body, the hair on your face will grow back thicker and darker.
And celebs have already jumped on board. Caroline Manzo of "Manzo'd With Children" was seen shaving her face on the last season of her reality TV show.
Tip: click to 7:50
Manzo told Reality Tea Blog that she doesn't shave her face because she's hairy, but as "a method of exfoliating my skin." She's apparently been doing this for over 10 years, and says her skin can prove that.
In case you're all for keeping your skin young, but not necessarily having to buy a new can of shaving cream every week, fellow Bustle writers have already put together some tips on keeping your skin looking young in yummy, easy, and interesting ways.
Image: vladimirfloyd/Fotolia