All Hail 'Broad City' — Even on Instagram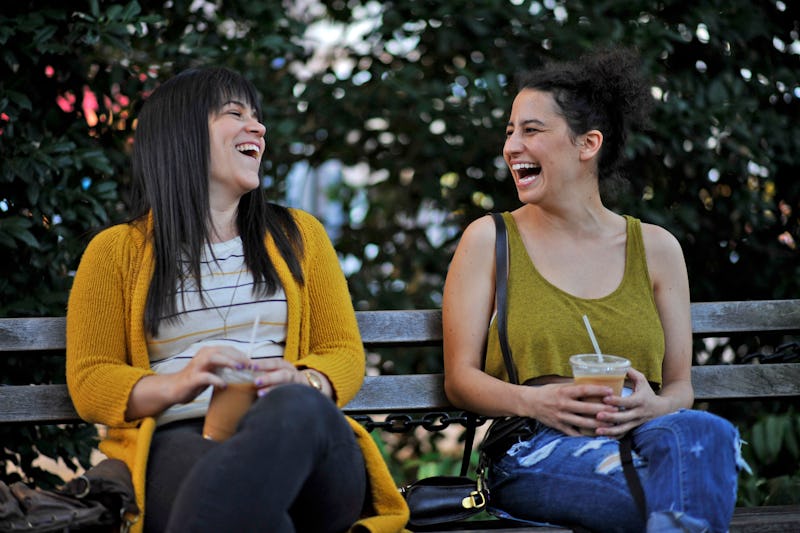 I'll be frank with you: If you're not caught up on Comedy Central's Broad City , you're not living your best life. Oprah would be so disappointed. The Little Web Series That Could (turned TV hit) returns Wednesday, and fans (read: humans) have been waiting impatiently for months. Stars Abbi Jacobson and Ilana Glazer are both larger-than-life funny and impossibly "awesome chick next door." They're your dream best friends and your spirit guides. These boss ladies are helping shape the comedy landscape for the better, bringing the idea that women in comedy don't just make comedy for women to a wider audience. After all, they air on Comedy Central, whose viewership skews young and male.
The appeal of Abbi and Ilana (the characters) lies largely in their ability to brilliantly capture the millennial experience in a way that's both gritty and joyful. Abbi spends her mornings cleaning yuppie vomit in a posh gym bathroom and Ilana spends her afternoons smoking weed she lovingly stores in her vayaña. A foray into the high life at a fancy restaurant is undercut by Abbi peeing out a used condom and Ilana eating her way dangerously close to anaphylaxis. (Girl, you're allergic to shellfish. Pull yourself together. Love you forever.)
While watching the insanity unfold on Broad City is an absolute treat, the real life adventures of Jacobson and Glazer are just as satisfying. The two have an impeccably documented friendship thanks in part to some seriously strong Instagram game. In honor of the return of the qweenz on the Jan. 14, enjoy 14 of their best 'grams:
Before We Knew Them:
Over two years ago, these young lasses were just a twinkle in a TV network's eye.
Prom Pic of the Century:
Unsatisfied with you high school prom date? Photoshop your bad self into this gem and have it framed in mahogany. It can become a family heirloom!
Started From The Bottom:
Now we here, and we look fly as hell in full Nikki and Missy garb.
Look At Her Glow:
Bed Bath & Beyond coupons may never expire, but it looks like Abbi dearest can really PERSPIRE. HAH. See what I did there? *Cricket chirps*
Ilana After Dentist:
This scene was perfect. Peak physical comedy. Top form. 10/10 for all!
Just kidding. Tits out for your best friend because you're filming the second season of your hit TV show. We've all done it, right?!
Faces That Launched A Thousand Ships:
One of us! One of us! Good to know that our heroes also dabble in blurry multi-chin selfies from time to time.
All Hail Garol:
Okay, so this one is a fan art regram, but how can anyone resist the hypnotic charm of ma girl Garol getting tipsy with Hoda and Kathy Lee? Alternatively, this takes place in a nightmarish alternative reality where the whole world is a UPS warehouse and Garol is our high priestess.
How Do You Like Them Apples:
Our ladies rock that Good Will Hunting swag after being certified f-r-e-s-h on Rotten Tomatoes.
I Dream of Janeane:
Looks like Abbi and Ilana are fangirling as hard as the rest of us. How can so much talent fit in one photo?
Oh, Baby:
Maybe Abbi's family forgot to take baby photos of everyone and did a sort of "live photoshop" experiment. Or maybe Abbi had the body of a baby until she was a teen! Cool!
Planking Adventures:
They sure know how to live, those two. May we all have this much fun at some point in our lives.
Body Doubles:
Are we human or are we cardboard? It seems they are both. Way to outsmart those rascals, ladies.
The Final Countdown:
We're so close. May the broads be with you.
Images: Walter Thompson/Comedy Central