'Bachelor' Chris Definitely Brings One Girl Back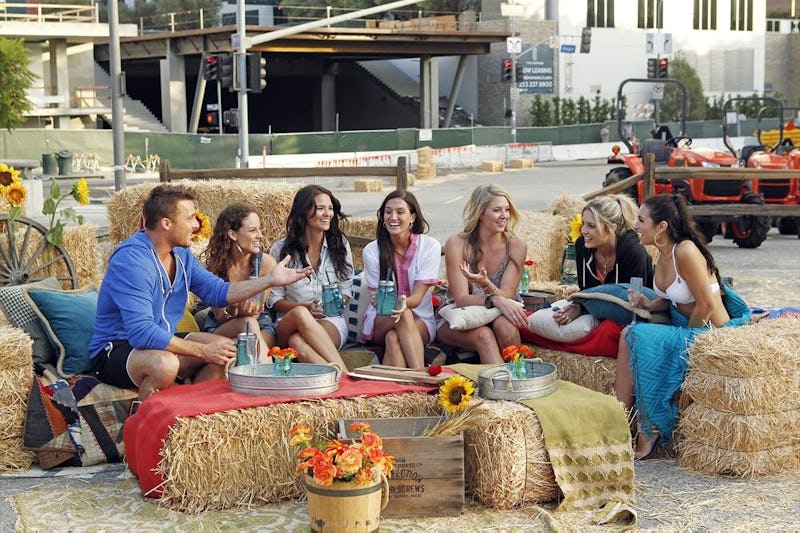 It may only be the second week of The Bachelor, but it's obvious we have a... pretty interesting season ahead of us. Between the multiple contestants who got a tad bit hammered in the premiere and some of the most bizarre limo entrances the show has ever seen, Chris Soules obviously has a lot of tough decisions ahead of him. He's already made the first couple, like handing over the First Impression Rose to Britt Nilsson and figuring out which of the 30 initial contestants would stay and which should leave, but he'll be faced with a big issue in Monday night's episode. One of the eight women who didn't receive a rose at the first cocktail party, Kimberly, was sent home, but she refused to take "no" for an answer. In a crazy turn of events, Kimberly went back inside the mansion and pulled Chris aside to chat. So what's the deal? Is Chris going to let Kimberly stay?
From what I can tell, it's definitely looking that way. Although ABC treated the incident as a cliffhanger, they've already given away the fact that Kimberly is back in one of the promo pictures they released for Monday's episode, as first pointed out by Wetpaint (the second woman from the left, above).
What's going on in this scene? Let me be of service. Apparently, Chris and the six women pictured will be on a group date that involves a pool party and a tractor race in bikinis. Come on, ABC. A tractor race in bikinis? I have a bad feeling that every episode this season is going to involve farm-related activities, and if my hunch is right, I am disappointed yet intrigued, all at the same time.
I have no idea how Kimberly returning will affect the show, since I can't remember a time this has ever happened before — and now that contestants know it's an option, I have a feeling it'll start happening more frequently. Why shouldn't everybody be entitled to a second chance if Chris is going to give one to Kimberly, right? Plus, rules are rules. If only 22 women can receive roses, only 22 women can receive roses... and Kimberly's return is definitely not going to help her make any friends in the bach mansion. I would totally have understood if he sent her packing for a second time. But Chris is such a sweet guy that it's not surprising he wouldn't want to kick her out again.
Maybe Kimberly is Chris' #Soulesmate. Maybe not. But Chris obviously thinks it's worth it to find out!
Images: Rick Rowell/ABC