12 Good Reads If 'Agent Carter' Is Your Everything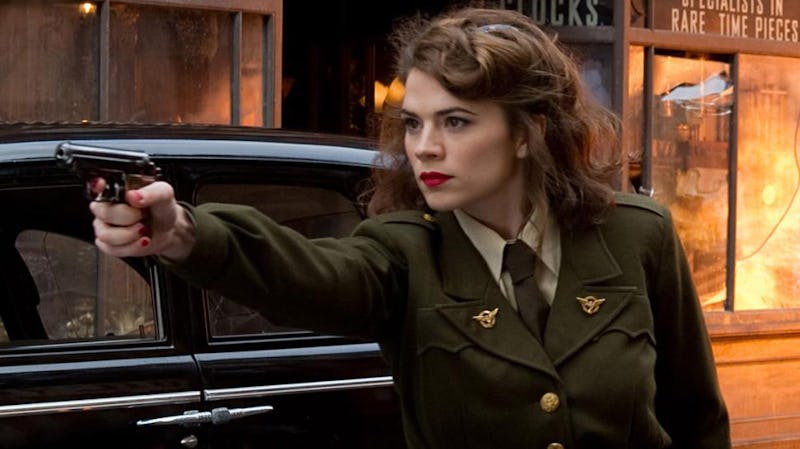 When it premiered, I was very, very prepared to like ABC's Agent Carter. (My anticipation generally took the form of gasping "Lady secret agent... old-timey hats... and wigs!" accompanied a great degree of flailing whenever the show was mentioned). Luckily, last week's two-hour pilot proved it to be exactly what I expected. Agent Carter is perfect popcorn entertainment: fun, snappy, campy and compulsively consumable.
Hayley Atwell is endlessly charismatic as the quick-witted, strong-willed and kick-ass protagonist. When the series begins, Agent Peggy Carter is still grieving (what she believes to be) the death of her paramour, Captain America, but she carries on with the classic English stiff upper lip outwitting misogynist morons in the office and battling baddies in dark alleys (the latter with the occasional help of her fussy, laundry-obsessed Man Friday, Jarvis).
And yes, for those of you who are also into that sort of thing, I can verify that it is late-'40s fashion porn extraordinaire: the suits! the hats! the shoes! It's the kind of show that simultaneously makes you want to practice your right hook and up your lipstick game.
If you've already been watching and our girl Peggy has you thirsty for the thrilling exploits and acts espionage of more female secret agents, then you're in luck: there are a wealth of books available about fictional and real female spies alike. Here are 12 to get you started:
Charlotte Grey by Sebastian Faulks
Mixing passion with espionage, Charlotte Gray is the story of a Scottish secret agent charged with entering Occupied France to assist the French Resistance. Like Agent Carter, Charlotte Grey is haunted by her romantic past as she tries to track down the RAF pilot she fell in love with in London.
Code Name Verity by Elizabeth Wein
Grab the Kleenex and get your best friend on speed dial. Like Agent Carter, Code Name Verity has the common theme of a brave, sharp, and cool-as-a-cucumber female spy, but the heartbreak quotient in this spectacular, heart-wrenching WWII-set YA novel is ratcheted up to 10.
A Spy in the House by Y.S. Lee
The first book in Lee's 19th-century-set The Agency series, A Spy in the House tells the story of orphaned thief Mary Quinn, who is given a second chance by the Miss Scrimshaw's Academy for Girls, an all-female investigative agency fronting as a refinement school for young ladies. Like Peggy Carter, Mary is tasked with investigating some very valuable missing cargo stolen from a wealthy businessman, but soon finds herself mired in a quicksand of secrets and deception.
The Spy Wore Red by Aline Countess of Romanones
This juicy semi-autobiographical book details the exploits of Aline "Tiger" Griffiths, a model-turned-spy-turned-countess (!) who infiltrated the upper echelons of Spanish society to expose links to Nazi leadership. Seriously, if the phrase "model-turned-spy-turned-countess" doesn't hook you, I really don't know what will.
Beautiful Assassin by Michael White
Beautiful Assassin is the dark story of a Russian woman who, inspired by the disappearance of her husband and death of her young daughter, becomes a deadly Soviet soldier whose Nazi body count earns her an invitation to visit America from no less than Eleanor Roosevelt herself.
Violins of Autumn by Amy McAuley
Violins of Autumn is YA novel that offers both thrills and romance with its story of Betty (or Adele Blanchard, as she comes to be known), a young English woman who lies about her age to become an Allied spy, parachutes into occupied France to assist the Resistance movement, and falls in love with an American pilot.
Grave Mercy by Robin LaFevers
Admittedly 15th century Brittany is a far cry from 1940s Manhattan, but Grave Mercy has the same combination of lethal fighting skills, intrigue, and hint of the supernatural found in Agent Carter. Ismae is technically trained as an assassin, not a secret agent, but once she leaves the sheltered world of her death-worshipping convent, she discovers that protecting her duchess and ferreting out traitors demands much more political scheming than the nuns ever prepared her for.
A Life in Secrets: Vera Atkins and the Missing Agents of WWII by Sarah Helm
This nonfiction book tells the story of renowned spymistress Vera Atkins (rumored to be Ian Fleming's inspiration for Miss Moneypenny), who began her career in international espionage with the when she was only 23 years old. Atkins later dispatched more than 400 other agents, including 39 she personally trained. When several of her agents were not accounted for after the war, Atkins herself interviewed concentration camp survivors and officials to discover what had happened to the missing agents.
Little Paradise by Gabrielle Wang
Inspired by a true story, Little Paradise is a WWII-era novel of love, secrets, and adventure that spans several years and two continents. Courageous teenage heroine Mirabel makes the epic journey from Melbourne to war-torn Shanghai determined to find her lost solider lover, JJ.
Sashenka by Simon Montefiore
Sashenka is the sprawling story of the Russian Revolution told through life of Sashenka Zeitlin. While her family entertains Rasputin, Sashenka is busy becoming the Bolsheviks' most seductive spy at the age of sixteen; 20 years later, Sashenka fears she may have become a Soviet target. Historical fiction fans, Russian obsessives and espionage-adrenaline junkies alike will find something in this epic novel.
The War Against Miss Winter by Kathryn Miller Haines
Desperate for work in wartime New York, down-on-her-luck actress Rosie Winter takes a job at a low-rent New York private investigator's office. But when her boss goes missing, it's up to Rosie to run the investigation and figure out whodunnit before it's too late in this light, crackling murder mystery.
The Wolves at the Door: The True Story of America's Greatest Female Spy by Judith L. Pearson
Sometimes fact is even more compelling than fiction. The real-life story of Virgina Hall America's greatest female spy has more drama than a Shonda Rimes marathon: it features paratrooping, crazy disguises, Nazi sabotage and an amazing trek across the Pyrenees mountain on an artificial leg with the Gestapo hot on the trail. A must-read!