Don't Miss This 'House of Cards' Season 3 Trailer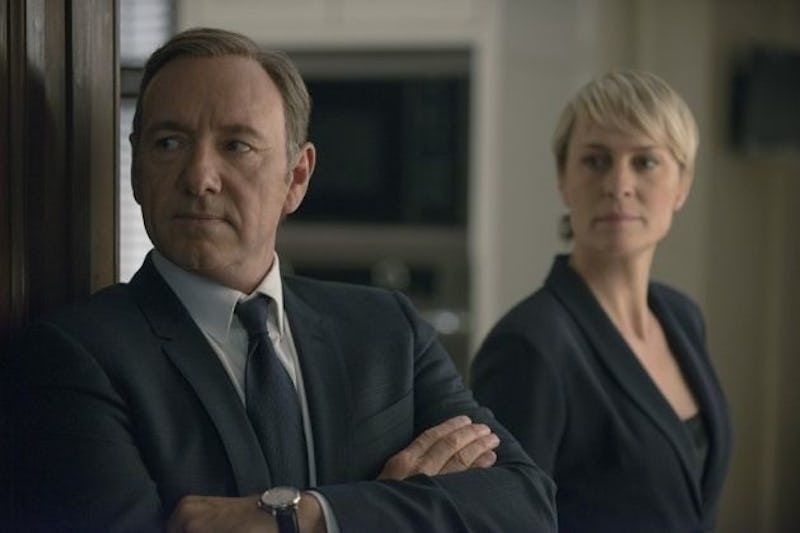 It looks like Frank Underwood still has a few tricks up his sleeve. While most of us were busy tuning into the 2015 Golden Globe Awards, Netflix decided to release the House of Cards Season 3 trailer. That's right, it was a move that just so happened to coincide with Kevin Spacey's Golden Globe win. (What are the odds, right?) Though the clip is only 45 seconds in length, that proves to be more than enough time for fans to get a sense of what President Underwood (that's right, I said President) has in store for his unsuspecting citizens. And let me just say that from the look of things, he's just as conniving as ever.
While adjusting to life in the White House, Claire seems to be battling a rather guilty conscience. (Can't imagine why!) "We're murderers, Francis," she tells her corrupted husband, to which he powerfully responds, "We're survivors." So yeah, I think it's safe to say our dear Frank isn't exactly in mourning of his actions as of late. Murder… lies… deception… it's just your typical day at the office for this lot of characters. And I personally can't wait to see where it all goes from here.
Check out the very first HoC trailer below and get ready for Congress to be back in session. Is it Feb. 27 yet?
Images: Netflix