The Real Golden Globes Winner Is Batman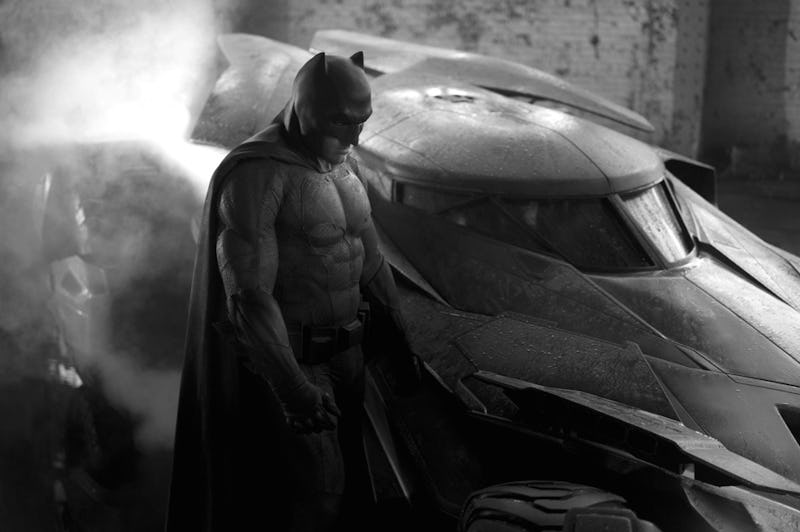 As the sun rises on this bright Monday morning, there is one thing and one thing only on every entertainment-lover's mind: who won an award at the 2015 Golden Globes? My cynical mind is still focused on the fact that Selma, Viola Davis, and Benedict Cumberbatch were totally robbed, but among all the winners — surprising, predictable, well-deserved, or not well-deserved, there is one winning man that we should be paying proper homage to, especially since he has consistently been taking home that gold statute almost every year since 2011. Who is that man? Why, he's the Batman, of course.
The people on the nominees list might change — and the list of people who actually end up winning an award might alternate between predictable and surprising — but Batman remains the same. In fact, in the last five years, Batman has taken home the Globe four times. How many celebrities can brag that they've won the Globes for three consecutive years, let alone nearly five years in a row? How many fictional celebrities can brag the same honor? Sure, every time that Batman has taken home a Golden Globe in the last five years, he was not actually taking it home for being Batman specifically.
But, come on, guys. There's a pattern here that any DC Comics fan should be able to appreciate.
2011 — Christian Bale
During the 68th Golden Globe Awards, Christian Bale — who played Bruce Wayne in The Dark Knight and The Dark Knight Rises — took home the award for Best Supporting Actor in a Motion Picture, Musical or Comedy. As you might have guessed from the fact that it wasn't for a Drama, he was winning for his work as Dicky Eklund in The Fighter. Ironically, he was competing in the category against Andrew Garfield, the future Spider-Man, and Jeremy Renner, who would cameo as Hawkeye in Thor just a few short months later before going on to reprise the role in 2012's The Avengers. So, basically, Batman beat out two Marvel superheroes to take home the prize in 2011.
2012 — George Clooney
George Clooney, who played Batman in the widely-reviled Batman & Robin (and, by widely reviled, I mean even Clooney hates that movie), won big at the Golden Globes in 2012. He won the highly anticipated award for Best Actor in a Motion Picture, Drama for his role as Matt King in The Descendants. And, once again, he was in the company of another superhero movie star — this time, X-Men: First Class star Michael Fassbender. I guess even Batman could take Magneto in a fight, whether he can lift an entire stadium over his head or not.
2013 — Ben Affleck
At the 70th Golden Globe Awards, Ben Affleck took home a surprising award: Best Director, thanks to Argo. At the time, we were all busy being amazed and impressed that Argo, Affleck's third stint as a director after Gone Baby Gone and The Town, could have been so, well, universally beloved and unquestionably good. However, that Golden Globes surprise was nothing compared to the surprise that would later ensue when it was announced that Affleck would be playing Batman in the upcoming Batman v Superman: Dawn of Justice film. However, considering we've had two Batmans win Golden Globes prior to him, should we have been so surprised?
2015 — Michael Keaton
Michael Keaton graced our screens as Batman in Tim Burton's Batman and Batman Returns, but he took home the gold at the 2015 Golden Globe Awards for his role as Riggan Thomson in Birdman. That, ironically, makes him the Batman that went the longest time between when he played Batman and when he won his Golden Globes at 26 years. (In second place is a tie between Bale and Affleck, with the three years between their Golden Globes wins and the premiere of their first Batman flicks.)
2016 — ??
The only year without a Batman taking home the Globe was 2014, so the fact that Keaton has started the pattern anew could very well mean that the 2016 Golden Globe Awards might see the dawn of a new series of consecutive Batman wins. Will we see Gotham's David Mazouz taking home a statue for his role as the young Bruce Wayne? Will we see Ben Affleck rack up his third Golden Globes win for his role in Dawn of Justice? Will we see a new Dark Knight rise between now and the next awards season? Only time will tell on that one, but one thing is for sure... the real winner of the Golden Globes (and life) is Batman.
Image: Getty Images; Zack Snyder/Twitter