Meet the Shapewear That's Good for Your Skin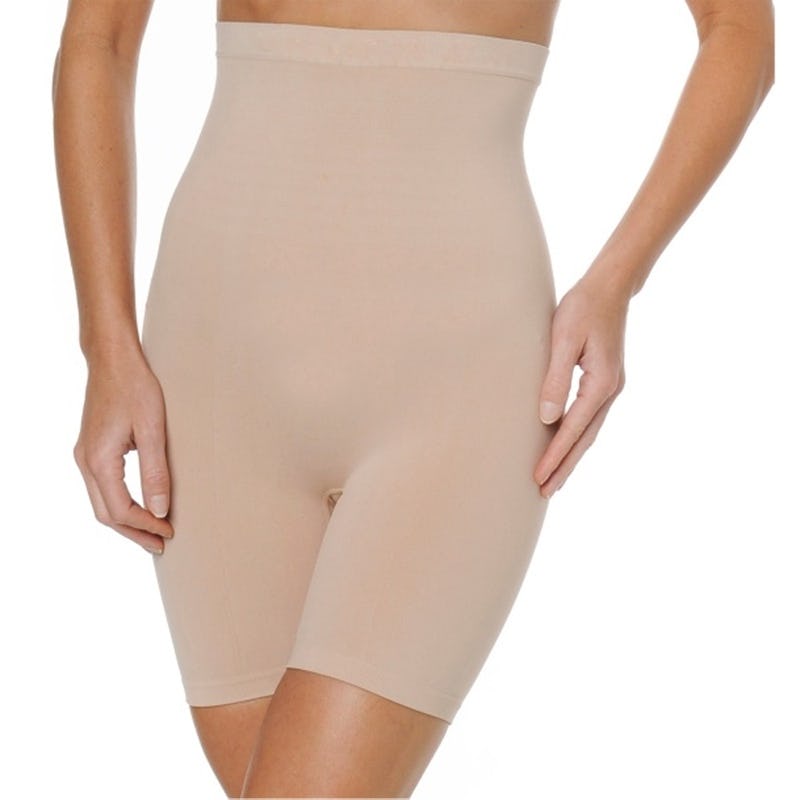 Last year, some shapewear brands came under fire for claiming that their garments had physical benefits, like reducing cellulite. It was a load of BS and the companies had to pay restitutions. Now there's VITAWEAR, which merges shapewear and skincare by infusing their pieces with moisturizing, good-for-skin things like shea butter, Retinol, Vitamine E, and other anti-aging ingredients. I immediately like the sound of that.
I am not going to believe that the pieces will halt or slow down the aging process. But the fact that the fabric has moisturizers means that that the piece does two things: hold you in and deliver continuous moisture to skin as the garment is worn. You won't see instant results, but taking extra steps to care for skin helps keep it more youthful.
So while we're inundated with wearable tech which adds an element of function to fashion with phone-charging jackets, emergency response jewelry, and heart rate-measuring shirts, these pieces are also multi-purpose, serving as shapewear and skincare at once, thanks to the combo of textiles and cosmetic ingredients.
The company's press release claims that it energizes, firms, and lifts, and while you'd have to wear the pieces repeatedly to test proof of that, I'll accept that it does condition skin, since, well, it has moisturizing agents.
Don't do a happy dance, though, lazy gals. I wouldn't consider wearing these garments as replacement for your daily moisturizing routine, but rather an enhancement.
I admit. I am intrigued.
Compression and shaping garments aren't always the most comfortable things in the world given their inherent restriction, but you deal with it, because it creates a smoother, shapelier look when getting dressed up. VITAWEAR takes it up a notch with a skin-nourishing element. And that I can so get down with.
The pieces can be worn under clothes, to the gym, and while sleeping.
My main question was what happens when the moisturizing properties dry up or run out? What happens when you wash them? Well, there is a replenishment kit. After washing your garment 10 times, it can be re-infused with VITAWEAR Spray, which is said to have a yummy citrus scent, too.
"Women need a way to continuously moisturize and improve their skin's appearance, which is what the VITAWEAR Collection is designed to do; you can even sleep in them," brand founder and CEO Michelle Moran said.
VITAWEAR will be in stores in spring and I'd be so down to wear any of their garments at my next wedding, red carpet situation, or any event where I have to get all dressed up.
Images: VITAWEAR (3)