Fashion to Ward Off the Worst Case of the Monday's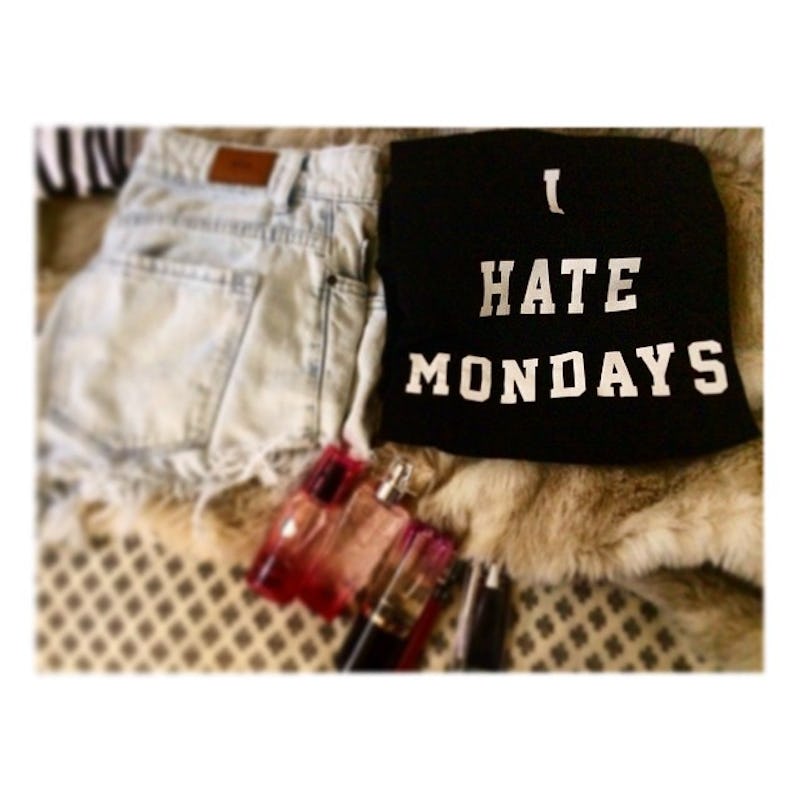 Monday morning, we meet again. Boo. I cannot say that I am happy to see you. To be clear, just because we have a standing weekly date does not mean most of us are willing participants in this mostly mandatory relationship. For whatever reason, waking up is just super hard, especially after a couple days of parting with our bed at our leisure, which makes Monday morning the worst . The Kid President said it best when he advised, "Give people high fives just for getting out of bed. Being a person is hard sometimes." Little Robby Novak always spits the truth. But fear not — because as with most things in life, fashion is always there for us.
When you think about it, not only do most of us have to wake up on Monday morning; we also have to get dressed and look like presentable members of society. Are you kidding me? This matter seems like an even more insurmountable feat in the winter months — a stretch of time that features the dreaded seasonal affective disorder and an overwhelming desire to succumb to the trap that is our down comforter. How can anyone be expected to energetically jump out of bed when it is pitch black outside and when, in most parts of the country, we are cold before we even stick so much as an extremity out from underneath the covers?
As a born and raised Ohioan (school has already been cancelled three times in my hometown because it was too cold for the kiddos to wait for the bus) and someone who is barely human before the hour of 9 a.m., I fully understand this pain. But we all have to power through, right? While I cannot banish mornings altogether, I can give you a proverbial fashion high five to help ward off that case of the Mondays that is trying to creep in. Even when we don't feel like it, we must get up and dress ourselves for the day in an outfit that would make Thursday morning proud. It is true, after all, that when we look good we feel good, so let's show Monday morning who the boss is around here. Who's with me?!
Feeling chic to start the week is so much easier when there are easy, go-to mix and match options, a Monday morning uniform if you will. So, here are two staple pieces you need this winter (complete with multiple ways to make an outfit) to help you all ward off the beginning of the week blues.
1. THE TURTLENECK SWEATER
A turtleneck is always chic, and in a chunky yet sleek cable knit, this basic never fails to be both fashionable and warm. Plus, in a neutral color, the possible pairings are endless, creating weeks worth of Monday morning outfits with just a swap of your bottoms.
Cambridge Cable Turtleneck Sweater, $98, jcrew.com
STYLED WITH: A PENCIL SKIRT TO KEEP IT PROFESSIONAL
Medallion Pencil Skirt, $98, anthropologie.com
STYLED WITH: A PAIR OF TAILORED METALLIC OR PRINTED PANTS FOR A PARTY ON THE BOTTOM
Ludlow Pant in Gold Linen, $118, jcrew.com
Tuxedo Pant in Retro Floral, $118, jcrew.com
STYLED WITH: YOUR DARKEST DENIM
Skinny Skinny Jeans in Waterfall Wash, $128, madewell.com
2. THE SWEATSHIRT DRESS
When we wake up on Monday morning tired and groggy, quickly noticing the frost on the window, pretty much the only clothing option besides our pajamas that our brain deems acceptable is a sweatshirt. While that may not be appropriate work attire for most of us, a sweatshirt dress is the next best thing. Choosing this piece — clearly sent from the fashion gods — in black and pairing it properly keeps your outfit quick and comfortable without looking frumpy.
Sweatshirt Dress, $120, saturday.com
STYLED WITH: A BOLD BOOT
Bryan Boot, $75, solesociety.com
STYLED WITH: A CONTRAST SCARF
ASOS Oversized Scarf with Stripes, $38, asos.com
STYLED WITH: A STATEMENT BLAZER
Sam Edelman Sequin Blazer, $139, nordstrom.com
STYLED WITH: FUN FLATS AND AN ON-TREND NECKLACE FOR NO-FUSS FANCY
Marc by Marc Jacobs Mouse Spotted Ballerina Flats, $180, piperlime.com
Evil Eye Fringe Pendant, $36, baublebar.com
We are all officially mixed, matched and ready to go for many weeks to come. Take that Monday morning!
Images: Tumblr/contemporary-chicstreet; Giphy; Courtesy Brands