The New 'Fifty Shades' Extended Trailer Is Here!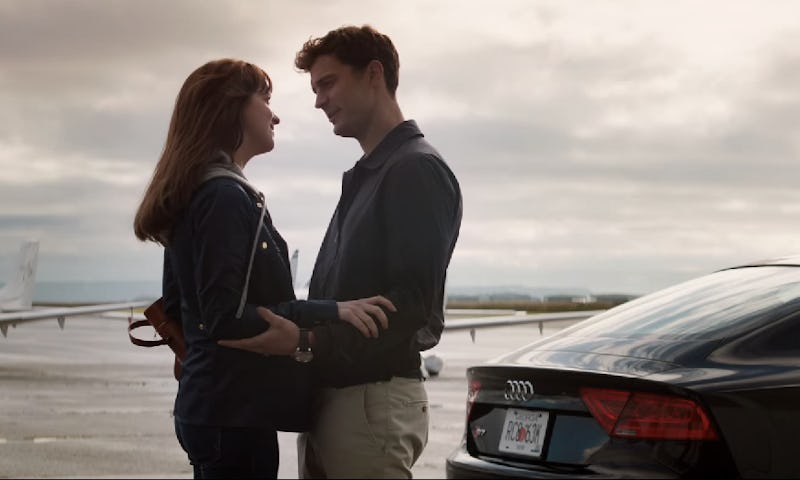 If you were watching TV on Sunday, chances are that you saw the new Fifty Shades of Grey trailer during the Golden Globes a few times. But if you missed it, I'll catch you up: the extended trailer has the same amount of sex, but much more romance, and an important character made her big debut. Although we still haven't met Mrs. Robinson (a.k.a. Christian's former Dom, Elena) or his sister, Mia, one of the other important women in his life is his mother, Dr. Grace Grey. If you don't recall Ana and Grace's meet-cute, the trailer shows us a glimpse of it. Basically, Mrs. Grey (played by Marcia Gay Harden) almost walks in on Christian and Ana in the act — not in the Red Room, but still — and is still absolutely thrilled. Ana is wearing Christian's shirt, but that doesn't phase Grace because she's just happy to finally meet one of her son's girlfriends. "You have no idea how delighted I am to meet you," she says as they shake hands. We also get a glimpse at her first dinner at his parents' home.
In addition to Grace's introduction, the trailer also has more than just binds and blindfolds in the Red Room for the central couple. We see Ana's goofy side as she's caught dancing and whisking together pancakes for Christian and her signature lip bite a few times, but most importantly, we see some of their interesting romance. "Where have you been?" Christian questions Ana, holding her face with somewhat of a loving gaze. "Waiting," she says. Not the right answer, Ana, but I guess that what we'll have to do for the next few weeks until Fifty Shades hits theaters on Feb. 13, too. You can buy your tickets now and see the film a day early, though, if you're so inclined.
Image: Universal Pictures