The Women Lost on 'Celebrity Apprentice'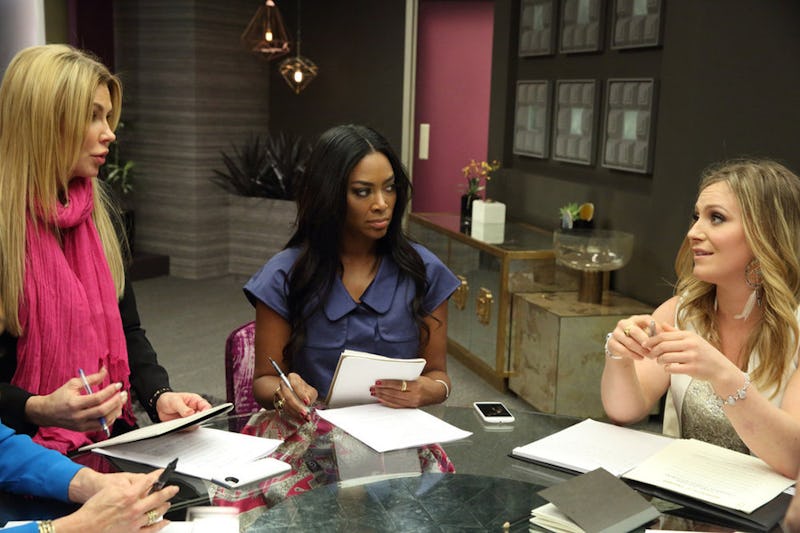 During Monday's first hour of Celebrity Apprentice, not only did we get to see an awkward selfie pose with Johnny Damon and Geraldo Rivera (who else cringed?), but we also got to see Brandi Glanville and Kenya Moore battle it out, because that's what Bravo housewives do, right? The first task dealt with Cosmopolitan magazine. Each team was responsible for creating a four-page exercise and diet editorial spread with originality, creativity, and overall presentation as the three major elements Team Vortex and Team Infinity were being judged on.
This time around, Johnny Damon and Jamie Anderson stepped up as project managers. Each team seemed to struggle with the "sexy" factor, but as we saw the men had a more cohesive topic, whereas the women were just kind of all over the place. In the end, Damon hit it out of the park and scored a win for the men, while the women were left with a loss. Even though Anderson brought Kate Gosselin and Moore to the boardroom, she ended up sliding away on her snowboard and out the door, thanks to Donald Trump firing her.
As much as I could go on and on about the women's cattiness and unnecessary drama (seriously, ladies, stop putting each other down, be positive, and work together!), the real showstopper was none other than Rivera (duh!). Not only did he come up the slogan: "Love Your Self(ie) Naked", but we once again got to see Rivera replicate his original shirtless selfie. He wasn't as naked as last time, because he left his black socks and shoes on, but we still got to see him parade around in his boxers and lift weights. Yep, he stole the hour, again.
Also, you're welcome, and I will leave you with that image in your head. Or, you can just check it out here for yourself!
Images: Douglas Gorenstein/NBC