U.S. Central Command Was Just Hacked On Twitter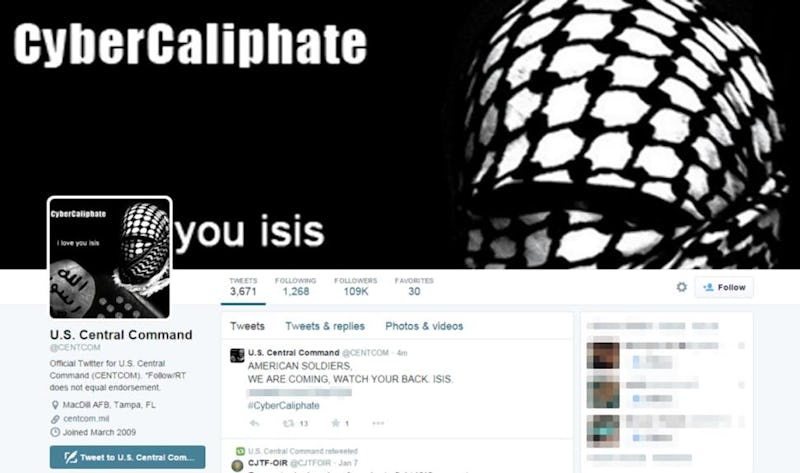 Members of the Islamic State of Iraq and Syria apparently continued their cyber attacks on the United States on Monday. ISIS reportedly hacked the U.S. Central Command Twitter account, flooding it with messages from the "Cyber Caliphate" and threats to American soldiers. At this time, the Twitter account has been suspended.
The messages posted on the U.S. Central Command account declared "Cyber Jihad" and "Cyber Caliphate." The hackers also tweeted to American soldiers: "WE ARE COMING. WATCH YOUR BACK."
Another message said, "You'll see no mercy infidels." Many of the statements alluded to the ongoing U.S.-led airstrikes on ISIS targets in Syria and Iraq.
The hackers also changed the Twitter account's header photo to one that featured the hashtag #Iloveyouisis.
According to BBC News, the U.S. Central Command YouTube account was also hacked on Monday. Before that account was suspended by the video-hosting site, the hackers uploaded several ISIS propaganda videos.
The Washington Post reports that U.S. Central Command released a statement confirming the security breach. The statement said the agency was "taking appropriate measures to address the matter." However, Central Command did not elaborate on the seriousness of the situation.
It's still unclear whether the cyber attack was conducted by members of ISIS or ISIS sympathizers. A spokesperson for Central Command could not confirm the perpetrators to the media, only saying that the accounts have been "compromised."
The security breach comes a day after U.S. Central Command ordered a new round of airstrikes on ISIS targets in Syria and Iraq. The agency said on Monday in a statement that 11 airstrikes in Syria and 16 airstrikes in Iraq were carried out by "attack, fighter, and bomber aircraft" over the last 24 hours.
Central Command said they hit many ISIS targets in both countries, including
Near Kobani, nine airstrikes struck two large ISIL units and an ISIL tactical unit, and destroyed 10 ISIL fighting positions, five ISIL buildings, and two ISIL staging positions.
Near Abu Kamal, an airstrike destroyed an ISIL excavator.
Near Dawr az Zawr, an airstrike struck an ISIL oil refinery.