Teen Vine Celeb is More Popular Than You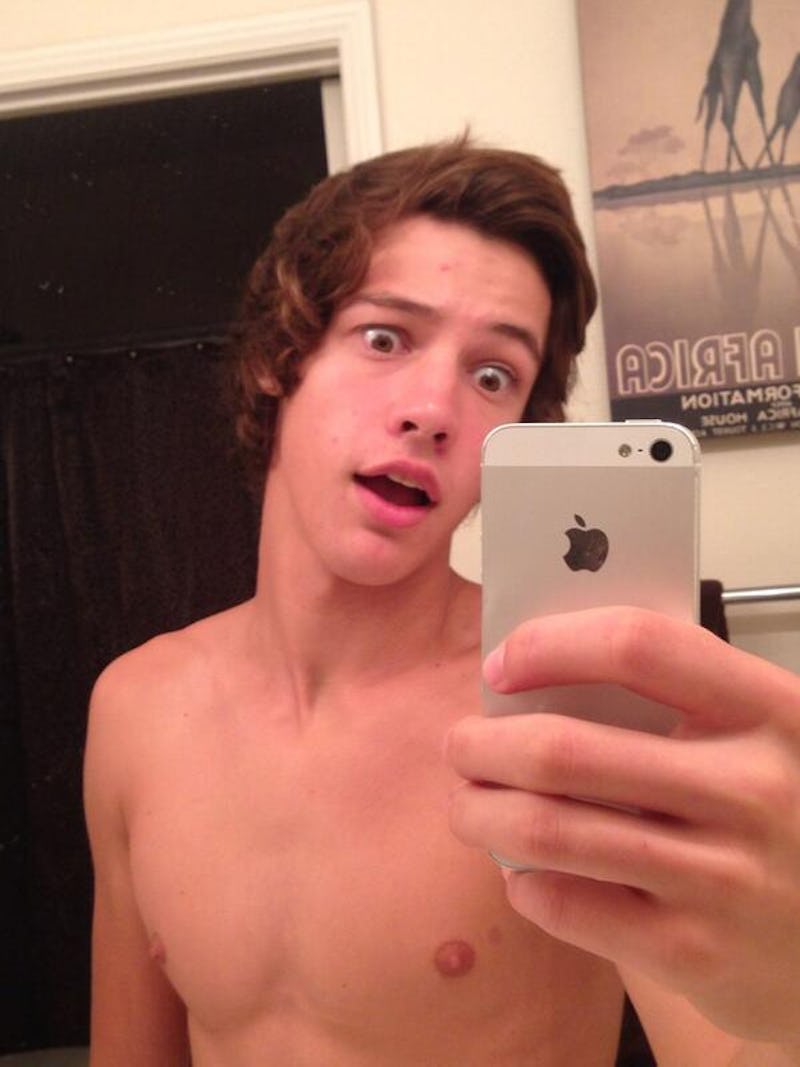 As a New York City resident, I see famous people all the time. Aaron Paul, Julianne Moore, Penn Badgley, Andy Cohen — I, and so many others walking down the street, have passed A- to D-list talent on a regular basis, with little to no fanfare. (Heck, the fact that a notable '90s actor lives in my building barely makes people shrug.) Because famous people are as essential to New York as bagels and suspicious neon-hued street puddles. So it was all the more eye-catching and confusing Wednesday night when I walked out of my Columbus Circle subway station to find a swarm of screaming girls, waving their cell phones and sobbing so hard, it's as if they missed their A train transfer by two single seconds. (Or is that just me?)
It was a sight I hadn't seen outside of a boy band concert or TMZ video. Someone was getting mobbed by what appeared to be hundreds of girls — surely, it had to be Justin Bieber or, at the very least, Austin Mahone. My curiosity piqued by the fact that the girls' excitement made it impossible for them to hold their video cameras straight — making it impossible for me to get a view — I asked a nearby gawker. Who are these girls hounding? "Vine celebrity Cameron Dallas," was the answer.
Now, as someone who scans Twitter all day and has a freakish memory not for filing my taxes or paying the electric bill, but the most random names in entertainment, I was flummoxed. Who was this Cameron Dallas? Heck, even a Google search later Wednesday night found that one of the most popular search terms surrounding the actor is "Why is Cameron Dallas famous?" (Not that anyone searching it would get their answer — there is virtually no press written about the teen.)
So why is he famous? The 18-year-old from Chino Hills, Calif., (according to his Tumblr) seems to be a normal teen, his only notable trait a set of abs that make his fans' tears a little more understandable. But he appears to have achieved most of his fame on the social network Vine, accumulating over 755,000 followers, which has, in turn, translated to nearly 200,000 Twitter followers. (He also has a bevy of famous Vine friends, like Brent Rivera and Matthew Espinosa.) And though his appeal is clear (Dallas is that key combination of adorable, non-threatening, and goofy that attracts the teen demographic), his videos are nothing extraordinary:
But you don't need to be extraordinary to be famous in the digital age. And, perhaps more interestingly, you don't need to be extraordinary to have contact with the famous anymore. As a child of the '90s, the only way we were able to connect to our teen idols was through patience — waiting outside the concert venue, at the mailbox for an autographed letter. Going to events boasting Backstreet Boys, Hanson, or 'NSYNC as the headliners would yield deluded beliefs that Nick, Taylor, or Justin looked right at us, sending us home with pipe dreams of pop star white picket fences.
So I can only imagine what these girls are thinking. While we dreamed that our teen idols would one day discover us, we knew we were mostly undiscoverable. Dallas' fans — with a link so direct to the social media star, he only needed to tweet his intent to shop at the Time Warner Center to attract legions of young girls — are actually discoverable. Just see this tweet from Dallas:
If a simple wave from an amphitheater was enough to inspire dreams of pop grandeur in '90s teens, I can't imagine what an actual line of communication does to young fans of social media stars, like Brandon Calvillo, Benjamin Lasnier, or King Bach. Are their idols too accessible now? Is it healthy to lust after someone so available who will never actually give you the time of day beyond a "favorite" or retweet? (This is, after all, just how erotomania starts.) Or is this simply an innocent new normal that's no different than a photograph outside the gates of stadiums?
Either way, the crowd outside the Columbus Circle subway station taught me three things: That Cameron Dallas is a thing; that I'm glad I'm not a teenager trying to balance homework, SATs, and nationwide social media fame; and that I'm relieved I'm not a parent.
Image: Cameron Dallas via Twitter