The Hero Of The Paris Supermarket Hostage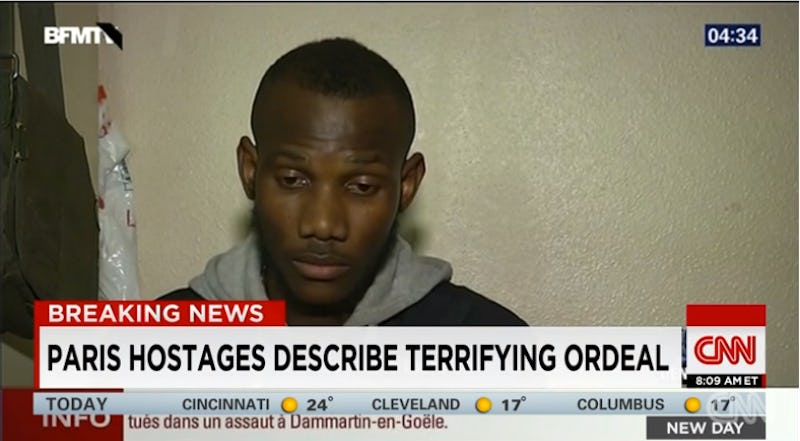 Last week was a harrowing one for Paris, with the initial killings at the Charlie Hebdo offices and the following hostage situations. In light of the tragedy of lives lost, it's good to hear of heroic people who stepped up to help saves lives. After Amedy Coulibaly burst into a kosher supermarket and killed four hostages, Lassana Bathily, a Muslim employee, hid several customers in the store's walk-in freezer.
According to CNN, Bathily was downstairs when customers came rushing down:
When people came downstairs running, I went toward the cold room. I opened the door and many people got into the cold room with me. I switched off the light and switched off the freezer. He asked us to all come upstairs, otherwise he would kill everyone who was downstairs.
It's not clear exactly how many people Bathily helped by hiding in the freezer; a city councillor, Malik Yettou, credits Bathily with saving six people and a baby while BFMTV claims that about 15 people hid in the walk-in freezer. After leaving the people in the freezer, Bathily then escaped using a freight elevator and exited the grocery store. He was then apprehended by French police, who initially mistook him for an accomplice to the gunmen. He was arrested and placed in the back of a police cruiser, but helped police officers by providing them with the layout of the supermarket.
According to Bathily, after the raid, some of the people he'd hid in the freezer came up him and thanked him. Now, the Muslim, who hails from Mali, is being hailed as a hero by French press and social media, where he's being called "musulman malien" or "Malian muslim."
Bathily later appeared on BFMTV to talk about his experience. When the host asked him about his actions during the hostage situation, he responded with:
We are brothers. It's not a question of Jews, of Christians or of Muslims. We're all in the same boat, we have to help each other to get out of this crisis.
After the attack on Charlie Hebdo, there was been terrible backlash toward Muslims in France as people continue to hold millions accountable for the actions of a few. Bathily's heroic actions and statements comes to light at a time when people need to be reminded of the fact that Islam is non-violent religion and that a few extremists are not representatives of the three largest religions in the world.
Image: CNN Screengrab; NBC News/Twitter