Joan Rivers is on Next Week's 'Celeb Apprentice'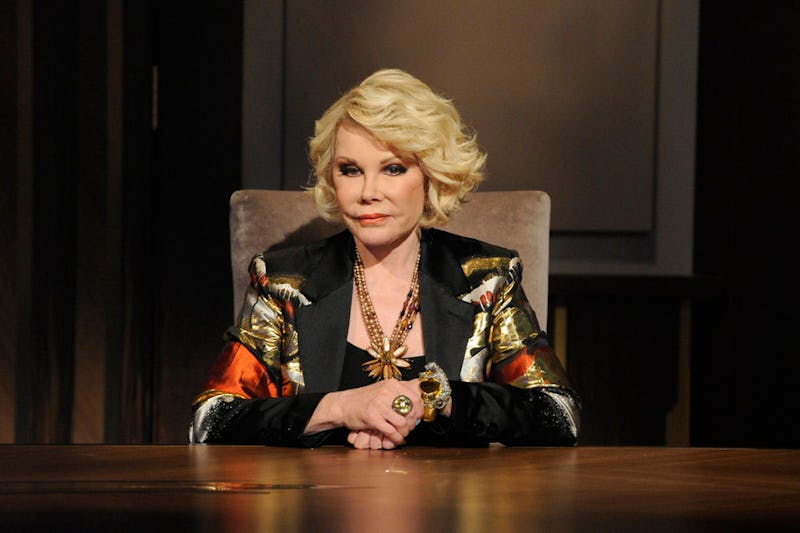 Failure is not an option. This was the battle of all battles on this season of Celebrity Apprentice . Donald Trump changed the teams, which meant Ian Ziering and Geraldo Rivera finally went head to head. Even though Rivera beat Ziering by only $2,500 (almost $600,000 was raised), I'm glad Ziering stepped up as project manager, because we got to see all of his influential and inspiring words of wisdom (yes, he should run for office), especially when Terrell Owens was sent packing.
But, really, who cares about all that nonsense and money that was raised for good causes? OK, that latter part is important, and I take it seriously, but when NBC airs a promo for next week's episode featuring the late Joan Rivers in one of her last appearances ever, I get a little choked up and distracted from what just went on for the past two hours. Not only did she kickass on her season of Celebrity Apprentice (yes, she won), but it's now sad to see her in the flesh working the room, sharing her hilarious jokes, and showcasing the amazing woman that she was.
I can't wait to see her in action telling all of these so-called celebs what they're doing wrong and how terrible they are. I know that sounds horrible, but, it's who Rivers was and one of the many reasons we loved her — honesty was her policy. Also, can you imagine being in the shoes of next week's project managers? Nope. I wouldn't want to be them. Well, maybe I would, because how fantastic would it be to have Rivers give you advice, all while ridiculing you?
I don't know about you, but I believe this just might be one of the most touching and most-watched episodes of Celebrity Apprentice ever proving, yet again, how influential Rivers was and continues to be.
Images: Virginia Sherwood/NBC