YouTube Video Shows how Beauty Products are Named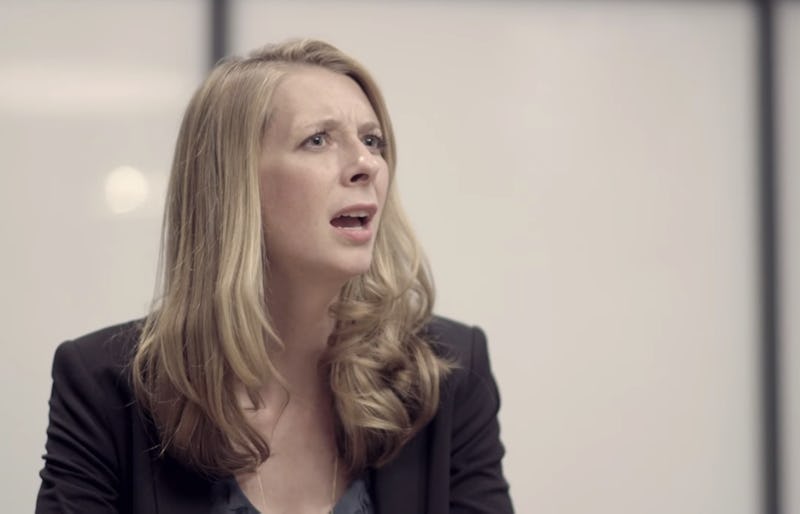 I've always wanted to sit in on a makeup naming meeting. With the final names the brand's come up with, no doubt those brainstorms are a total blast. The Punch, a sketch team at New York's Upright Citizen's Brigade, recently put together a fantastically hilarious video called "Out of Makeup Names" that depicts exactly what I imagine those meetings would be like. I just know it would be the best job in the world. But I'm also sure it would be difficult. With thousands of beauty product in the world — nay, just in the isles of Sephora — it's a bit of a mystery to me how beauty lines continue to come up with original names.
In the video, three guys tell their boss a new eyeshadow is ready, but a name is needed. And all of the good makeup names are taken, which they prove with examples. Good news: The name they decide upon is both original and unconventional.
It seems this fake company is not the only line that struggles brainstorming beauty product names. Below, I've compiled a list of beauty products I will never forget (and some I have ashamedly bought) just because of the amazing name.
Mildew by Urban Decay
Although the name describes the color perfectly, I'm not sure who would want to put "Mildew" on her eyes. But, in case that's you (no judgment), you can buy it here.
Dickweed by Beach Black
OK, OK so maybe I enjoy this nail polish because I occasionally have the humor of a 12-year-old boy. But it is memorable, right? Unfortunately, this line, which also had included a nail polish named "Jizz" came out in 2009 and was quickly discontinued. For possibly obvious reasons.
Roach by Urban Decay
This color was so popular that Urban Decay decided to include an eyeshadow to compliment the glide-on pencil. Ironically, both products are vegan.
Uh-Oh Roll Down the Window by OPI
HAHAHAHAHAHAHAHAHAHAHAHA what? I just don't understand how this could get by so many people and in stores. This is also the beauty product I wish I could have been at the brain-storming table at the most. Buy it here. I did.
No Bra by Chunky Monkey
This may not even be the most clever name by Chunky Monkey, possibly the queen of beauty product names. But I'm all for what this name represents.
Butt Taco by Man Glaze
Thankfully my 12-year-old boy humor has a limit. This isn't funny or appealing — it's straight weird. Turns out, Man Glaze is treating this color as a "special pre-release," so the name may change. Unfortunately, it has not changed since it's release in 2009. In case you like it, buy it here.
Iris I was Thinner by Sephora
The thing is, I really enjoy the color and the shape of the bottle. But I detest the name, despite its cleverness. Sure, every woman thinks this to herself. But I'm not for beauty products supporting the thought. If you like the color enough to buy it, you can here. Good luck explaining the color to people.
Schitzo by The Balm
The Balm came out with their own version of a Naked Palette based on moods. And, appealing to my own love for alliteration, each of their moods start with an S. They have a color for if you're feeling selfish, sophisticated or silly. Unfortunately, they also have a shimmery gold color in case you're feeling "schitzo." Slightly offensive...
Trophy Wife by Essie
Typically, I can fangirl over Essie nail polish names. But I can think of at least 12 The Little Mermaid references that are better than this.
What's a Tire Jack? by Sephora OPI
Sephora by OPI named it's new black matte nail color "What's a Tire Jack?" possibly stereotyping all women, everywhere.
Oy! Another Polish Joke! by OPI
I'm actually not making this up. Oy! Another Polish Joke! was included in OPI's 2013 Euro Centrale Collection. Nice one, guys.
Wizard of Flaws by Soap & Glory
From the product description, I can only guess this wand truly is a wizard. It removes dark circles, fine lines, wrinkles, hallows, sags, bags and can turn you into Hermione Granger.
Can't aFjörd Not To by OPI
OPI even got fancy with umlauts and capital letters. Because you can't aFjörd not to when it comes to coming up with original product names. (I'm so punny.)
Sunday Funday
Because Sunday truly is Funday. Buy it here.
Images: YouTube; Courtesy Brands