Will 'Real Housewives of New Jersey' Go On Hiatus?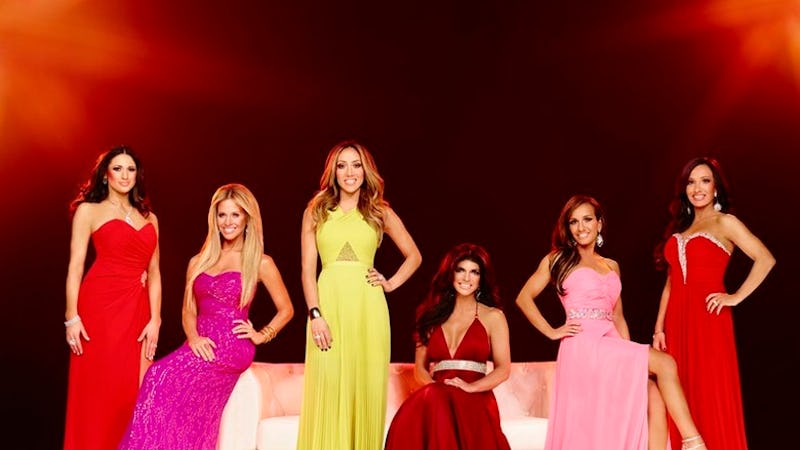 Be prepared to ingest the contents of this next story with a few grains of salt because it's rather far-fetched. TMZ reports that Bravo may put The Real Housewives of New Jersey on hiatus until Teresa Giudice completes her 15-month prison sentence. Allegedly, network executives believe airing a season of RHONJ that doesn't feature Giudice all but guarantees the show's demise, so they're considering temporarily sidelining the entire operation until she can resume filming. Furthermore, the other New Jersey housewives are said to be outraged by this proposal, obviously because the thought of not being paid to fake-fight on TV for a whole year completely terrifies them.
Bravo, if you are remotely toiling over this evil little plan, please stop now. I doubt that's the case, but let's discuss the absurdity of this alleged hiatus and why it would clearly do more harm to the show than good. For starters, RHONJ fans simply won't have it. I mean, who wants to sit out an entire season, when we still have the rest of the cast to contribute their obligatory gossiping and updates regarding the Giudices and how Teresa's coping in prison? Even if what they have to say isn't true (and let's face it, it probably won't be), who cares? They only have one job and that's to keep everyone talking and speculating in the Giudices' absence so there's a fresh pot of drama brewing, patiently waiting to whistle like crazy upon their return to the show.
Also, let's not forget that past Housewives shows, RHONJ included, have survived a constant revolving door of cast members who either quit or were fired. The show even managed to remain afloat after the dismissal of one of its more interesting drama magnets, Daniel Staub, who absolutely must be credited for giving Teresa a reason (albeit a flimsy one) to flip the table that gained her notoriety in the first place.
Finally there's the insane amount of moolah Bravo stands to lose out on by choosing not to air a Giudice-less season of RHONJ. The Giudices' legal troubles may have threatened to drag Bravo down, but the couples' temporary absence is no reason for the network to abandon the RHONJ ship.
Image: Alex Martinez/Bravo