Jenna From 'The Challenge' Has Big Dreams, Y'all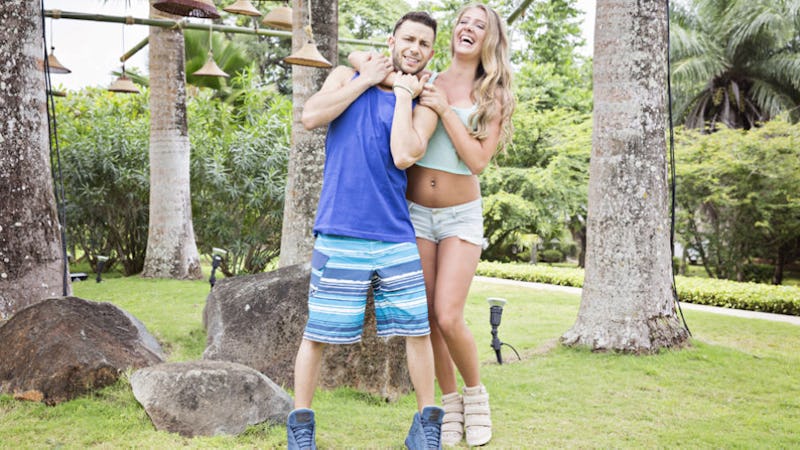 I'm generally skeptical of anyone on reality TV who says they're a "model," but that's probably because I'm generally watching The Bachelor and I don't want to see Farmer Chris get his heart broken by someone who's just trying to get a deal with Aldo, or whatever. But on The Challenge, most of these people are technically professional personalities who are very openly just in this for money and exposure, so it's not as much of a red flag; but still, Jenna from The Challenge seemed to really want us to know that she was a model in last week's premiere.
She mentioned it in her first interview clip when everyone else was introducing themselves as bartenders and hairstylists and venture capitalists (I love Wes 2.0). And then she mentioned her occupation again when the contestants had to walk a tightrope and she thought she should have an extra advantage because she walks runways for a living. Spoiler alert: She did not.
Admittedly, I didn't watch much of Jenna and Jay's storyline on The Real World: Ex-Plosion because as Jenna said herself, it was mostly crying... but I don't really remember Jenna being a model. I definitely don't remember her being a runway kind of model; I do remember her being an "aspiring model." This week, it looks like Zach, who was particularly impressed with Jenna's assets, is making his move, so I think it's time to get to the bottom of what took rising Challenge star Jenna from aspiring model to you-better-know-I'm-a-model model. (You're next, Jordan; don't think I didn't hear you too.)
Pre-MTV
Jenna's MTV bio for her Real World season is where she was originally cited as an "aspiring model." Apparently, before she became part of the Bunim/Murray clique, Jenna was working her hardest to get on the Playboy scene, and had gotten a second casting interview with Playboy Plus. Either that was derailed by The Real World, or it didn't go her way though, because alas, the Playboy dream is still a dream.
Post-MTV
Somebody had better tell Zach... Jenna cannot be tamed. Though Jenna's Instagram is chock-full of photoshoot snaps, most seem to be tied to photographers rather than specific modeling campaigns. That's not to say that Jenna isn't out there doing some modeling, just that they're maybe not the most high profile gigs. It's a little easier to find the music video she starred in for recording artist Louy Fiece's "Lioness." While I feel like the narrative structure of the music video could use a little work, I'm, uh, actually pretty of into this song.
Dream Big, Girl
OK, so maybe Jenna is still kind of in the aspiring portion of her modeling career, but I guess at some point you just have to start putting your dreams out into the world if you want to make them a reality. If MTV is paying the rent, but modeling is driving the soul, and not one of those other kids said their real job (MTV personality), then Jenna can say she's a model if she wants to. She just might want to work on the tightrope walking a little more; double-dutch cartwheeling, however, she has totally down.
Images: MTV; Jenna Compono/Instagram (3)