'Shark Tank's evREwares Sticky Ties Are Genius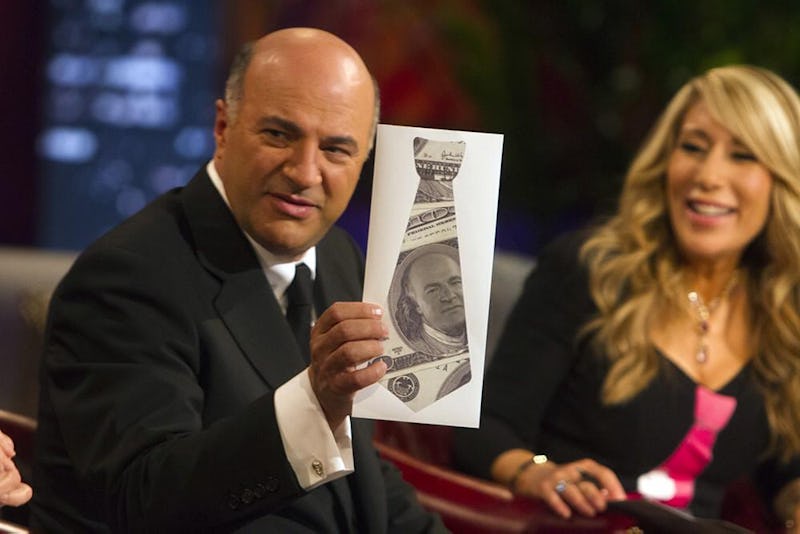 Time and time again, ABC's Shark Tank has proven itself to be a great resource for truly great, nifty inventions, and this one is definitely no exception: Tuesday's episode of Shark Tank is set to feature evREwares Sticky Ties, which are literally just the flare that you didn't even know your wardrobe absolutely needs.
The concept for evREware Sticky Ties is actually surprisingly simple, as most great inventions are: It's basically reusable fabric stickers, each fashioned in different designs (there are bowties, actual ties, sashes, the works!) that are meant for both kids and adults — and, best of all, they won't tear as you transfer them between items of clothing, so they're definitely long-lasting too. According to its creators, sisters Ellie Brown and Becca Nelson, they got the idea to create the fabric stickers because kids like to put stickers on everything, and their tastes are constantly changing. "One week they'd be into trucks, the next something else. I thought it would be a good idea if I had a graphic fabric sticker that could be worn multiple times so I could change-up their look easily," Nelson said in an interview with The Shark Tank Blog .
Pretty ingenious. Apparently, Brown and Nelson brought the idea to life about four years ago, and began selling the product in local shops around their home in Zionsville, Tennessee — and it took off. In an interview with RTV6, a local ABC station in Tennessee, Brown explained that the product is now available in "more than 400 different mom-and-pop retail stores," in addition to a few national chains, and the company, evREwares, has earned about $500,000 in retail sales.
So, where can one actually purchase Sticky Ties to snazz up their wardrobe? According to RTV6, the product is sold nationally at chains like The Container Store and Party City — but if you'd prefer to shop from the comfort of your own couch (as my bank account and I know I often do), you can also buy Sticky Ties online from evREware's website, right over here. And, of course, to see more about evREware and Sticky Ties, tune in to Shark Tank on Tuesday, Jan. 13, at 8 p.m. on ABC.
Image: ABC