Abbi & Ilana Get the Best Guest Stars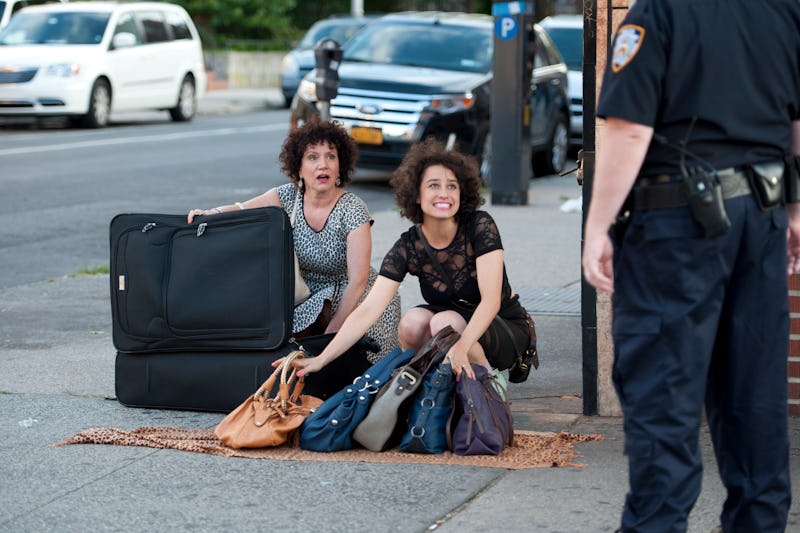 In the world of TV comedies, guest stars can make or break a season (Brad Pitt on Friends? Winner. Britney Spears on How I Met Your Mother? Not the best). Luckily, the guest stars on Broad City were on point for the show's inaugural season, offering up cameos by the show's own Executive Producer Amy Poehler; The League's Jason Mantzoukas; Portlandia's Fred Armisen; Jerri Blank herself, Amy Sedaris; deadpan superstar funny lady Janeane Garofalo; and many more. Will Abbi Jacobson and Ilana Glazer be able to top this with Broad City Season 2's guest star lineup? Um, obviously.
First of all, they work with Amy Poehler, and everyone loves Amy Poehler (hello, did you see the Golden Globes?). Second, these two have become kind of a big deal. Think about the way Mindy Kaling got anyone and everyone on her show when she first launched The Mindy Project — then multiply that by Comedy Central. Pretty soon, there's not going to be any funny person that these women can't get on their show.
And they're already doing it. In a trailer for Broad City Season 2 (below), premiering January 14 on Comedy Central, Jacobson and Glazer are joined by many funny friends, including a fresh-off-The-Interview­ Seth Rogen. And he's not the only familiar face this season — Abbi & Ilana have assembled a guest star dream team.
Here's who we can look forward to this season:
Seth Rogen
He comes in as a love interest for Abbi — finally! It seems that Abbi's Jeremy dreams are done... or at least on major hold after last season.
Aidy Bryant
Saturday Night Live's Aidy Bryant or Baby Aidy, as she's known in circle of people who love the "Back Home Ballers" sketch, is sure to add some sass to the series.
Susie Essman
Curb Your Enthusiasm's Susie Essman will play, who else, Ilana's picture-perfect mother who says goodbye to everyone with "Don't forget to wear a condom" because "she cares." Could this casting be any more perfect?
Kimiko Glenn
Also joining the duo's exploits will be Orange Is The New Black's Kimiko Glenn as a Pretty Woman-esque shop girl. I'm guessing Abbi & Ilana's "big mistake, huge" moment will go a little differently this time.
Eliot Glazer
Finally, writer and comedian (plus Ilana Glazer's real-life-bro) Eliot Glazer will stop by in a cameo that took way too long to get going, Comedy Central.
Broad City is almost here, y'all: I feel like a daisy peeking out from the last dusting of winter's snow. Aside from its many cameos, Season 2 is going to be great. For one, the ladies will not get very far on the path to enlightenment (which is a great thing for those of us who love them just the way they are). At a Broad City event at the Paley Center in New York City this November, Glazer noted that the character's journey to adulthood is "very two steps forward, three steps back." As long as it's funny and Glazer keeps wearing the best outfits on TV (sorry, Olivia Pope), I'm on board.
Images: Ali Goldstein/Comedy Central; Tumblr/broadcity; Getty Images (5)