This Non-Model Walking Katie K's Catwalk = Awesome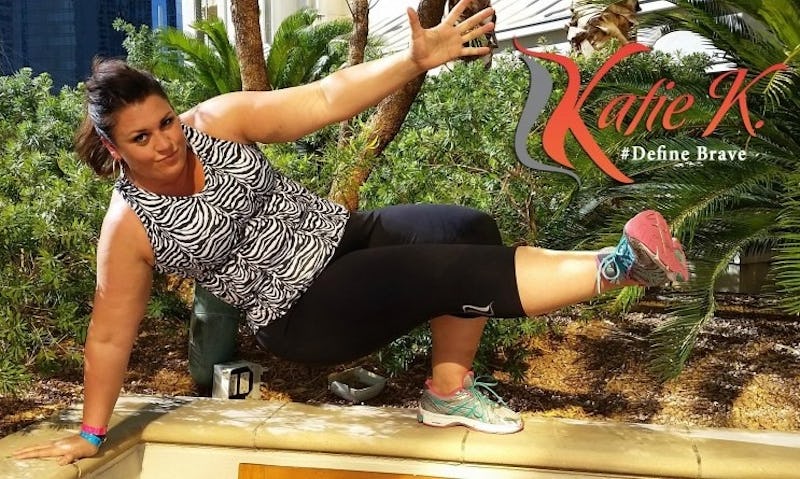 It's not the runway of New York or Paris Fashion Week, but something amazing is going to be happening at the Outdoor Retailer Winter Market in Utah on January 21st. Inclusively-sized brand Katie K. Activewear will be showcasing its newest collection with the help of a woman who's not only plus-size, but also not currently a professional model. Motivational health and fitness coach (and Health At Every Size advocate) Tulin Emre will be the first plus-size woman ever to grace the catwalk at this particular show. "We are honored to be the first women's fitness company featuring trendy and modern designs for plus-size women at Outdoor Retailer 2015... Fitness has no bias and neither should the designs offered to women who want to be active," wrote Active Marketing Director Emily Branch on the brand's website.
Katie K. isn't exclusively a plus-size brand, which feels like all the more reason to dub this one a big deal. Sure, it's come to be expected that Katie K. Activewear is going to go above and beyond token inclusion of plus ladies in everything they do — what with their double fit technology and showing models of all sizes in ads, for example. However, being able to "put your money where your model is" at one of the industry's largest trade shows for fitness apparel is still a massive move. This is the event where the brand is being sold to retailers who could potentially carry it — and Katie K. is presenting them with a plus model and an inclusive-sized collection, and saying, "This is what will sell." If it wasn't a big deal, it would have already been done before, right?
As a plus-size woman, this type of inclusion means so much. I'm grateful for brands like Katie K. — brands who are out there making plus women feel visible, and creating clothing for women in a category where there's not a ton of variety. Designing apparel that's fitted to different sized bodies and not simply made bigger is amazing. And using models who are the size of the people actually wearing the clothes is even more amazing.
I just wish it didn't have to be — I wish all the things Katie K. was doing were intuitive to brands, rather than something so unexpected and shocking. Until we get there, I'm still thankful for the indie retailers and the people behind them stepping up and filling in the gaps. When the fitness industry is full of micro (and not-so-micro) aggressions telling you that your body is wrong and that you don't belong, acceptance and inclusion feel really revolutionary. Here's to more plus-size models on all kinds of runways all over the world.
Images: Courtesy Brand; Twitter