'Preachers' Daughters' Cast Has Differing Views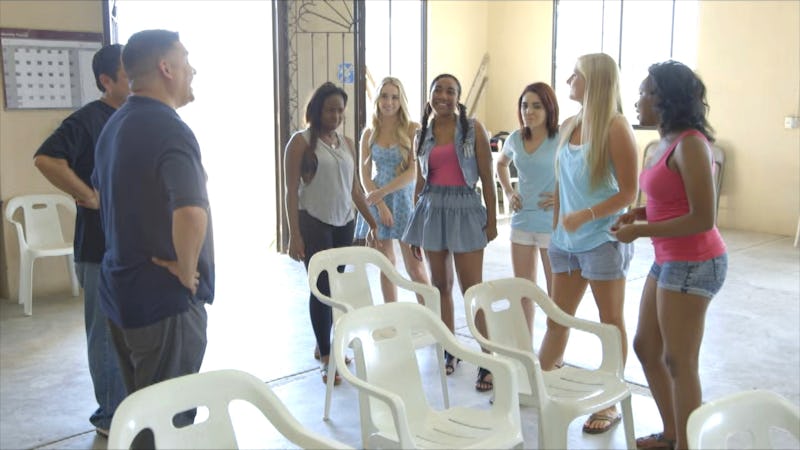 The third season of Lifetime's Preachers' Daughters premieres Friday, Jan. 23 at 10 p.m. and this time around, things are a little different. For Season 3, Lifetime has found nine young women — Cierra, Jayde, Kayla, Kori, Kristiana, Lolly, Megan, Nikki, and Tyche — all of whom are the daughters or granddaughters of preachers — and chronicled their six-week trip to perform mission work for those in need. Oh, and it all goes down in Cabo San Lucas, Mexico. So clearly, things often get out of hand, because... Cabo. Throughout the season, we will see the women struggle with representing themselves as preachers' daughters, while still being young, fun 20-somethings. This balance between the different sides of their personalities lead me to wonder if the cast of Preachers' Daughters consider themselves feminists.
"Yes, I do. I'm a lady, and that's what it is," Lolly tells me in an interview. The Los Angeles native is just one of the Daughters who considers herself a feminist. And although they might not see eye-to-eye while living in the house, her castmate Kristiana shares the same view point.
"I believe in empowering the woman," Kristiana says of her feminist beliefs. "Obviously for me, with some of my struggles and my trials that I've dealt with, I've been looked over a lot," Kristiana says of her struggles with depression and her sexuality. "I don't like that. I believe a woman is a beautiful creature. We are strong, we deal with a lot, we handle a lot."
Unfortunately, some of the young women didn't share the same views. "I don't think I would consider myself a feminist," Cierra explains. Though she does believe in a strong woman standing up for herself and what she believes in, Cierra continues to explain that she, personally, believes in roles set for a man and a woman. "I do think that a man and a woman definitely have different roles, and they should play their roles as follows."
Then there are a few of the young women who don't really have strong opinions on the topic. Kayla admits that she hasn't done enough research on the word to know if she is or isn't a feminist. When I ask Jayde the question of whether or not she considers herself a feminist, she asks me to explain what I meant by that. I give her the "social, political, and economic equality of the sexes," explanation, which seems to open her up more to the idea.
"Yeah, I definitely feel like people that believe that women belong in the kitchen and all that silliness...I think that's ridiculous," Jayde says. "I'm an independent person, so I don't like guys looking down on me and seeing me as weak. So I will try to do things that prove to guys that I don't need help," she says.
You can watch the young women grow explore their personal beliefs when Preachers' Daughters begins its third season on Jan. 23 at 10 p.m. on Lifetime.
Images: Lifetime (2)