Everything We Know About 'Silicon Valley' Season 2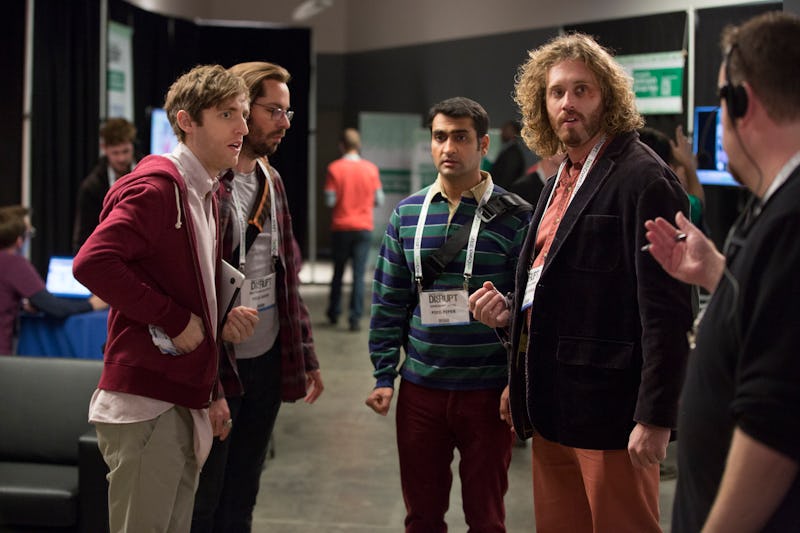 Despite having the ability to laugh and awkwardly cringe along with our favorite HBO girls on GIRLS, it's hard not to miss my favorite boys on HBO's Silicon Valley . The first season may have seemed to some critics like a nerds-only version of The Plastics, with a steady stream of algorithm-related jokes which, at times, could feel very "you can't sit with us!" However, the comedy from the mind of Mike Judge was hilariously balanced with the sharp tech humor, relatable startup struggle, oddball bankrollers, and lovably shy wunderkind who lead the charge. Naturally, I need to know every detail about Silicon Valley Season 2 immediately.
In a recent good news/bad news update, HBO did announce that Season 2 will premiere on Sunday, April 12, stacked alongside two TV heavyweights: Game of Thrones and Veep, premiering the very same night. This is obviously good news because this is a show I couldn't get enough of when it first aired in 2014, and now we can mark our calendars and begin planning our White House Mother of Pied Pipers party themes. This is also bad news because right now it's January and April is a full winter away and patience is a virtue human beings no longer have.
So to keep our Silicon Valley thirsts moderately quenched until then, I'm digging into everything we know about the show's sophomore season so far.
There Will Be New Cast Members — And Ladies, At That
Deadline reported that Suzanne Cryer will join the Silicon Valley cast in Season 2 as a series regular. She'll play the role of Laurie Bream, a managing partner at Raviga Captial. The role was originally given to Rebecca Creskoff, but she was recently replaced by Cryer.
Of course, you might recognize Suzanne Cryer from Two Guys, a Girl, and a Pizza Place, but I know her as the former girlfriend of George Costanza, specifically, the one who yadda yadda'd sex.
Filming Started In October
Mike Judge announces via Twitter on that they had begun filming Season 2 on October 23. At least we know they were well-fed.
The Cast Is As Excited About Season 2 As You Are
See what I mean? The show's star, Thomas Middleditch, shared some truly awesome behind-the-scenes antics with the cast. And now I'm even more desperate for Season 2. Thanks, Tom.
Licking iPhones Might Be a Necessary Evil?
T.J. Miller shared a very, let's say, intimate moment between Zach Woods and a phone on Instagram. Here's hoping this leads to another bananas episode.
And The Guys Are Hanging Out In a Locker Room For Some Reason?
And a fun little promo tweet from Judge. I'm not sure what to make of it, but in lieu of trailer, we'll just have to take what we can get.
Hopefully, an official teaser or trailer will be coming soon. Until then, we can always binge on episodes from season one and bask in the awkward glory that is this brilliant band of weirdos.
Image: Ben Cohen/HBO