Ellie Kemper's New Show is a Perfect Fit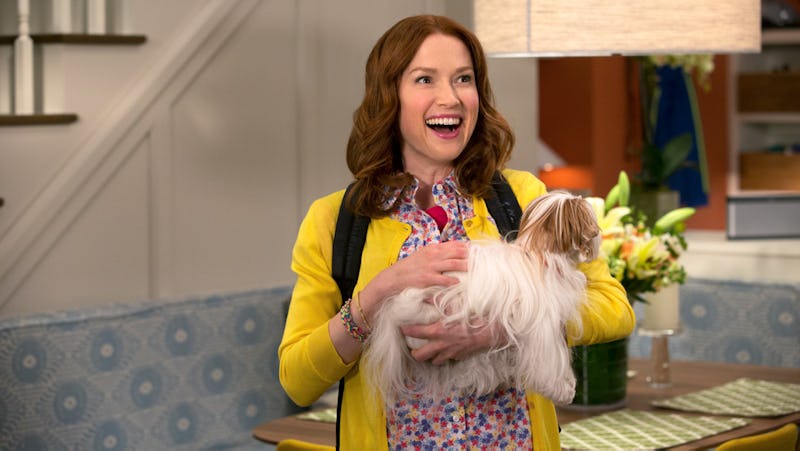 I'll admit, I was a little concerned when I first learned that Unbreakable Kimmy Schmidt , a Tina Fey-produced comedy, was coming to Netflix. The series had been set to premiere on NBC, but at the last minute, the network decided to pass it over to the streaming service — not the best sign. Despite promising news like Fey's involvement and its second-season pickup, my hopes still weren't high, so scared I was that Kimmy would be a disaster. So when the first trailer for the Ellie Kemper comedy was released on Thursday, I didn't know what to expect — but to my delighted surprise, the show looks like it's going to be absolutely adorable.
And, of course, that's all thanks to Kemper, its star. The actress, previously best known for roles in The Office and Bridesmaids, stars as Kimmy, a woman beginning a life in New York after escaping from a doomsday cult. It's a kooky premise, but Kemper, with her big eyes and huge smile, makes it work; Kimmy's cult-caused weirdness — "I will be very comfortable in here," she says as she walks into a closet — comes across as cute and endearing. The "slightly crazy but adorable child-woman" type is nothing new for Kemper, whose own personality seems to inspire her characters, but clearly, it works; below, the most Ellie Kemper-ish moments of the actress' career so far:
Unbreakable Kimmy Schmidt Trailer
Yes, it's just the trailer, but with lines like "I'm having candy for dinner!" and "dancing is about butts now!," it's a safe assumption that the real show will be just as full of Kemper-ish moments.
Best moment: Angrily slapping a sneaker out of her roommate's hand because she's unexplainably afraid of velcro.
The Office: "Roy's Wedding"
Erin (Kemper) auditions for a newscaster job, despite no such job existing and only being a prank by Clark (Clark Duke) to get her to sleep with him. It's creepy, sure, but also hilarious, thanks to Erin's genuine enthusiasm over being one half of an Andy-Erin power couple and getting to sit behind "a much more exciting desk."
Best moment: "I owe it all to Clark, who I thought at first was a little sleazy, but I now realize is just one of those people who stares at your chest to know what's in your heart."
Bridesmaids Plane Scene
Kemper's character was less kooky in Bridesmaids than usual, but just as adorably naive. Take the plane scene, for instance, when she learns some harsh truths about sex, motherhood, and double 7 and 7s.
Best moment: "Could I have a glass of alcohol, when you get a chance?"
The Office: "Counseling"
Erin thinks disposable cameras are meant to be disposed after one use, and while this seems a little wasteful to her, the act of picture-taking is still a ton of fun.
Best moment: Dumping the camera into the trash.
The Ellen Show: Gift Wrapping
Ellen sends Kemper out to a mall during the holidays, where she proceeds to set up a gift-wrapping booth and convince random customers that their items need to be wrapped ASAP. She is very funny and strangely aggressive. Also, there is singing.
Best moment: Giving herself a time-out for accidentally cutting too much paper.
The Office: Subtle Sexuality
It's impossible to choose just one Subtle Sexuality clip as a favorite, because every single one shows Kemper (and bandmate Mindy Kaling) at her very best, but If I had to pick, I'd go with the original, "The Girl Next Door." Erin as a seductive rich girl is hilarious, strange, uncomfortable, adorable, and hugely entertaining — in other words, perfectly, endearingly Ellie Kemper.
Best moment: The entire, wonderful clip. "I'm just the girl next doooooor" will be stuck in your head for the rest of the day, but come on, you know it's worth it.
Image: Netflix