Quentin Didn't Let Harry Connick, Jr. Down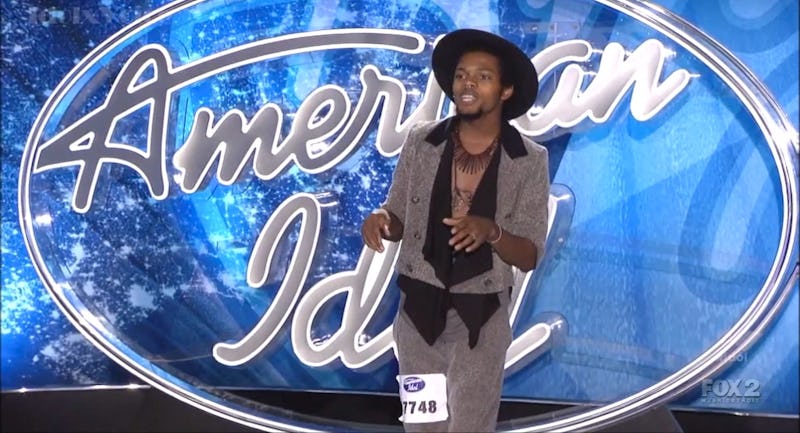 American Idol has taken over Harry Connick, Jr.'s hometown of New Orleans, LA (NOLA), and he is overwhelmingly disappointed. It's no secret that NOLA has a special culture that screams "party" — Mardi Gras, Bourbon Street, Hurricanes — but there's another part that screams "soul." The music, food, and party scene are all full of soul and it's a quality we've all come to expect of the city's people. Being from NOLA, Harry expects the soul on a MUCH deeper level than the rest of the audience does and he's been let down. Until Quentin Alexander walked in the room, that is.
Alexander was born and raised in the 9th quarter, a dangerous neighborhood in NOLA hit hard by Hurricane Katrina. He claims the neighborhood made him tough, but NOLA made him an artist. And there is no doubt he's an artist. From his "half tribal, half Pilgrim" outfit to his quirky personality and unique voice, Alexander screams "artsy" and "soul" — exactly what Connick, Jr. was looking for in his hometown. But it's his determination and understated confidence that really made Alexander stand out to me.
The 20-year-old grew up with out the luxuries many of the other contestants are privy to. His neighborhood lacked opportunity and he lacked the money to make his own opportunity. But he made it work without all those things. Alexander created his wardrobe sans money and crazy designer names and it hands down more amazing and original than any contestant I have seen on this show. His voice is equally amazing and unique, and exactly what the music industry needs. We've been plagued by an overwhelming amount of Justin Bieber's and One Direction's lately that Alexander is a breath of fresh air. He learned everything he knows by soaking in the art culture of New Orleans, and that's made him the perfect balance of quirky and weird to make it to Hollywood — and hopefully much further in this competition.
Image: Youtube - IdolxVoice