'Black Sails' Is Back, You Know What To Do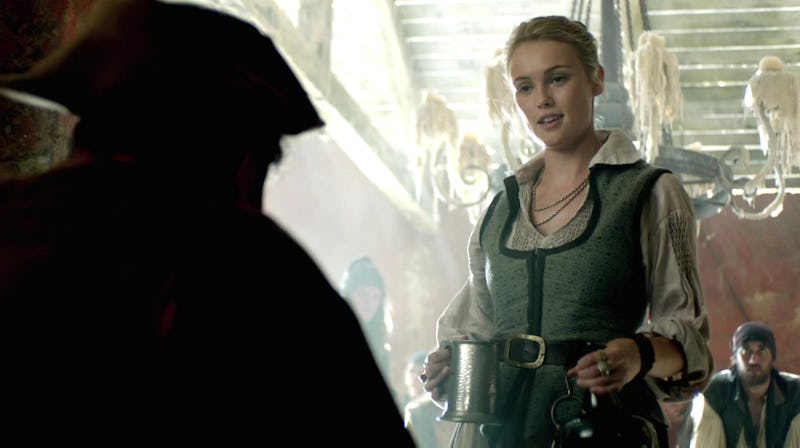 Are you ready to get back on the high seas? The second season of Black Sails premieres on Starz this Saturday. Obvious jokes about internet piracy aside, can you stream Black Sails and watch online? You don't have to be a Starz (or, in pirate speak, Staaaaaarrrrrrz) subscriber to enjoy the Michael Bay series depicting Piracy's Golden Age. Definitely check it out if you can. Black Sails also brings a new meaning to "IRL fanfiction" by combining characters from Robert Louis Stevenson's novel Treasure Island and actual pirates from recorded history. It's supposed to take place before Jim Hawkins arrives on the scene, so we see the backstory of the many pirates he encounters. It is also an arguably feminist show, with four prominent female characters in a profession largely believed to be male-dominated. You might find yourself rooting for Eleanor Guthrie, Max, and Anne Bonny over the multitude of masculine pirates, and for good reason! It clearly wants to be Game of Thrones, but has enough going for it to stand on its own as a fictional period piece.
Have I tempted you? Want to know how you can watch Black Sails without a Starz subscription, or even a television? Gather 'round, buccaneers. Your options are plentiful.
Sail To The Starz Website
The first three episodes of the first season are available on the official website. They have been uploaded for free streaming as a way to pique your interest and get you to subscribe to their network. If you already have a Starz subscription, you can watch old and new episodes on the Starz Play application. That application now works with Chromecast as well!
Plunder Your OnDemand
You can't catch the whole first season or any new episodes unless you are a Starz subscriber, but some OnDemand plans have the first four episodes of the first season up. They aren't even awkwardly censored like free episodes of Showtime shows. If you don't have a television, but have access to OnDemand through a cable provider's online application, you can watch Black Sails that way as well.
Shell Out Your Booty
Episodes, including those to come in the second season, are available to purchase on Amazon Instant Video, Google Play, iTunes, and Vudu. Does anybody actually use Vudu? You might have to, if you want to stay caught up with Black Sails. These services also offer season passes. It's an excellent alternative to ordering a full subscription to a channel when you only follow one of their shows — though I know some fans of Starz' Outlander who might try to convince you otherwise.
Live Vicariously
Of course, if none of these options appeal to your patience or your wallet, you can check out clips on Youtube, GIF sets on Tumblr, or read Black Sails fanfiction. The Black Sails fandom is small, but growing. There are plenty of ways to bide your time before this show becomes even more accessible to streaming audiences. You could always plunge yourself into pirate history and/or just read Treasure Island, there by "spoiling" the series for yourself.
Images: Starz (screengrab); Giphy (3)