'Nurse Jackie' Season 7 Is Still Months Away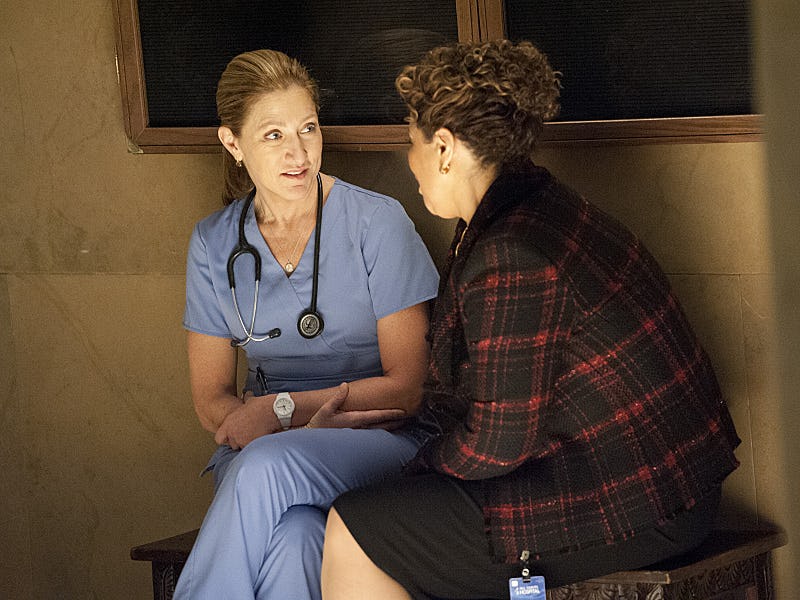 Edie Falco is no stranger to awards when it comes to her television roles. She is nominated for the 2015 Screen Actors Guild Awards for her portrayal of Jackie Peyton, so when is Season 7 of Nurse Jackie going to begin? The SAG Awards take place on Sunday, Jan. 25 on TBS and TNT, but Nurse Jackie doesn't return to Showtime until Sunday, April 12 at 9 p.m. And at that point, it will be time to say farewell to Jackie, since Season 7 will be the show's last.
Falco is nominated for Outstanding Performance by a Female Actor in a Comedy Series and is up against Uzo Aduba (Orange is the New Black), Julie Bowen (Modern Family), Julia Louis-Dreyfus (Veep), and Amy Poehler (Parks and Recreation). She has been nominated every year since 2010 for Nurse Jackie, but has never won. (Tina Fey won in 2010 and 2013, Betty White won in 2011 and 2012, Louis-Dreyfus won in 2014). So, sixth time is the charm, right?
Don't feel too bad for Falco, though. She has still managed to be nominated for a SAG every year that Nurse Jackie has been on, which is super impressive. Plus, she was nominated as Carmela Soprano in the years 2000-2003, 2005, 2007, and 2008 — and won the award in that final year — for The Sopranos (in the drama category though, obviously). The SAG Awards have only been on for 21 years — and Falco has been nominated for her performances 13 times. 13 times!!! In the history of the SAG Awards, she has been nominated more than she hasn't.
Plus, she won for Outstanding Lead Actress in a Comedy Series for Jackie Peyton during the 2010 Emmy Awards.
Although Falco claimed, "I'm not funny" during her Emmy acceptance speech — she is continually nominated for Nurse Jackie in the comedy category. And I would have to beg to differ with her on not being funny. Of course, Nurse Jackie isn't a funny ha-ha show (except for some moments), but it's a dark comedy and what makes Falco's performance so remarkable is the realism she brings to her troubled, yet somehow (I honestly don't know how at this point) lovable character.
Yeah, sometimes I think Jackie is worst person ever. Sometimes I think she is the best nurse ever (err except when her drug use caught up with her in Season 6). And sometimes I just wish I had an iota of the chutzpah she has.
Although it will be sad to lose Nurse Jackie on TV, we can seek solace in the fact that Falco will still have another awards run for the role in 2016 — just check out how epic they are making the finale season look in the trailer.
Clyde Phillips, the executive producer of Nurse Jackie told Variety, "Our collective sense is that she may not have completely bottomed out just yet...but she's damn close...You have to hit the absolute nadir of your life before you can start climbing toward the light, toward health, toward reclaiming your self. That's what lies ahead in Season 7." I can't wait to see Falco take that on — and she better earn that seventh consecutive SAG nomination for it.
Images: David M. Russell/Showtime; Giphy